Fleet Management
Keep Track of your Vehicle Fleet and Optimize Public Transport Performance.
Fleet management systems use real-time vehicle tracking and location information to enable operators to optimize fleet utilization and to provide real-time passenger information to overall improve service quality and punctuality.
Public Transport Operators
We can help public transport operators who want to improve their services by accurately tracking fleet vehicles and quickly reporting any delays and incidents.
Cities & Communities
We can help cities that want to improve their public transport services, by providing beneficial data in real time to passengers and running public transport efficiently and cost effectively.
Passengers
We can help passengers who want to travel by providing accurate, easy to understand, real time information to reduce stress and unnecessary waiting time.


Key Benefits For Our Customers
Self-learning of public transport routes significantly speeds up and simplifies system setup for new customers
New Central System
with Modern Components
New central system fully rebuilt on modern .NET architecture, with improved data handling and validation, system modularity and extensibility
Integration with
Data Analytics
The web application integrates with data analytics
Reduced Time/Cost,
improved Quality
Reduced time/cost and improved quality for system validation and testing by implementation of Continuous Integration Platform


What You Get With SWARCO NEXT
Data Analytics, Customised Reporting
New integration of data analytics tools allow end users to easily create customised views, dashboards and reporting - correlating the huge available series of data elaborated by the system into clear company specific business KPIs.
Lower Requirements on Input Data Quality
New features as route learning significantly reduce the requirements on the quality of the input data to be fed into the system. System is able to learn routes by applying machine learning algorithms on the data automatically collected by the vehicles in operations. This process is an enabler to apply map matching localisation and constantly improve the quality of fleet monitoring.
Simplified in Operations and Setup
Significant improvements have been introduced in the area of system configuration validation, system monitoring and troubleshooting support in order to ease setup and system operations. Extended use of dashboards, log correlation and diagnostics tooling reduce skills required to operate the system. New tooling for validation of system configuration, detailed and corrective import of customer provided data are oriented to improve time to setup of the system and ease troubleshooting in case needed.
Machine Learning Algorithms
Further to the route learning algorithms, other machine learning algorithms are applied to self-learning of the service executed by vehicles and also the actions taken by dispatchers in managing service disruptions, in order to provide assistive routeing and service macro-regulation.
Improved Scalability
New software architecture ensures a higher level of scalability in terms of functionalities and dimension of the fleet managed. The system can be configured as very light to manage simple systems focused on vehicles tracking up to very complex systems for operations support and real time passenger information.


How it Works
NEXT Fleet Management is based around a central system connected to onboard software and hardware.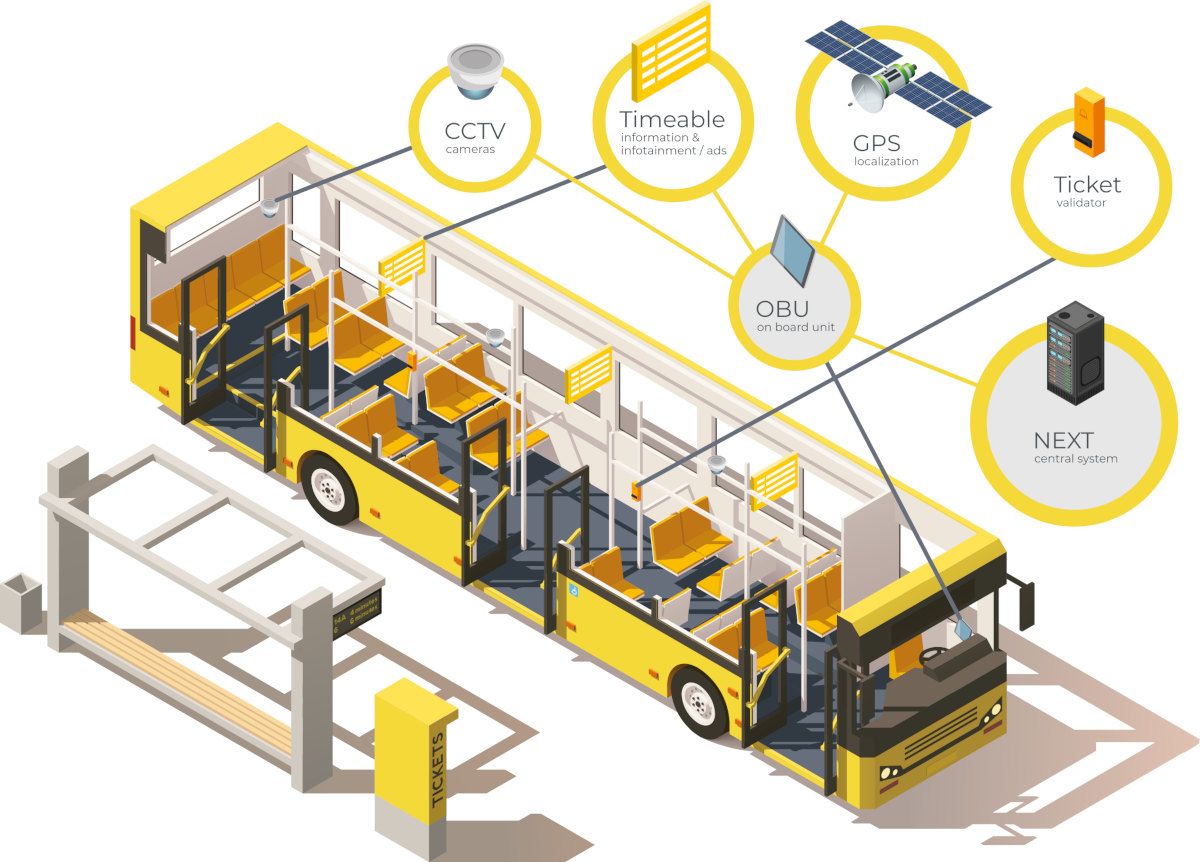 Central System
The main processes that operate on-line at the traffic control centre run one after the other according to a pipeline structure. The sequence is primarily driven by the real-time information flow originated from the on-board systems.
The central backend collects all data coming from the telematic equipment, stores it in a central relational database and processes it to provide a variety of functionalities. Moreover, it is responsible for sending all the required information & diagnostic messages to the telematics equipment.
The logical sequence of the elaboration processes is represented in the figure below: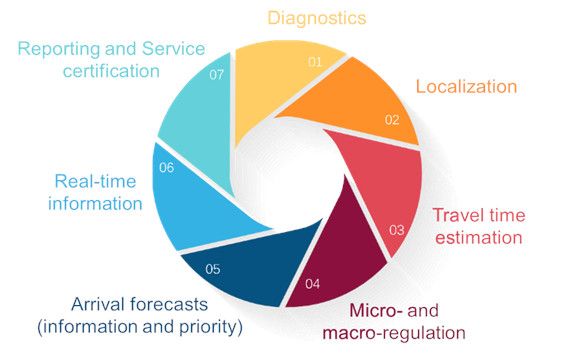 Onboard Software
The SW modules that run within the NEXT OBU device perform an extensive set of functions, including:
On-board autonomous localisation based on map-matching
Driver interface
Driving of destination displays, on-board displays and voice announcement system
Interface to other on-board equipment, such as CCTV system, electronic ticketing machine, passenger counting, diagnostic systems, panic button, door sensor
CANBUS connection (to retrieve and collect bus diagnostic status)
Collection logic and diagnostic status of all the connected subsystems
Communication towards the Control Centre and the Depot system (by Wi-Fi Connection)
Additional Features
Automatic connection to the mobile carrier (2G/3G/4G)

Automatic connection to Wi-Fi network (depot infrastructures)

Configuration and service data loading

Identification of the driver

Vehicle identification

Service identification

On-board regularisation

Online data transfer

Data logging and storage (i.e. during lack of communication with the centre)

Remote parameter configuration for setting data Frequency and Event driven

Management of text messages transmitted from and to the Control Centre: the OBU displays to the driver the dispatcher's instructions sent from the Control Centre and can send to the Control Centre pre-stored messages originated by the driver actions or by automatic functions.



Onboard Hardware
The solution adopted for the on-board system has been designed to be easily configurable, modular and expandable so as to make possible any increase or replacement of devices by simple interfacing to systems and sensors.
The modularity of the product, understood as independent of individual components, supports maintainability and easy interventions for installation and the replacement of individual components (e.g. in case of faults the single defective part can be replaced).
All devices are protected against overcurrent and/or overvoltage that may occur in the power network or circuitry. The wiring and components placement will be made in such a way as to not be affected by and/or to create any kind of interference of electromagnetic nature, thermal or other kind. The whole system is fully integrated in the vehicle.
The main characteristics of the solution offered are:
Low impact antennas

Resistance to vandalism and sabotage

Resistance to shock and vibration

Resistance to the accidental detachment of the connections

Shockproof material containers

Inputs/outputs protected against polarity inversions and short circuits

Full compliance with the entire supply current regulations
SERVICES
Additional Services
Consulting, Planning, Installation, Service and Maintenance.
We offer a wide range of services to help you with your projects. Rely on us for an entire project or just a part of it and we are happy to take over service and maintenance.