Intelligent Transport Systems (ITS) – What is it?
ITS stands for Intelligent Transportation Systems. This includes systems that revolutionize the way we get around through innovative technologies. For example, the use of advanced technology and data analysis improves safety and makes traffic more efficient overall. These innovative systems have the potential to reduce congestion, lower emissions and improve mobility for everyone.
This page tells you everything you need to know about intelligent transportation systems – for example, the exact definition and what types of intelligent transportation systems there are.
Intelligent Transportation Systems: Definition
According to the ITS Act, "Intelligent Transport Systems" within the meaning of the Act are [...] systems in which information and communication technologies are used in road traffic and at interfaces to other modes of transport.
Intelligent transport systems are thus intended to use technical means to support the exchange of information between road users and infrastructure. ITS are not only applied in road transport, but also in rail, ship or air transport. Examples include:
Vehicle assistance and traffic guidance systems
Apps that inform travelers about alternative transportation options
The eCall System, which automatically notifies emergency services in the event of an accident and is already installed in 12 million cars
Such interoperable systems make it easier to make traffic and mobility more efficient and to implement connected driving. This also allows transport operators to share their findings with the authorities, helping to optimize mobility management.
Intelligent Transportation Systems: Examples
It's not just apps and built-in eCall systems that make everyday traffic life easier. In the following, we present important ITS that are designed to enable positive developments in traffic management: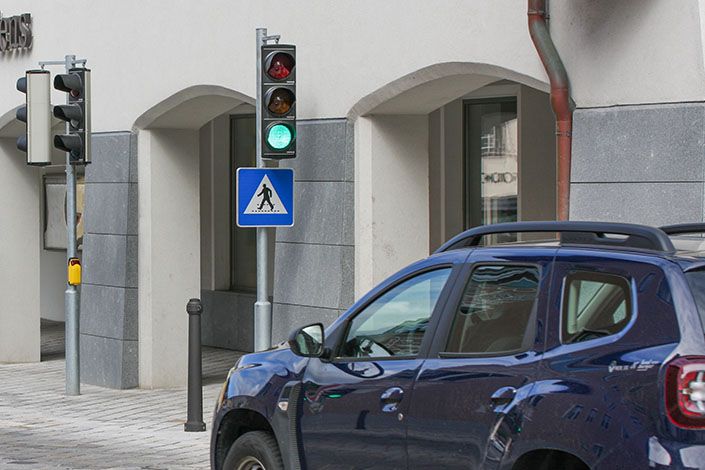 Green wave traffic
Green wave systems are primarily used to minimize start-stop operations in order to reduce emissions. In a green wave, therefore, several adjacent traffic lights on a road are switched in such a way that vehicles traveling at a certain speed encounter several green lights and can pass unhindered.
This makes it possible to cross an inner-city main street quickly and without waiting at a certain speed. However, this system does not always run smoothly: if the largest traffic flows change within a day, the coordination must be retuned. In addition, two green waves can cross each other or impairments can occur due to minor disruptions such as turning vehicles, vehicles pulling out of parking spaces or backups.
Learn more: Green Wave Traffic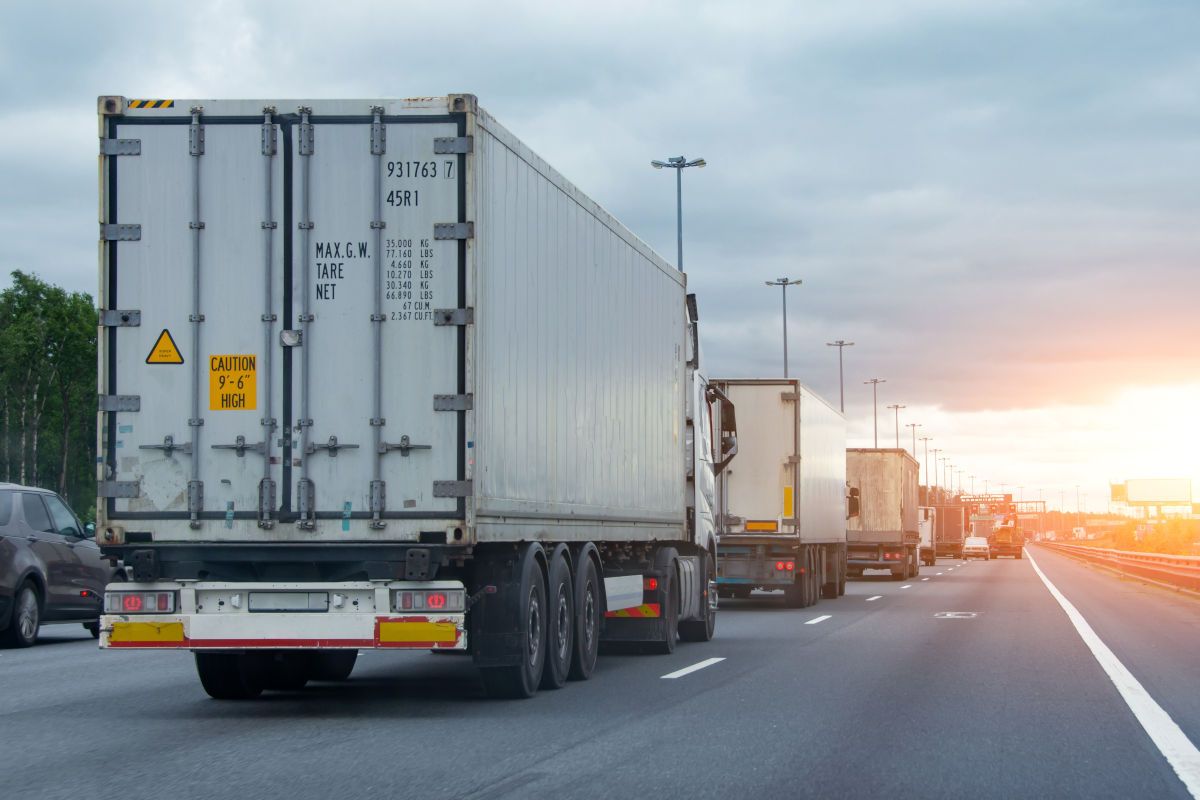 Weigh-in-motion systems

Weigh-in-Motion can be translated as "weighing in motion." This means that WIS systems are able to record the axle load of vehicles as they pass over them at any speed. WIM systems can statistically evaluate the following factors:
Total weight
Axle loads
Axle distances
Vehicle category
Speed
Vehicle length
Time gaps
For example, overloaded vehicles on several lanes can be recorded simultaneously and violations penalized. Furthermore, the statistics can be integrated into system architectures and used for efficient solution approaches.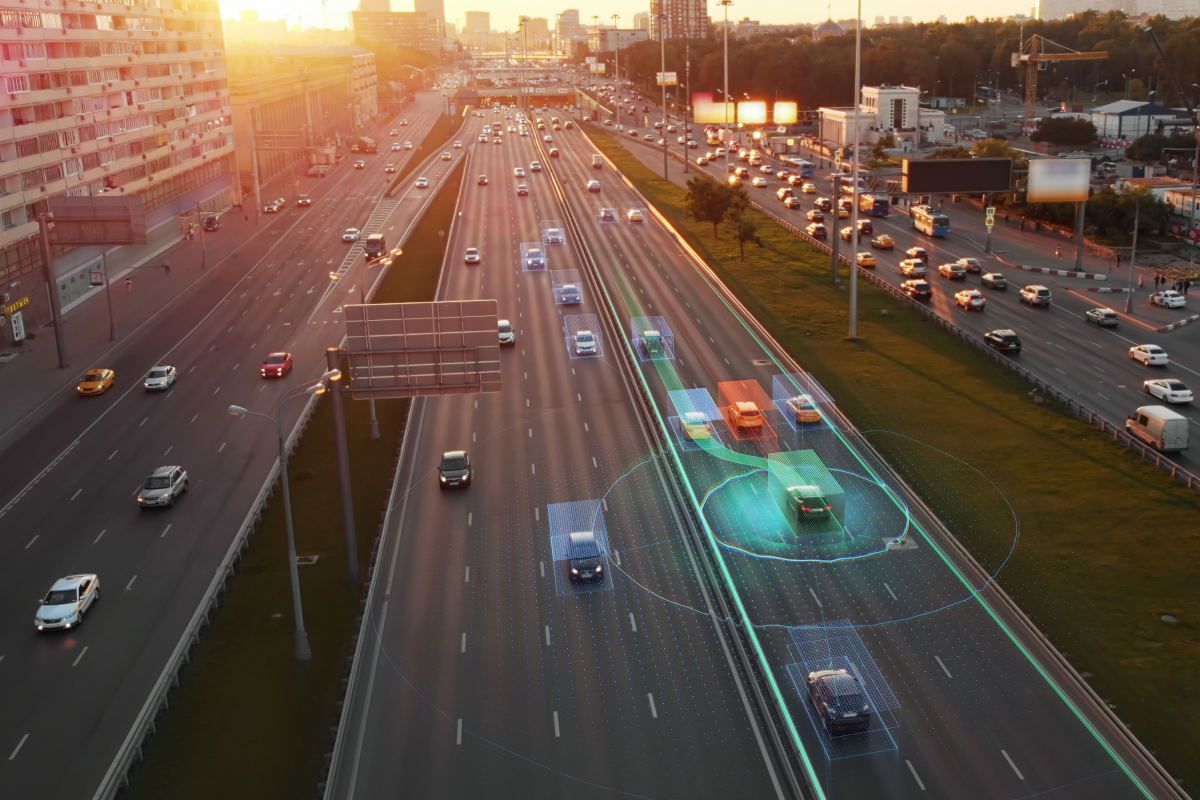 Lidar sensors
Lidar stands for "Light Detection and Ranging" and is used to generate high-resolution 3D information. This is done in real time, as with radar, but the LIDAR sensors detect their environment using only light and photo sensors.
Through the information gathered by the laser light, the lidar system is able to create a detailed 3D map of the environment.
The systems are also used in the surveying of buildings, or in technology essential for autonomous driving (e.g., real-time perception or mapping of the environment).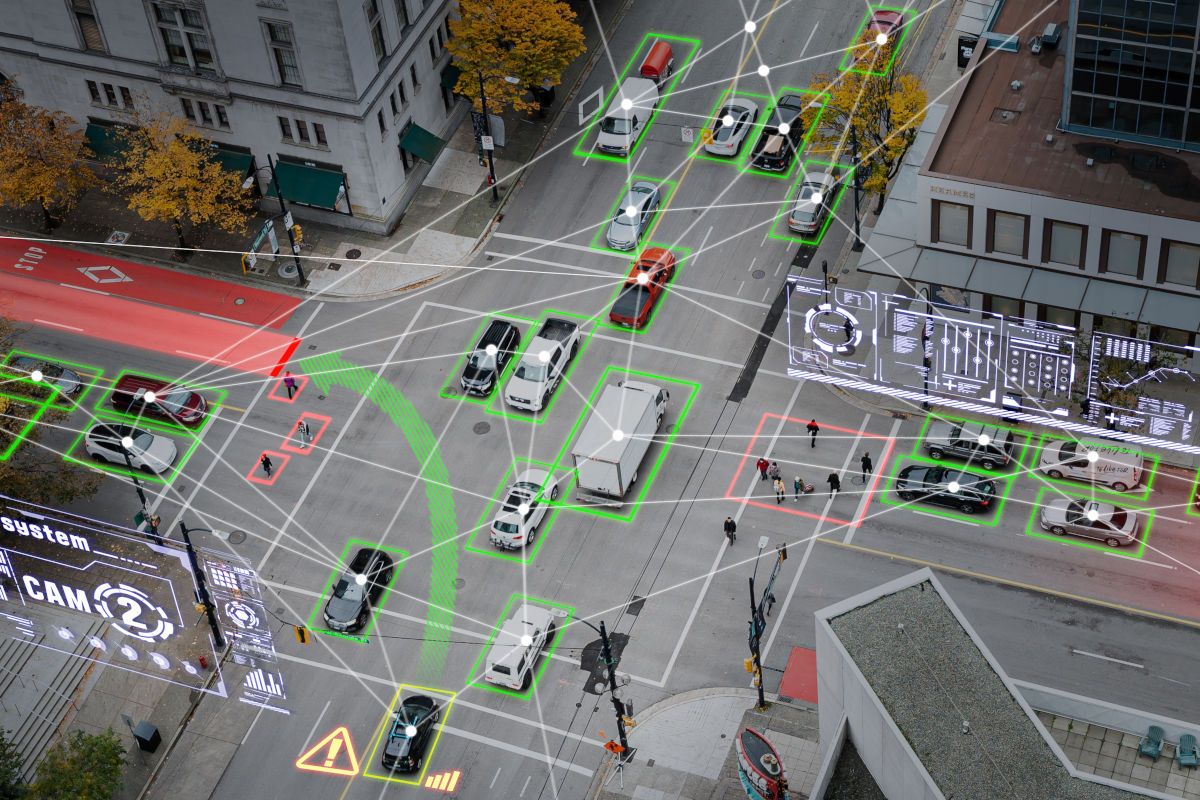 Intelligent intersection
Lidar sensors are also used in combination with cameras and radar for intelligent intersections. The technical aids create a 3D environment model and record the movements of all road users.
This data is processed and communicated to all vehicles approaching the intersection. This allows vehicles to move safely through the intersection and prevents accidents.
Benefits of intelligent traffic systems
Intelligent transportation systems may not yet be fully developed, but they are already showing the great potential for improvement they offer. Some are briefly presented here:
Improved traffic efficiency
Intelligent traffic systems help to make traffic more efficient, which means that public transport is more punctual, making work journeys more comfortable. Logistical processes also run reliably and without incidents in the optimum case.
Solving environmental and sustainability problems
Via ITS, vehicles are maneuvered through traffic more smoothly, minimizing start-stop operations. This reduces traffic congestion and CO2 emissions.
Good to know: At SWARCO, we believe that the widespread introduction of alternative drives is necessary in order to achieve agreed climate targets at all.
Safety
With all technical aids functioning optimally, all processes in traffic are recorded and vehicles are warned in good time. In this way, accidents can be avoided.
Innovation through networking
Networking vehicles with their surroundings and the entire infrastructure (for example, creates new possibilities. This will be possible in the future:
Vehicle-to-Everything (V2x)
Vehicle-to-vehicle (V2V)
Vehicle to Infrastructure (V2I)
Vehicle to Network (V2N)
Vehicle to Pedestrian (V2P)
Vehicle to Home (V2H)
Good to know: At higher speeds and in complex traffic situations, systems based on radar, lidar and cameras reach their limits. So there is still room for improvement here.
Concrete solutions by SWARCO
Conclusion: Intelligent traffic systems in focus
Intelligent transport systems are revolutionizing road traffic through advanced technologies such as artificial intelligence, sensor technology and networking. They improve traffic flow management, increase safety and reduce congestion and emissions. The future of transport lies in intelligent systems that enable efficient and sustainable mobility.
Last but not least: In summary, it can be said that intelligent transport systems offer many advantages and give hope for positive developments in road traffic. There are currently still many technical, ethical and social challenges before ITS can be deployed across the board and autonomous driving is no longer the future, but the present.
Intelligent transportation systems use technical means to enable the exchange of information between autonomous vehicles, road users and the infrastructure. In this way, traffic routes can be made safer and accidents reduced.
Intelligent traffic systems can make traffic run more smoothly and reduce CO2 emissions. The environment can therefore be protected via communication with autonomous vehicles.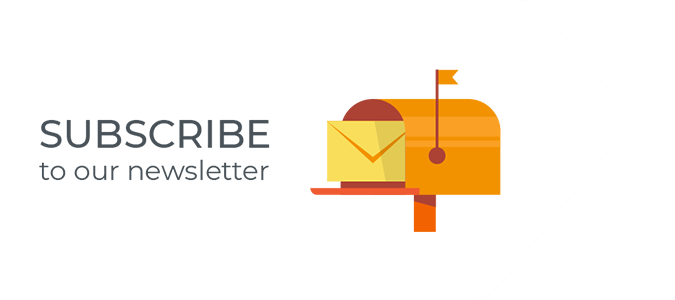 STAY INFORMED
GET OUR NEWSLETTER!
Subscribe to our ITS / Smart Mobility Newsletter and receive regular updates on trends, developments, solutions and events.
Bilder: © Ralf Gosch – stock.adobe.com; © aapsky – stock.adobe.com; © railwayfx – stock.adobe.com; © Choi_ Nikolai – stock.adobe.com