Everything You Ever
Wanted to Know about
SWARCO


WHO WE ARE
You encounter us every day on the roads of our planet. Our products, systems, services and turnkey solutions offer orientation, safety and convenient travelling for all people on the move. Following the spirit of SWARCO founder Manfred Swarovski we live agility, innovation and trustful cooperation and do not hesitate to go the extra mile for you.
The traffic technology group SWARCO headquartered in Wattens near Innsbruck / Austria has an international network of production facilities, offices and partners on all continents and offers one of the most complete solution portfolios for road marking, signage, urban traffic management, parking, highway and tunnel management, and public transport. We connect vehicles with the road infrastructure, help in setting up charging infrastructure to boost electro-mobility and offer modular and holistic solutions with added values that support tomorrow's mobility and make life in our cities more liveable.
SWARCO's over 5,300 traffic experts are looking forward to elaborate and implement jointly with you the solutions that really meet your individual requirements. What can we do for you today?
Leading Idea
Instead of formulating a corporate vision or mission, SWARCO has condensed its business purpose in the following leading idea.
WE IMPROVE QUALITY OF LIFE
BY MAKING THE TRAVEL EXPERIENCE SAFER, QUICKER,
MORE CONVENIENT AND ENVIRONMENTALLY SOUND.
This idea is also underpinned by our new claim:
THE BETTER WAY. EVERY DAY.
SWARCO in Numbers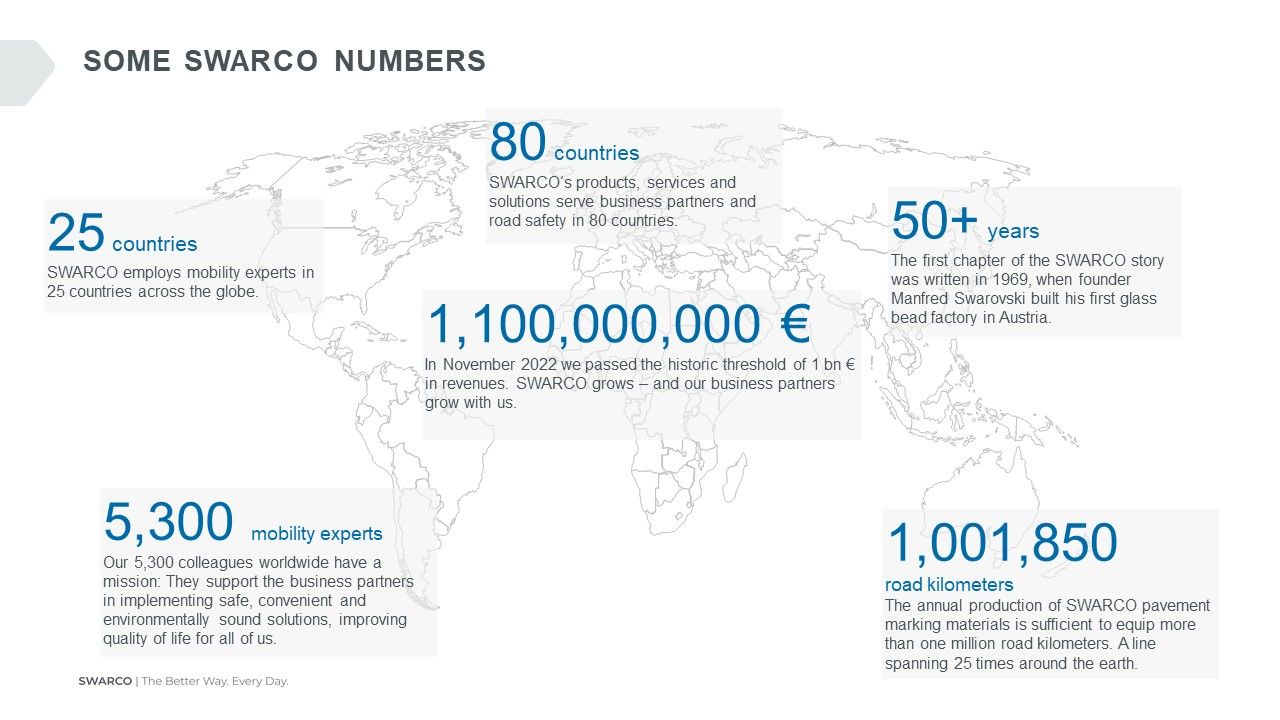 SHAPING THE WORLD OF MOBILITY IN 70 COUNTRIES.
Manfred Swarovski founds his first glass bead production in Amstetten, the birthplace of today's SWARCO Group.

HEOSCONT CHEMIE becomes part of SWARCO. Start of road marking contracting business.

Start of US business with glass beads, later followed by tape and thermoplastic production.

Acquisition of Vestische Strahl- und Reflexglas GmbH, Recklinghausen, Germany, today SWARCO VESTGLAS.


Acquisition of FUTURIT-WERKE AG, today SWARCO FUTURIT, the world's largest traffic light producer.
First shares in LIMBURGER LACKFABRIK, Germany's no. 1 manufacturer of liquid road marking materials.


Start of glass bead and thermoplastic production in Saudi Arabia.

Introduction of the MEGALUX-BEADS technology, high quality glass beads for wet night retroreflectivity.

Production of Austria's first-ever motorway toll sticker.




SWARCO is organized as an Aktiengesellschaft (AG).

SWARCO inaugurates new traffic light and VMS production in Austria.
SWARCO FUTURIT launches FUTURLED LED traffic signal generation.
The SWARCO Group breaks the 1 bn ATS threshold.

SWARCO expands into traffic management solution business by acquisitions in Scandinavia.

The SWARCO Group has a total of more than 1,000 employees worldwide.
Acquisition of majority share in Romanian paint factory VICAS.

Acquisition of majority share in M. TECH AG with SIGNALBAU HUBER and DAMBACH WERKE in Germany.

Acquisition of US paint factory COLORADO PAINT, Denver.


2,700 SWARCO employees realize over 400 million euros worldwide.

Introduction of SOLIDPLUS glass bead technology.
Start of LED street lighting business (FUTURLUX).



Extension of SWARCO's headquarters building in Wattens, Austria.

SWARCO TRAFFIC WORLD in Wattens goes live.
Acquisition of UK-based APT Group (parking and e-mobility) and German TRANSVER. Turnover passes 500 MEUR threshold.

De-listing of SWARCO TRAFFIC HOLDING AG with subsequent squeeze-out


Merger of IMS with SWARCO VESTGLAS. Acquisition of US-based McCain Inc.
Extension of Perchtoldsdorf site. SWARCO generates revenues of
615.4 MEUR


SWARCO's 3600 employees generate 675 MEUR in revenues, a new all-time high.

SWARCO mourns the loss of founder Manfred Swarovski.
Expansion through acquisitions in Switzerland (Bergauer AG) and Germany (Vialux Glasperlen GmbH).

SWARCO celebrates its 50th anniversary.

In the pandemic year,
SWARCO reaches a
new all-time high in net sales
(758 MEUR)

Supalux (AUS),
Dynniq Mobility (NL)
and Hitex International (UK)
become part of the
SWARCO Family

Inauguration of new glass bead factories
in Austria and the USA;
Revenues exceed 1 bn € for the first time

SUPERVISING AND CONSULTING THE EXECUTIVE BOARD
The SWARCO AG Supervisory Board consists of the following members: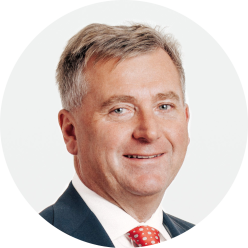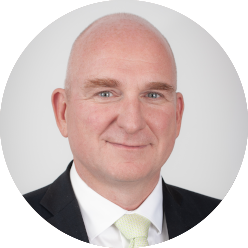 Markus Vatter
Vice-Chairman
Michael Innerbichler
Member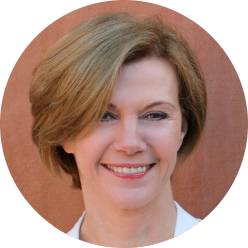 Elisabeth Swarovski
Member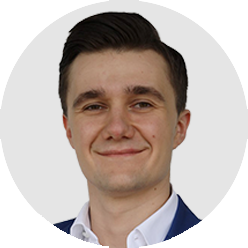 Manfred Swarovski Jr.
Member
OUR TOP MANAGEMENT
The SWARCO AG Executive Board consists of the following members: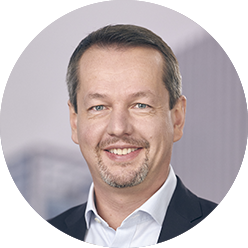 Michael Schuch
Chief Executive Officer (CEO)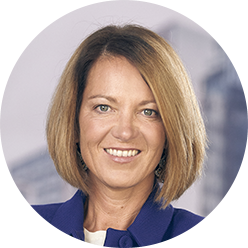 Manuela Fürst
Chief Financial Officer (CFO)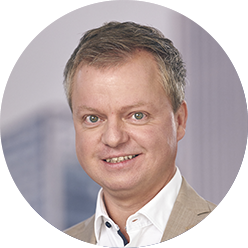 Günther Köfler
Chief Administrative Officer (CAO)