TDC3 TRAFFIC DETECTORS
Non-Intrusive Traffic Detectors for Single Lane Traffic Data Acquisition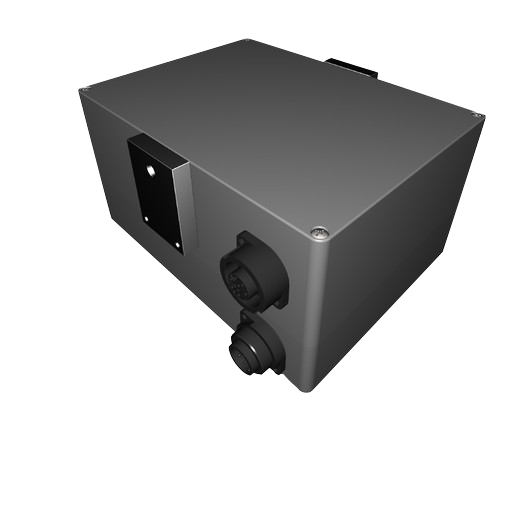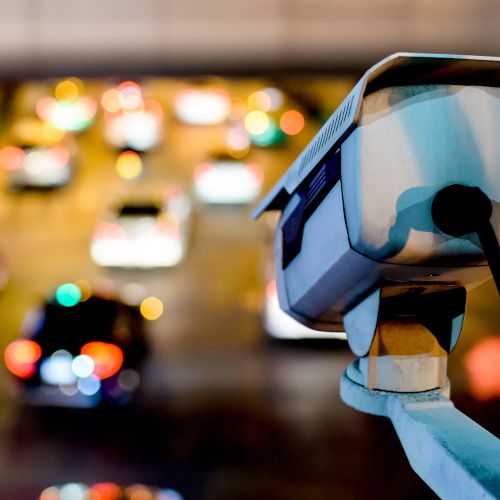 The TDC3 Series are advanced traffic detectors using Doppler Radar, Ultrasound and Passive Infrared technology. Comprehensive traffic data including individual vehicle class, speed, length, occupancy time and time gap are provided via RS485.

TYPICAL APPLICATIONS:
TDC3 Series detectors are specifically designed for a variety of Traffic Data Collection and traffic control applications where inductive loops have been used in the past:
Vehicle classification
Individual vehicle speed
Vehicle counting (volume)
True presence, queue and wrong-way driver detection
Occupancy and headway / time gap measurement
WORKING PRINCIPLE:
TDC3 traffic detectors measure the speed of each vehicle using the Doppler shift of the reflected microwave frequency. The ultrasonic sensor system scans the height profile of the passing vehicle and the PIR zones obtain the vehicle position (except TDC3-2) within the observed lane.
MOUNTING:
Recommended mounting points are gantries or other overhead structures above the lane centre. Clearly superior performance and reliability are a result of:
Three independent detection technologies
Full temperature compensation across entire temperature range
Redundant system functionality
MODEL OVERVIEW:
RD_TDC3-2 (2 Classes)
RD_TDC3-3 (2+1 Classes)
RD_TDC3-5 (5+1 Classes)
RD_TDC3-8 (8+1 Classes)
ACCESSORIES:
Interface module USB-IF485 & Software:
For the communication between detectors and a PC during commissioning and maintenance an interface module in combination with the dedicated software is necessary. The interface module and software has to be ordered separately.
Mounting Accessories:
Mounting hardware and cable connectors are not part of the detector delivery unless ordered separately. Information about the available accessories to accommodate various mounting and operation scenarios are made available separately.
Field of view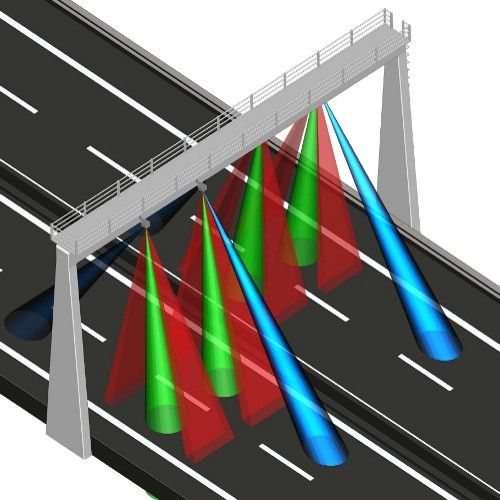 Multi Technology
Detection
Wide Operating
Temperature Range
Multi technology detection: Three independent physical detection principles
Standardized vehicle classification: German TLS for 2, 5+1 and 8+1 classes
Auto calibration: Via according installation software within the recommended height above the lane
Detection of lane-changing vehicles and vehicles travelling between adjacent lanes (except TDC3-2)
Detection of standing vehicles
Detection of wrong-way drivers
Wide operating temperature range (–40 to +70°C): Optimum performance in all weather and climate conditions
Remote configuration and setup: With according installation program
Technical Details
Supply Voltage

10.5 V DC to 30 V DC

Power Consumption

Max 110 mA
Typ. 80 mA @ 12 V DC

Output (Data Transfer)

RS 485 (other options on request)

Turn-on Time

Typ. 20 s from power on

Dimensions

See drawing below

Case Material

Polycarbonate, dark grey

Mounting Points

M8, stainless steel V4A

Weight

App. 1700 g without bracket

Doppler Radar

K-Band 24.05 to 24.25 GHz

Ultrasonic Frequency

40 kHz

Ultrasonic Pulse Rate

10 to 30 pulses per second

PIR Sensors

2 channel PIR (TDC3-2)
7 channel PIR curtain (TDC3-3 /-5 /-8)

PIR Spectral Response

6.5 to 14 μm

Counting accuracy

Typ. ± 3%

Speed accuracy

Typ. ± 3% (> 100 km/h)
Typ. ± 3km/h (≤ 100 km/h)

Classification accuracy

Vehicle classes according TLS
The specifications refer to free traffic flow, detector operated in recommended setup.

Operating Temperature

-40°C to +70°C (-40 to +158ºF )

Humidity

95 % RH max.

Sealing

IP 64 splash proof