SWARCO – Safer Roads for a Safer City.
Steadily increasing traffic and the number of people vying to use the same, limited amount of space increases the number of accidents. Protecting vulnerable road users (VRUs) should be a priority, however, 22,700 people died and 1.2 million people were injured on EU roads in 2019. Pedestrians accounted for around 20% of these fatalities. The lack of a proper and safe infrastructure for VRUs is a key reason for this high rate. It is estimated that traffic-related fatalities could reduce the GDP by up to 5%.
The Challenge
Limited road capacity, combined with increasing traffic, leads to unsafe situations.
1.35 million people lose their lives each year in traffic-related accidents worldwide.
More than 20% of these fatalities were pedestrians.
50 million road users are injured per annum on a global basis.
22,700 lives died on EU roads alone in 2019, and a further 1.2 million road users were injured.
With a rate of 9.6 traffic fatalities per 100,000 people, Romania has the highest fatality rate in the EU.
Existing infrastructures are typically unsafe for VRUs.
Lack of or poor road markings aggravate the traffic situation
Traffic-related fatalities could reduce the GDP by up to 5%.
Reducing traffic fatalities could increase the GDP by 22% over two decades.
The installation of systems to detect and warn about cyclists, pedestrians and e-scooters needs to be significantly increased.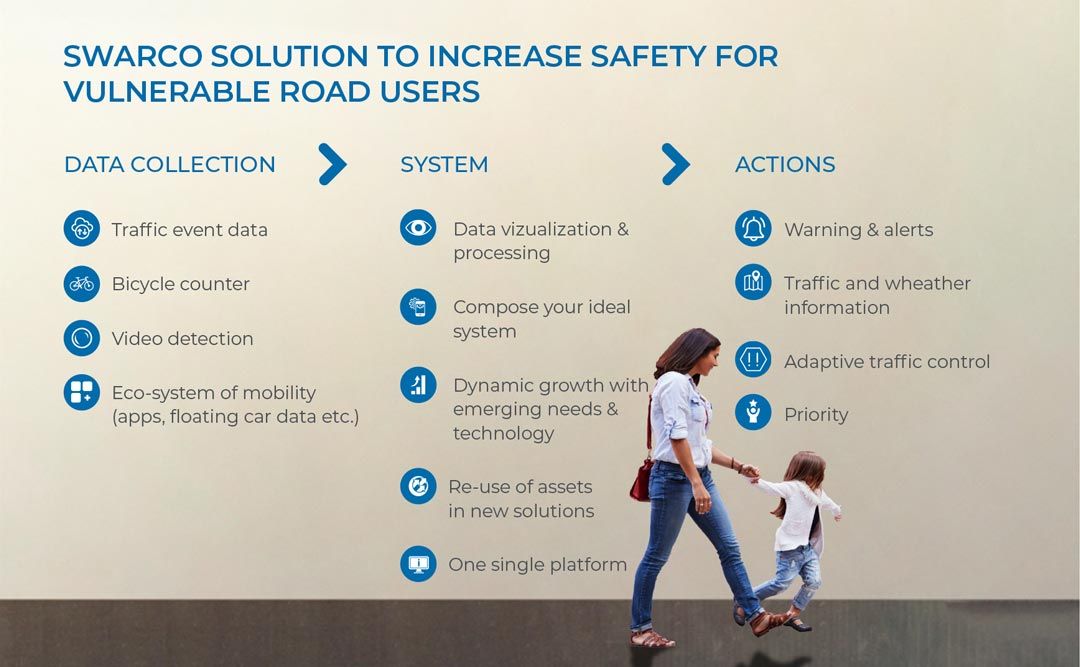 The Solution by SWARCO
SWARCO's eco-system of mobility with deep integration of all types of data sources allows you to connect VRU detection with data coming from traffic sensors, floating car data, apps, 3rd-party data, as well as with event data. The data is stored, processed and visualised to enable you to take the appropriate actions to maximize VRU safety.
Measures to protect VRUs:
With the use of VRU detection, dangerous areas can be identified and the necessary steps initiated to ensure safety. The SWARCO Mobility Management System visualise unsafe areas and intersections, and thus provide a better understanding of the current traffic situation. Traffic planning and engineering tools can be used to efficiently plan your traffic infrastructure, particularly for VRUs. Traffic, especially heavy trucks, can be re-directed from city centers, and drivers can be warned about cyclists or e-scooters in dead angle by means of digital signs or with app information. Children can be detected crossing the streets near schools, and the speed limit can be reduced in the school vicinity during the day. With early VRU detection traffic signal phases can be optimised using adaptive traffic control. Red-light street crossing can also be minimised by installing traffic light priority requests on roads frequently used by cyclists.
The Mobility Management System was specifically designed and developed to cope with the changing makeup of road traffic, including the rapidly increasing number of micro mobility users. The modular system integrates micro-, macro-, and cross-domain software, and all solutions are operated using one open platform. The use of an open IT platform is particularly important because many vendors of traffic-management systems apply closed systems that prevent the migration of traffic data to competing systems. Therefore, the open SWARCO Mobility Management System better serves the needs for a holistic and comprehensive approach to improved traffic safety!
Working with an open, single-sign-on system means that your mobility management technology can be incrementally expanded in direct response to new innovations on the market or to meet changing urban conditions, such as the increased usage of bicycles or e-scooters. With the advanced Mobility Management System from SWARCO, your city is ready to meet the challenges for improved VRU and traffic safety – both today and tomorrow.
Road markings leading the way:
Road markings are an important safety factor in today's road transport. An adequattly applied marking system provides orientation during day and night time. This is not only important for a safe traffic flow, but especially to designate areas for pedestrians or cyclists and make them more visible.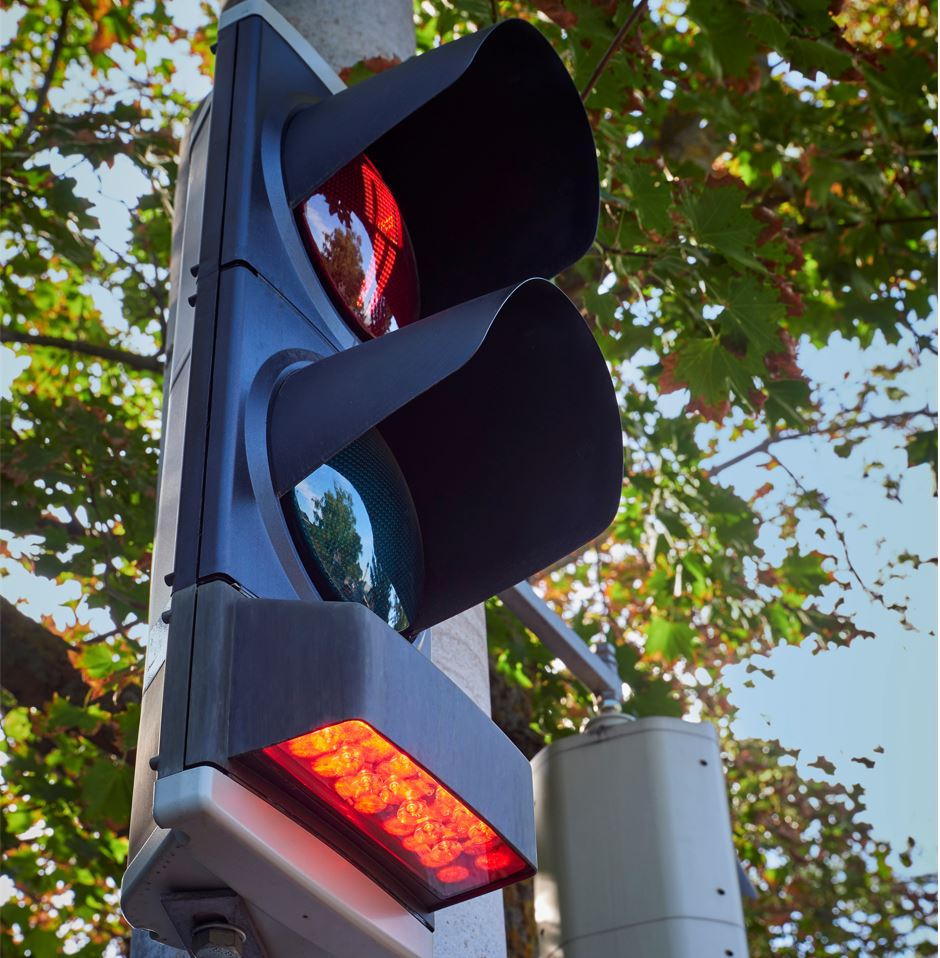 Ground projection for pedestrian safety
in the age of smartphones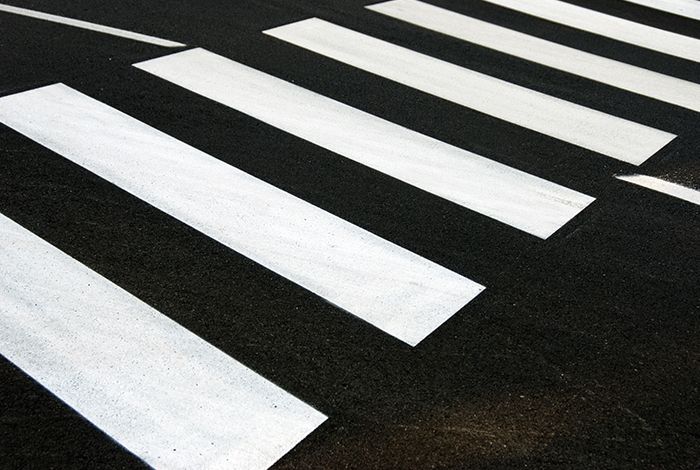 Road markings for more safety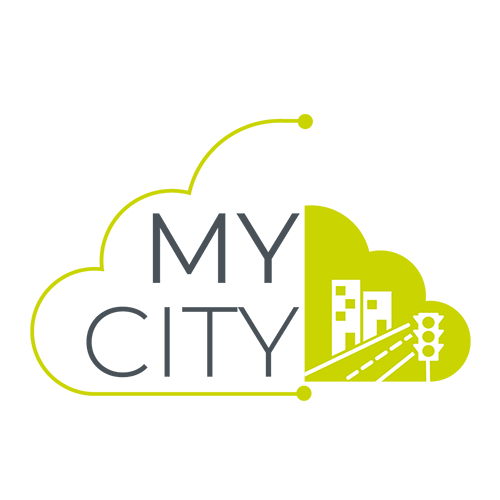 Urban Mobility Management for all areas
Holistic Urban Mobility Management by SWARCO
GET IN TOUCH!


Would you like to further develop your urban mobility management, increase efficiency and make cities more liveable for everyone? Whether it's about fundamental questions or a specific project, whether you want an informative meeting or a demo, we are at your disposal with our know-how. Just fill out the form below and we will get back to you promptly.

The European Green Deal is a bold and ambitious plan to make Europe the first climate-neutral continent by 2050. To achieve this goal, it aims to transform our mobility habits, reduce greenhouse gas emissions, and thus protect the environment and biodiversity. As part of this effort, SWARCO is committed to supporting cities in becoming part of this european initiative and securing a more sustainable future.