Dynamic Traffic Control
Reacting on the Current Traffic Situation.
The use of highly energy-efficient LED Variable Message Signs (VMS) allows to convey dynamic information to the road users in line with the current traffic situation. Speed funnels help avoid rear-end collisions when traffic flow comes to a halt. During the rush-hours, the hard shoulder can be flexibly assigned the status of an additional lane, providing an additional 25% capacity on the existing road network. Dynamic route information panels indicate alternative routings in case of traffic jams or road blocks. Weigh-in-motion technology is used to monitor overloaded heavy goods vehicles.
The network wide management of traffic flows optimally uses the capacity of the whole motorway network.
Traffic problems on one motorway are no longer considered local but solved in a supra-regional context, national and cross-border.
Benefit
Capacity increase by using the entire motorway network
for route recommendations
Function
Large-size, dynamic and programmable variable message signs (VMS) inform the road users about alternative routes and congestions
A central software evaluates the situation and controlls and activates the VMS via their road side units.
The VMS display informs about congestions and gives diversion recommendations using stored content (messages) according to the current situation.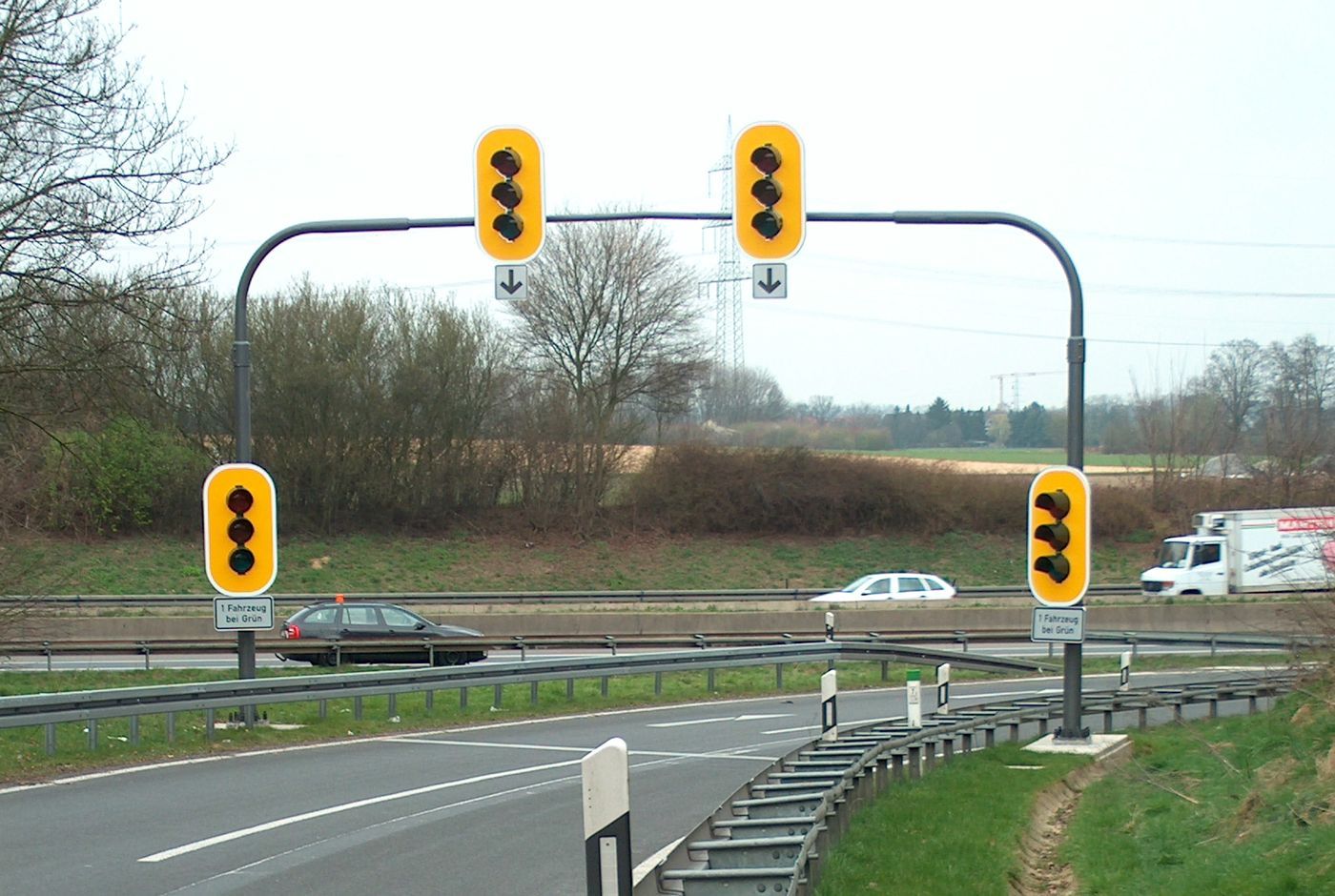 Ramp metering installations reduce the flow of vehicles entering the motorway by breaking up the flow of cars into groups and thus ensuring that the traffic can merge more easily.
Benefits
Harmonization of the traffic on the main lane

Reduction of accidents by up to 40 %

Reduction of congestion by up to 50 %

Increase of traffic volumes by up to 10 %
at peak times
Function
Traffic lights on the ramp to the motorway let only pass one or two vehicles at a time to enter the main lane of the motorway.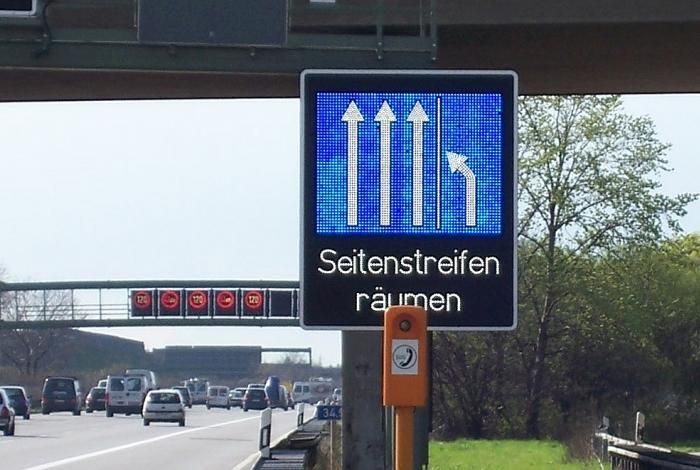 At peak times in the morning and evening rush hours or during the holiday season, the road capacity is often quickly exceeded and road works or accidents bring traffic to a halt.
Benefit
Increase of traffic volumes and decrease of travel
times during peak traffic hours
Function
When the traffic load exceeds the threshold, the traffic controller recommends the temporary opening of the hard shoulder.
The video cameras of the intelligent video center scan the relevant section and check whether it is free from obstacles.
Once the traffic volume decreases or in case of an incident, the hard shoulder will be closed again for traffic. After a period of transition, the normal operating state is valid and the hard shoulder resumes its original function as emergency lane.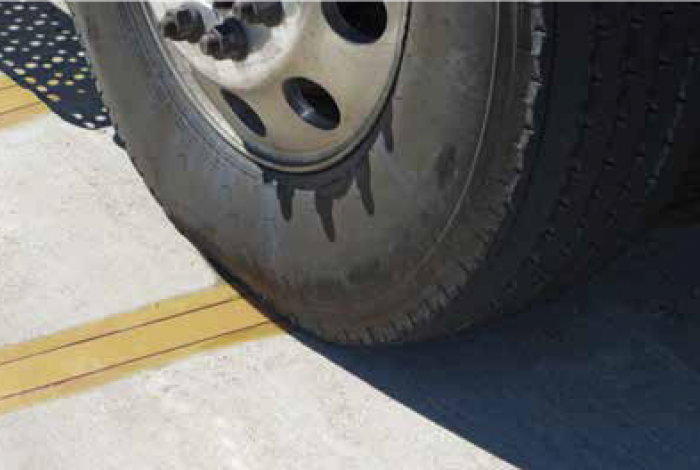 The weight of vehicles has a substantial impact on the condition and performance of infrastructures such as roads and bridges. WiM systems ensure that prices are fairly charged with respect to vehicle characteristics. In addition, the enforcement of vehicle weight limits can decisively improve traffic safety.
Benefits
Damage reduction for roads

Saving of investment costs for maintenance

Increased driver safety

Pre-selection in traffic surveillance
Function
Inductive loops / strip sensors / fiber-optic sensors collect vehicle data (presence, length and classification / axle loads)
Automatic overload detection
Detection of gross weights and axle loads
Individual data for each vehicle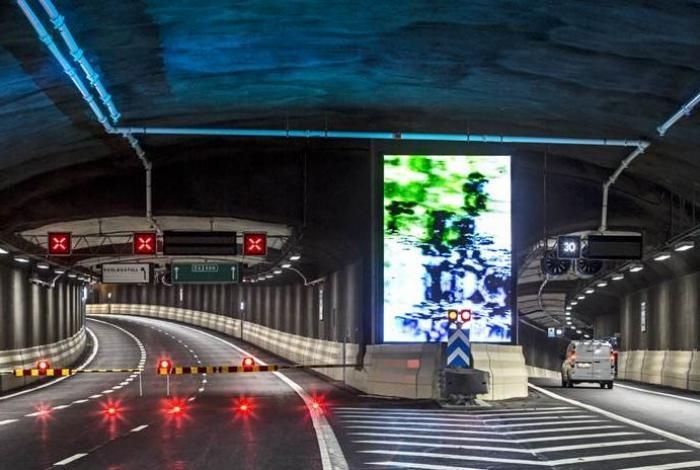 Traffic control in tunnels and on tunnel ramps, visualization of the facility management system (FMS) in the tunnel
Benefits
Monitoring and control of facility and traffic management
Effective traffic flow and fast tunnel closure in emergency cases such as fire, smoke, accidents
Warning of congestion or construction works
Early information and safe rerouting of the traffic
Harmonisation of traffic flow in unbalanced traffic situations
Traffic monitoring
Function
Monitoring and control of facility and traffic management
Bi-directional traffic lane control
Traffic data acquisition
Traffic incident detection

Wrong way driver
Fire
Smoke
CO2 Contamination

Interface to the SCADA
Interface to the camera monitoring system
Traffic control at the tunnel portal

Signalisation
Traffic lights
Environmental conditions

Control barriers
Automated systems for check-points of heavy goods vehicles
Benefits
Safer working conditions
Less personnel needed
Automated diversion of vehicles via software



Function
ANPR cameras capture licence plate
Video cameras show detected vehicle
Data is transmitted to an intelligent outstation
Checking personnel selects vehicles to be diverted for inspection via browser-based software
Licence plate displayed on VMS prompts driver to exit at the checkpoint