SWARCO MyCity
Urban Mobility Management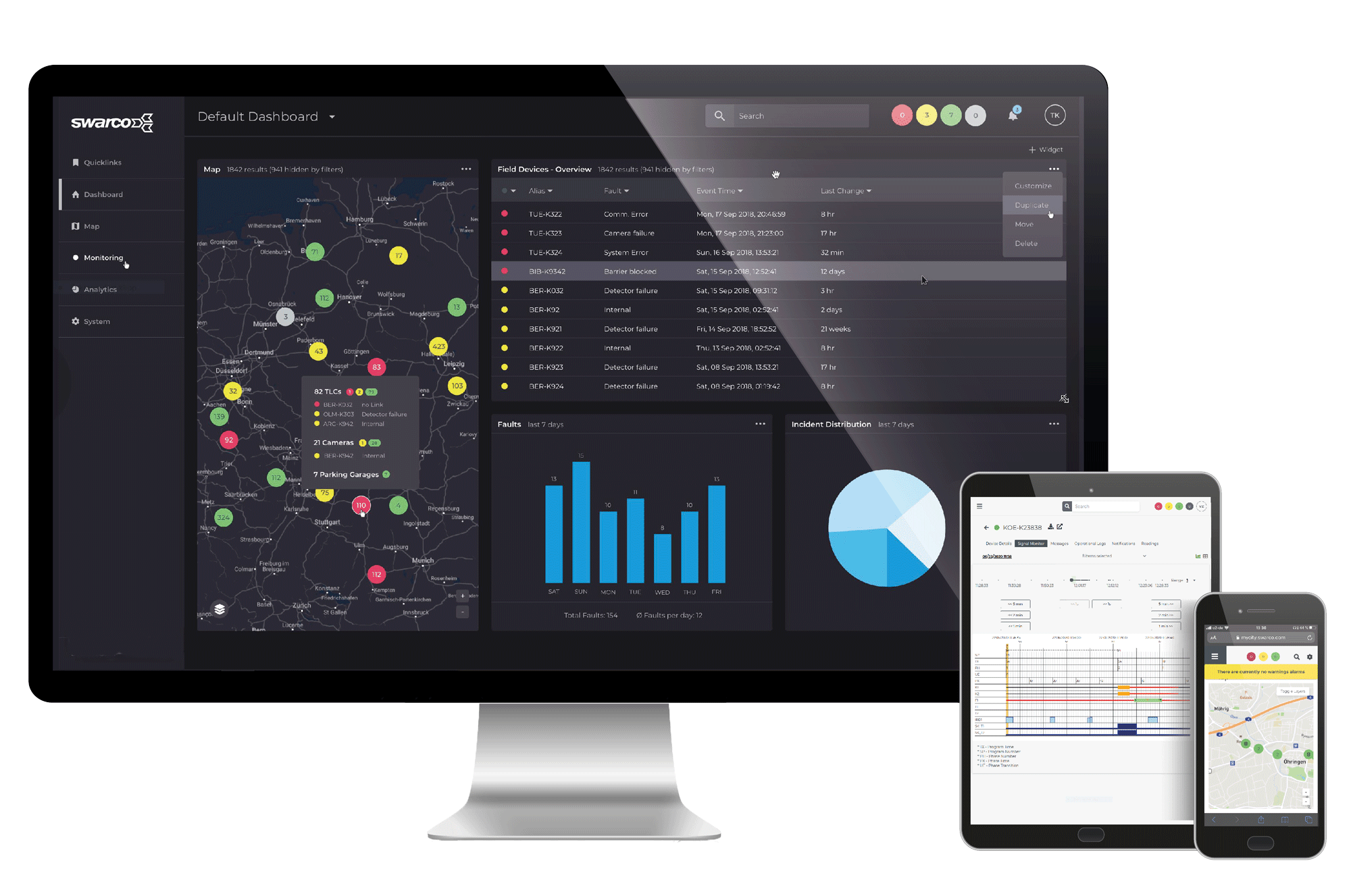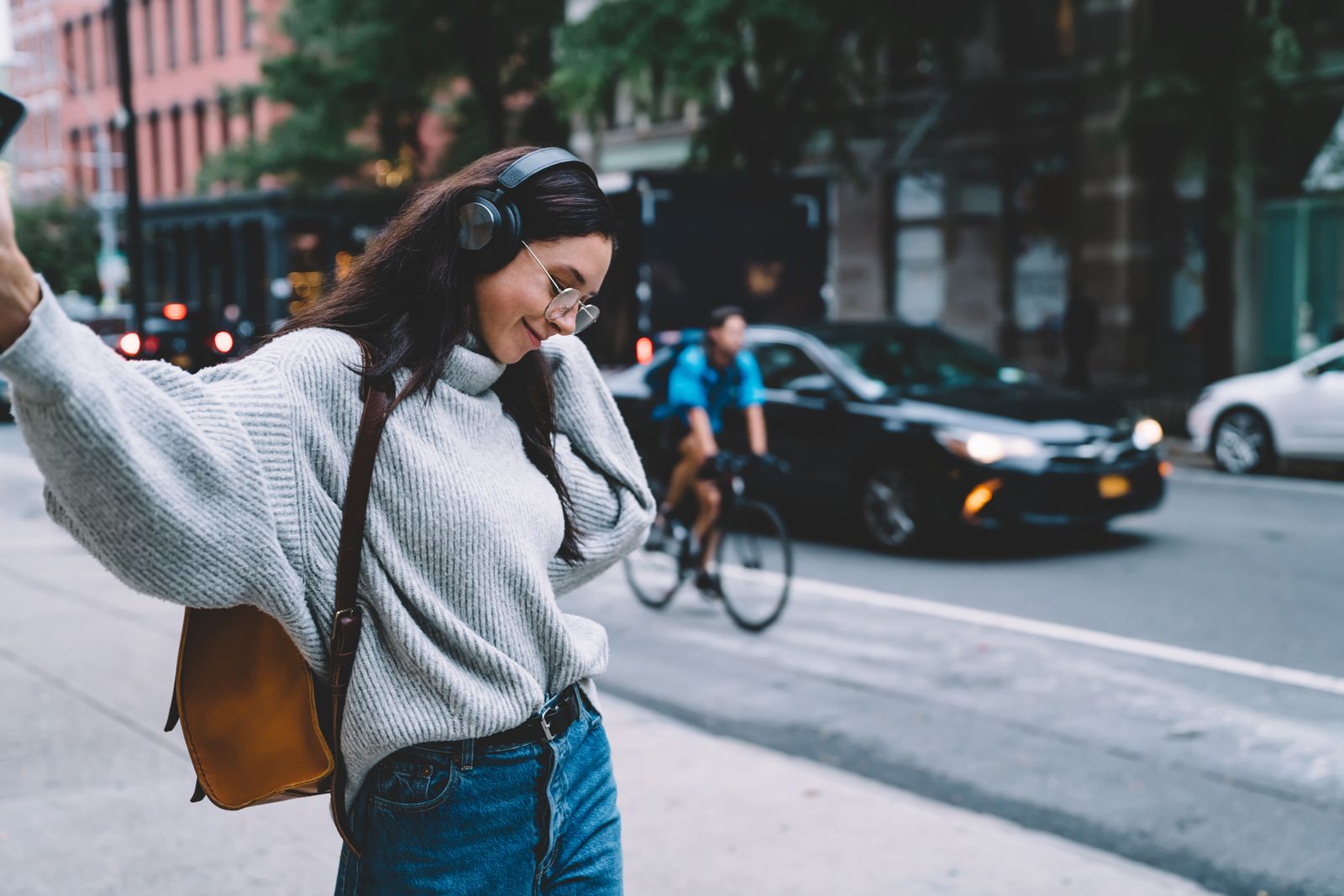 Urban Mobility Management with MyCity: the fast moving, flexible technology for smarter, greener cities
SWARCO MyCity urban mobility management software for small, medium and large cities. It was developed to tackle problems associated with two key challenges faced by cities: rapid changes to the types of urban mobility and the IT landscape needed to support it; and rapid urbanization and its impacts on city environments.
12 solutions with SWARCO MyCity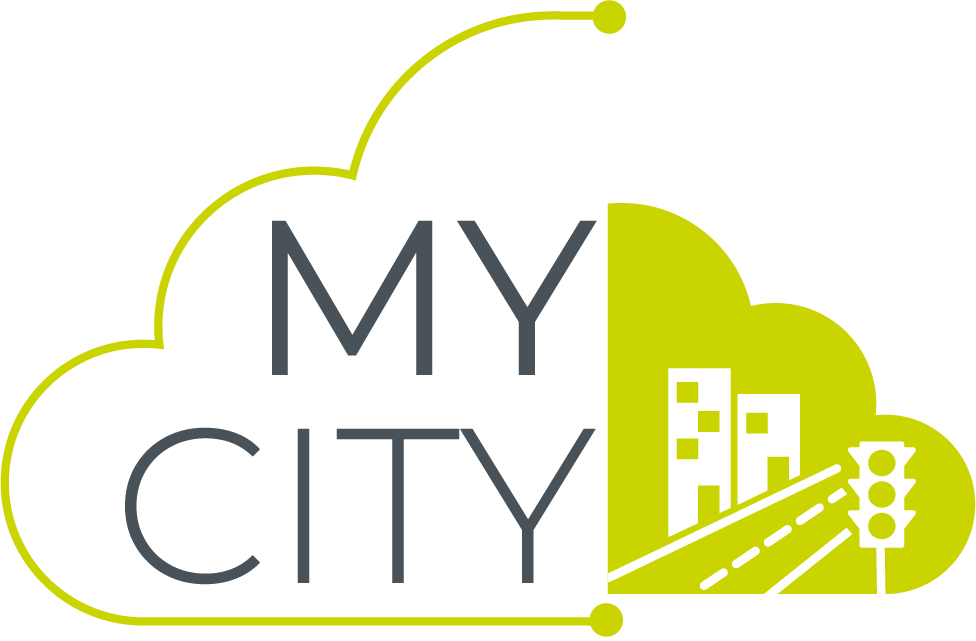 The complete MyCity urban mobility management software includes 12 different solutions, each with specific functions.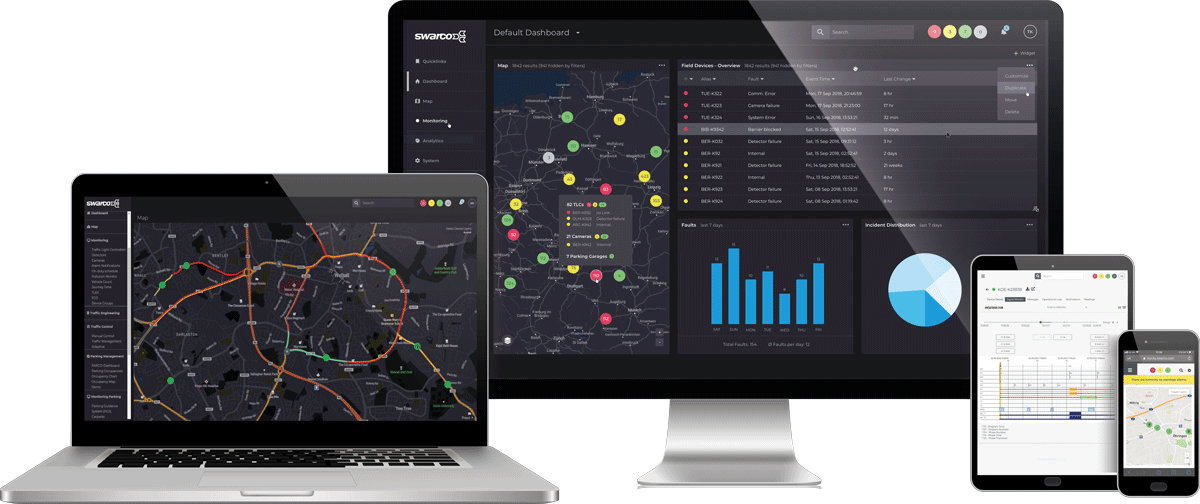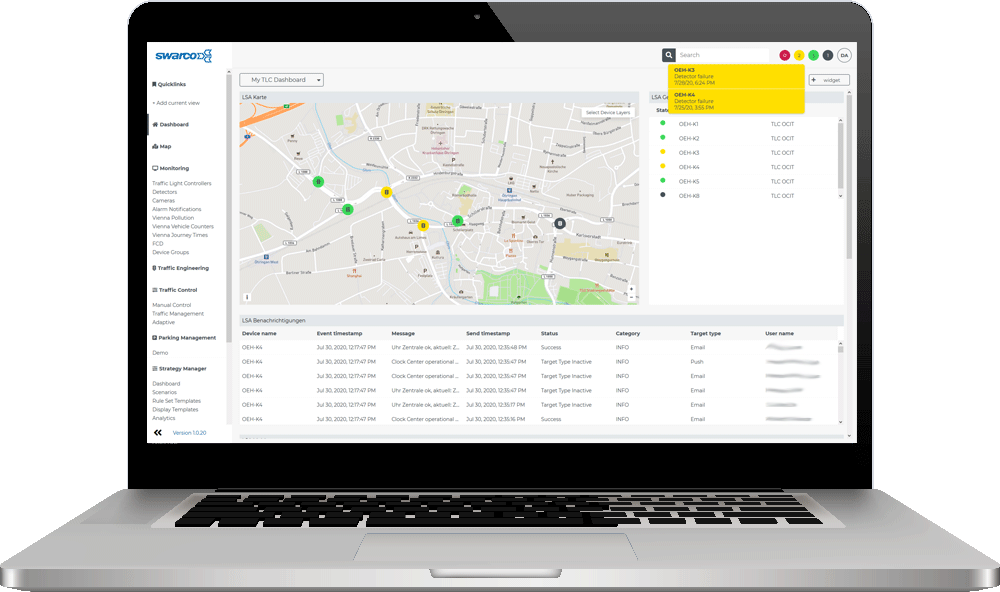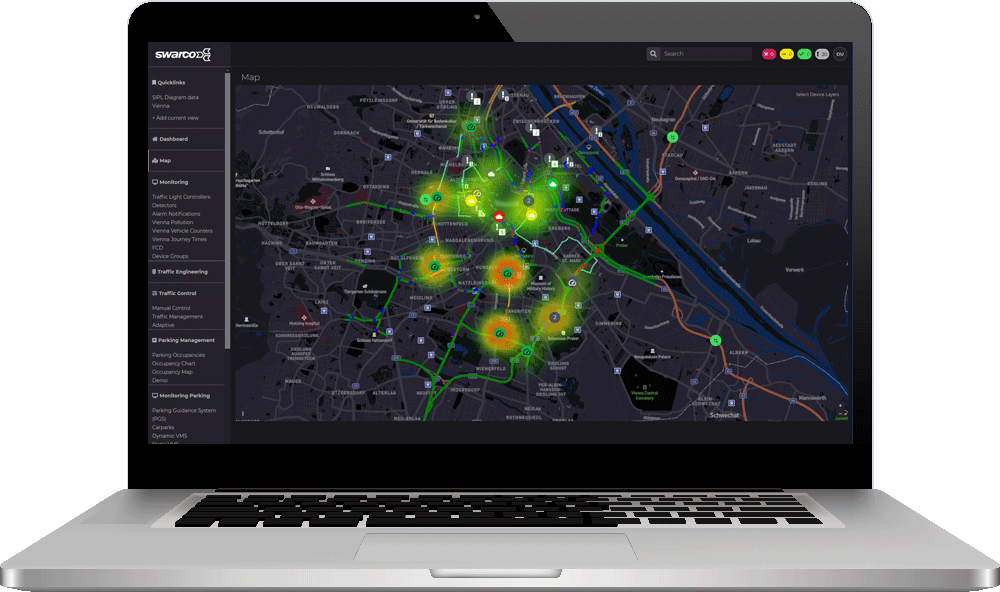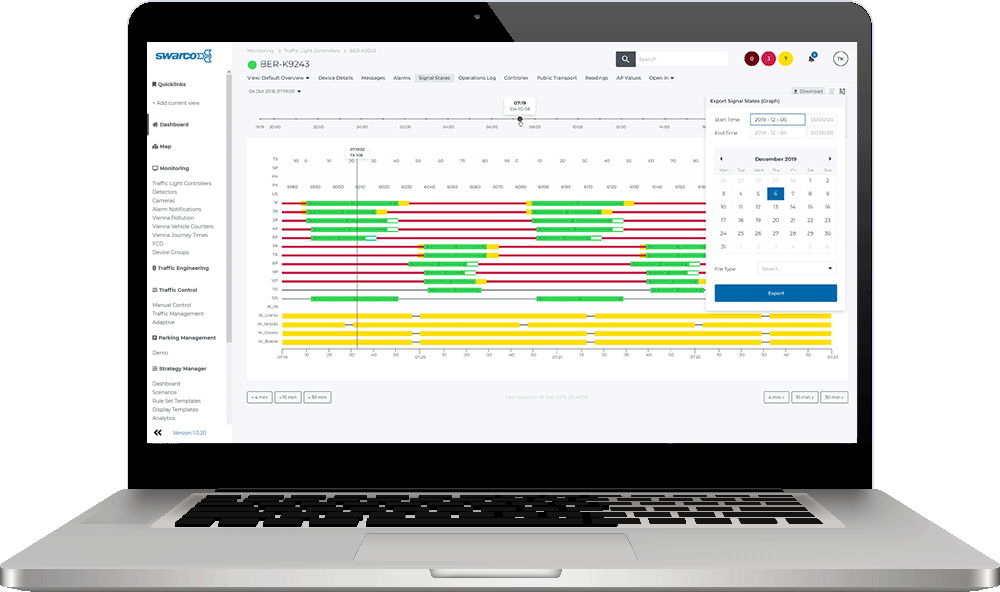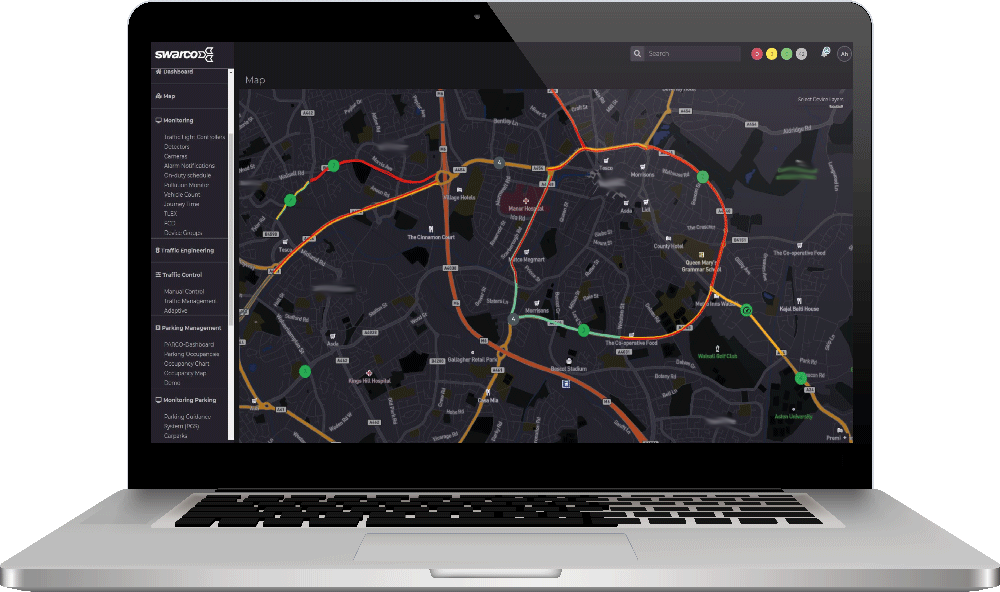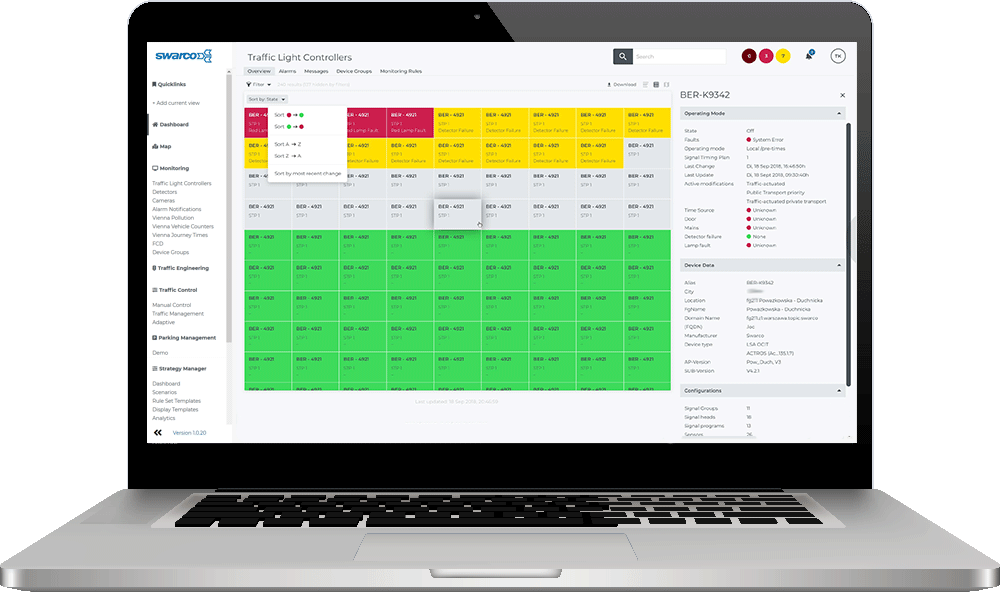 MyCity Traffic Management System (TMS) takes the stress out of managing traffic flows through small-to-large cities. Its user-friendly and intuitive interface makes it quicker and easier for operators to proactively manage traffic through city roads. This helps to ensure more efficient traffic flows, thus lowering the risk of congestion, reducing air pollution, shortening travel times, and getting more people to choose alternative forms of mobility.
MyCity Air Quality Monitoring helps to solve one of the biggest problems of our cities. Sensing, collecting, and visualizing real-time and historic air-quality metrics, gives a clear picture of urban air quality. Armed with this baseline data, it makes it easier to understand what future investments will be needed to improve air quality.
MyCity Monitoring, an upgrade from MyCity Monitoring Lite, makes it easier than ever to monitor real-time status, alerts, and historical data for all devices, including traffic signals, parking equipment, detectors, cameras, and more.
MyCity Strategy Manager enables the operators to achieve the city's goals and policies related to traffic, environment, and urban life. Data collection from various sources and visualization allows cities to analyze their efforts and proactively improve their mobility management strategies.
---
---
MyCity TMS Adaptive is a traffic management system using adaptive network control functions that enables operators to make more complex program selections. They can now do away with the limitations of rigid coordination, in terms of both physical range and timing, to perform short-term traffic flow forecasting or change green time distribution and select scenarios.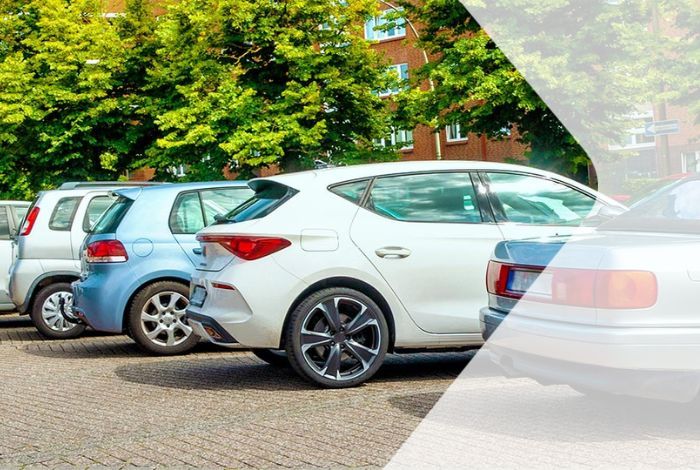 MyCity Parking Guidance System (PGS) is an end-to-end parking solution that includes parking sign management, scenario management, custom dashboards, and analytical tools that provide a full overview of parking facilities and events. This cloud-based scenario management solution helps cities to digitalize their work and transition from inefficient routines to a solution that makes it easier for day-to-day operators to solve their city's parking management problems.
Test the system - get your free Demo!
Submit the form and get a personalized demo.
---
---
MyCity is scalable so you can add new solutions when you need them or accommodate project specific requirements.
Futureproof mobility management technology
MyCity has been built to evolve as mobility evolves, allowing you to proactively respond to changes in urban mobility trends and the technology used to support them.
Operator friendly
It's easy to use from a single sign-on system that gives you access to important data and reports via a user-friendly and intuitive dashboard.
Flexible integration
MyCity enables data sharing and processing from different systems in an urban environment. It acts as an
aggregator of mobility relevant data sources and is a single point of contact for all interfaces. SWARCO also offers
partnership management with data providers and ease your operational work.
Device Agnostic
The micro service-based technology is built on a brand-new platform that enables hosting in a secure cloud system that is operated 24/7 by SWARCO. And as MyCity is optimized for mobiles and tablets, it's accessible from wherever you are.
For liveable and sustainable cities

Efficient vehicle movement
Reduce travel times for road users by using real-time and historical data to plan and evaluate traffic flows and keep your city's traffic moving efficiently.

Improved traffic safety
Improved monitoring, workflows and data processing mean you can proactively prevent many incidents before they happen (such as a dangerous build-up of traffic resulting from a faulty signal), reducing the likelihood of accidents, or when there is an accident, priority can be given to emergency vehicles.

Better air quality
Smoother traffic flows and less congestion mean reduced levels of vehicle emissions. MyCity helps you to create a green wave and prioritize specific type of vehicles such as buses, emergency vehicles and/or cyclists, so reaching your city's environmental goals becomes more realistic.

Lower infrastructure costs
This modern planning tool will allow you to make better use of your city's existing infrastructure, rather than the costly alternative of building more roads.

A more appealing place to live
The quality of life in a city goes a long way to determining whether or not it attracts new businesses and more people to live and work there. A well-managed city road network, that is easy to travel around and relatively free from congestion, goes a long way to improving quality of life.
Do you have any questions regarding MyCity?
Click here to read the FAQs or contact us directly at mycity@swarco.com