Gotthard Tunnel Switzerland
Efficiency Update for One of the Longest Road Tunnels in the Alps
SWARCO equipped the Gotthard road tunnel (motorway A2) with new hardware and software – efficiency increased with EffiGo integration into the operational management level and a new operating concept are included.

The Gotthard Road Tunnel in the Swiss Alps is one of the narrowest arteries on the transit corridor between North and South Europe. 17 km long, it is also among the world's longest road tunnels with bi-directional traffic. The tunnel traffic control had been completely renovated between 2003 and 2005 by SWARCO's former subsidiary Weiss-Electronic GmbH. In the course of several extension works the traffic control system was prepared for an integration into the operational management level (BLE TINWUR) of the cantons of Tessin (TI), Nidwalden (NW) and Uri (UR) with subsequent BLE network integration of all traffic computers.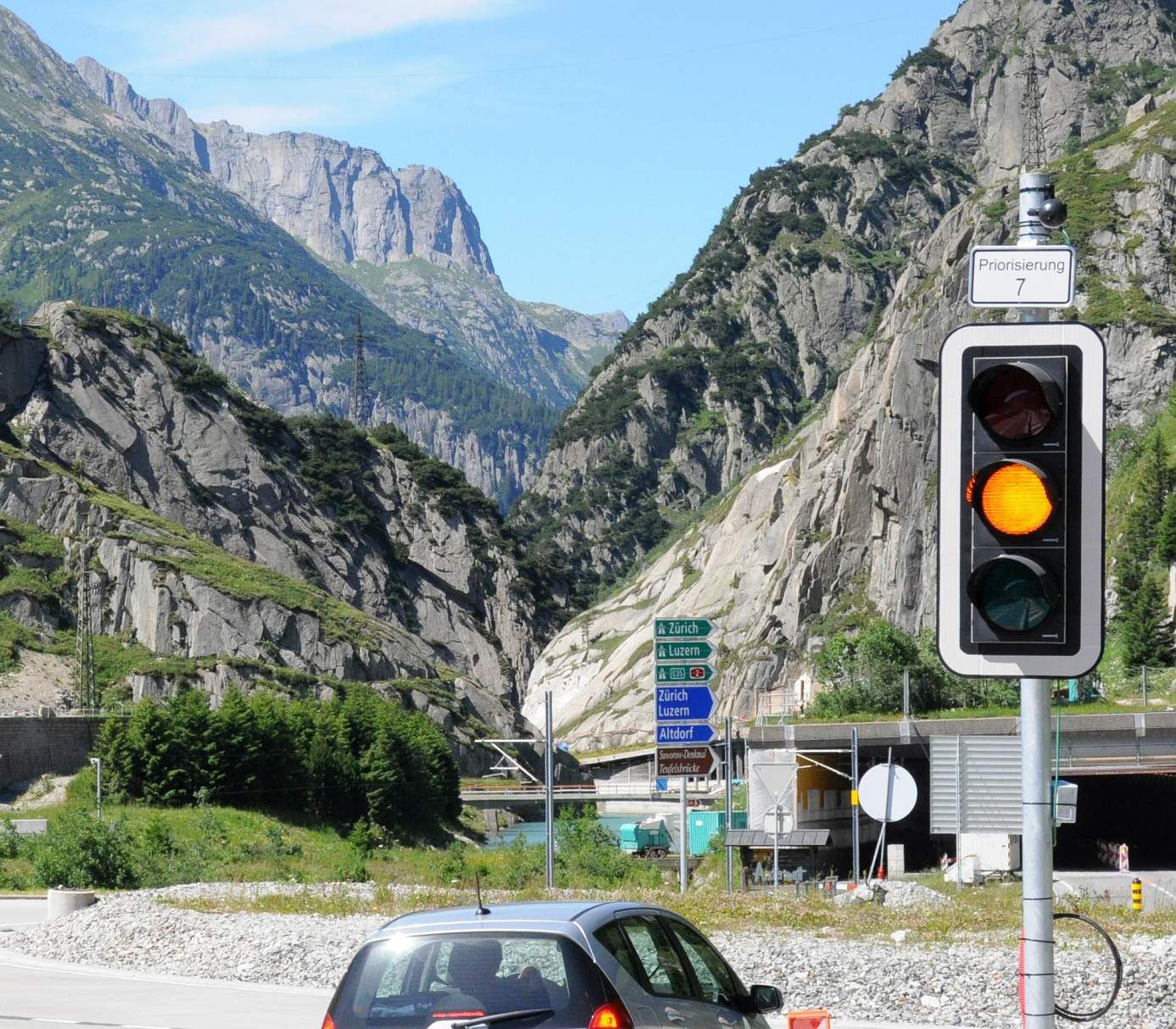 Objectives, Challenges and To-do's
Since the operators were very satisfied with the functionalities and reliability of the traffic management system, they chose SWARCO again in 2014 to increase the efficiency by integrating the Gotthard system into the superordinate BLE. This required the simplification and adaption of the software architecture to cope with the other devices of the BLE. Further action points: Cancel the separation of the North ramp so that the separate master computers are no longer needed. Their functionality is then handled by the tunnel master computers, creating a redundancy set-up. Moreover the outdated computer hardware had to be replaced and the entire group level of redundant servers reshaped to redundant KRI2B.
Innovative and Reliable MMI Solution
The heart of the traffic control system was not modified since it had been working fine. However, there was improvement potential for the user interface. The original one was developed with Java applets, which were no longer accepted due to possible incompatibilities of different versions. Therefore a completely new MMI (Man Machine Interface) was developed, exclusively based on HTML and Java Script and adapted to the "Look and Feel" of the other BLE components. Moreover the following hardware was installed within the project:
2 master computer systems incl. web server

2 emergency computer systems incl. web server

10 group computers with 20 servers

83 substations to control some 500 traffic signals

50 detection cross-sections with induction loops and radar

7 height control stations

This solutions makes the Baudirektion Uri benefit from an innovative system and continuous improvements, with SWARCO as reliable project partner .
KEY FACTS

PROJECT DURATION
2014–2015

THE CHALLENGE
Efficiency increase by EffiGo intergration

SERVICES
Planning and execution

TECHNOLOGY
Central control software, 2 master computer systems incl. web server, 2 emergency computer systems incl. web server, 10 group computers with 20 servers, 83 substations to control some 500 traffic signals, 50 detection cross-sections with induction loops and radar, 7 height control stations