Center of Competence: Joining Forces across the Globe to Harness the Power of Innovation
At the Center of Competence, SWARCO Road Marking Systems brings together experts from all over the world to develop new technologies.
For the development of new technologies, SWARCO Road Marking Systems relies on the Center of Competence. In this global department, the company brings together experts from many different areas of specialization. In doing so, it connects all Research & Development departments worldwide and includes external partners, too. Sales, Production and striping companies are also involved in this network, working together across departments. SWARCO Road Marking Systems thus pools the power of innovation of its staff and external partners across the globe.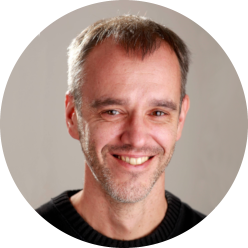 Peter Tomazic, Head of Center of Competence at SWARCO Road Marking Systems, and initiator of this global innovation network
27 August 2020 – The development of innovative infrastructure technologies for road traffic is an increasingly important endeavour. Marking systems are an important part of these technologies, and also play a decisive role in the safety of automated driver assistance systems. In the development of these systems, SWARCO Road Marking Systems follows a holistic approach and relies on its own global Center of Competence. Within this network, internal and external experts work together on pioneering innovations.According to the latest estimates, there are more than a billion bicycles in use on the planet. And, according to the International Bicycle Fund, nearly 130 million new bikes are sold worldwide every year. In parallel, the number of casualties among cyclists has grown considerably. Cyclists are much more likely to be severely injured or killed in road accidents than other road users. For this reason, improving cycling safety on roads is the number-one priority.
Various Areas of Specialization, One Goal
Process and automation engineers, chemists, plastics, application, electrical and mechanical engineers, as well as glass and marking experts from the Division meet with external experts at the Center of Competence. These include other companies as well as academic institutions. Peter Tomazic, Head of the Center of Competence, is convinced: "This interactive agility is what makes the Center of Competence a unique network, facilitating knowledge transfer across many borders and drawing on global synergies. Experts from all continents pool their knowledge, and, with great passion, develop it further into innovative solutions."
A Long-Standing Tradition: Joint Thinking beyond Tomorrow
At the Center of Competence, in addition to the scientific aspect, SWARCO's future-oriented mindset shows prominently. "This is one of the hallmarks of our family business. Traditionally, our approach has been not to think only in the short term but to always have future generations in mind", Tomazic explains. The Center of Competence is already the cradle of many innovations. This pooling of competence has delivered tried and tested products such as SWARCO SOLIDPLUS & SWARCO DURALUX. In combination with highly efficient production processes, SWARCO Road Marking Systems' glass beads have the smallest, most sustainable ecological footprint in the industry today. Innovative products and environmentally friendly marking materials have ushered in a new era in marking technology worldwide. Research on automated driving and lane markings as guidance systems also plays a pioneering role. With the Center of Competence, SWARCO Road Marking Systems establishes itself as a leader on these themes and sets new standards.
New Technologies for Industry
The Center of Competence plays an important role in the new business segment SWARCO Advanced Industry Systems. Here, the focus is on catering to industry perfectly by utilizing high-grade glass beads as blasting media for cleaning, as filling agents for plastics or as additives for building materials, paints and varnishes.
About SWARCO Road Marking Systems
Quality products and services from SWARCO Road Marking Systems guide traffic safely from A to B by day and, above all, by night. On all types of roads. Whatever the weather. From a single source. Over 5,000 customers in more than 80 countries place their trust in them.
For further information visit: www.swarco.com/rms