"Bicycle Wave" for Oberhausen / Germany
Oberhausen now Pedals Hard!
The city of Oberhausen in the Ruhr area already had a well-developed network of cycle paths, which has now been decisively optimised. With SWARCO's so-called "Radwelle Oberhausen", cyclists can now reach their destination even faster and safer.

Well-marked cycle paths meander through the entire urban area of Oberhausen, so that every corner can be easily reached on two wheels. Nevertheless, the people of Oberhausen preferred to get into their cars or use public transport. Why? The traffic lights were mainly optimized for public transport - so cyclists had to wait a long time. In order to make cycling more attractive and to increase the proportion of cyclists, waiting times had to be significantly reduced. As one of the most important customers of SWARCO Traffic Systems (STS), Oberhausen also relied on the expertise of SWARCO in this case. As all the traffic light systems came from STS anyway, they could be converted at low cost.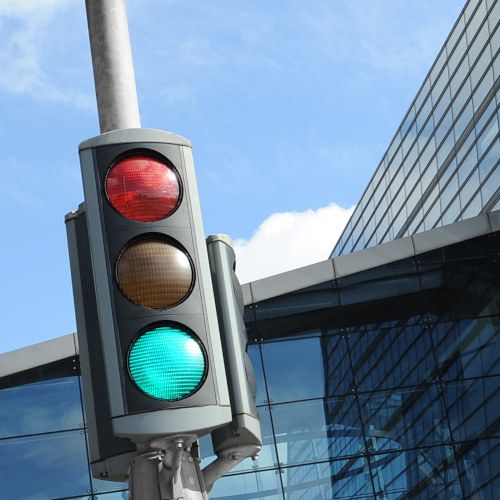 Cyclists see Green
The main cycling route network of the city of Oberhausen covers 67 km with a total of 191 traffic lights (LSA). The aim now was to significantly improve the switching at the individual junctions for cyclists and thus increase comfort. The SWARCO solution: With the help of automatic detection - consisting of 8 thermal imaging cameras and 11 induction loops - cycle traffic is accelerated by cyclist pre-detection. How so? Detectors enable intelligent control of signalling systems. This means that as soon as the cyclist approaches the traffic light, it switches to green or - if it was already green - the green phase is extended. This keeps the cyclists in the flow and makes them faster, more comfortable and safer to their destination. They don't have to press any buttons at the traffic lights and don't have to stop and start all the time.
PR for a Wave of Enthusiasm
The main advantages of the evergreen wave are a significant increase in the attractiveness of the cycling network. This results in a reduction of CO2 emissions, which in turn benefits the environment and quality of life. Not to forget: The shortened waiting times have also reduced the number of red violations and thus improved general road safety. In Oberhausen, SWARCO not only impressed with its extensive technical know-how, but also supplied the complete PR package: 80 posters, 10,000 flyers, 1,000 stickers, 3 PVC banners, 1,000 saddle covers, 2 displays, 2 beach flags ... and above all the name and logo of "RADWELLE Oberhausen".
KEY FACTS

PROJECT DURATION
2017–2018

THE CHALLENGE
to optimise the cycling network of the city of Oberhausen for cyclists, to reduce travel times for cyclists and to increase the share of cyclists in road traffic

SERVICES
Planning and execution of an automatic detection system including PR package "RADWELLE Oberhausen"

TECHNOLOGY
automatic detection consisting of 8 thermal imaging cameras and 11 induction loops