An Innovative System for Safe Bicycle Lanes
SWARCO Road Marking Systems shows how cycling can become safer by using a combination of cold-plastic and preformed thermoplastic markings.
The cycling trend continues unabated. And with this comes significant risk – especially when interacting with motorised road users. The use of innovative road markings is a very efficient way to make cycling safer. Here, SWARCO Road Marking Systems relies on a combination of the Roller Plastic RP 15 and EUROTHERM preformed thermoplastics. The synergy effects benefit both cyclists and road operators. An abrasion-resistant thick-layer marking, the system is both durable and cost-efficient.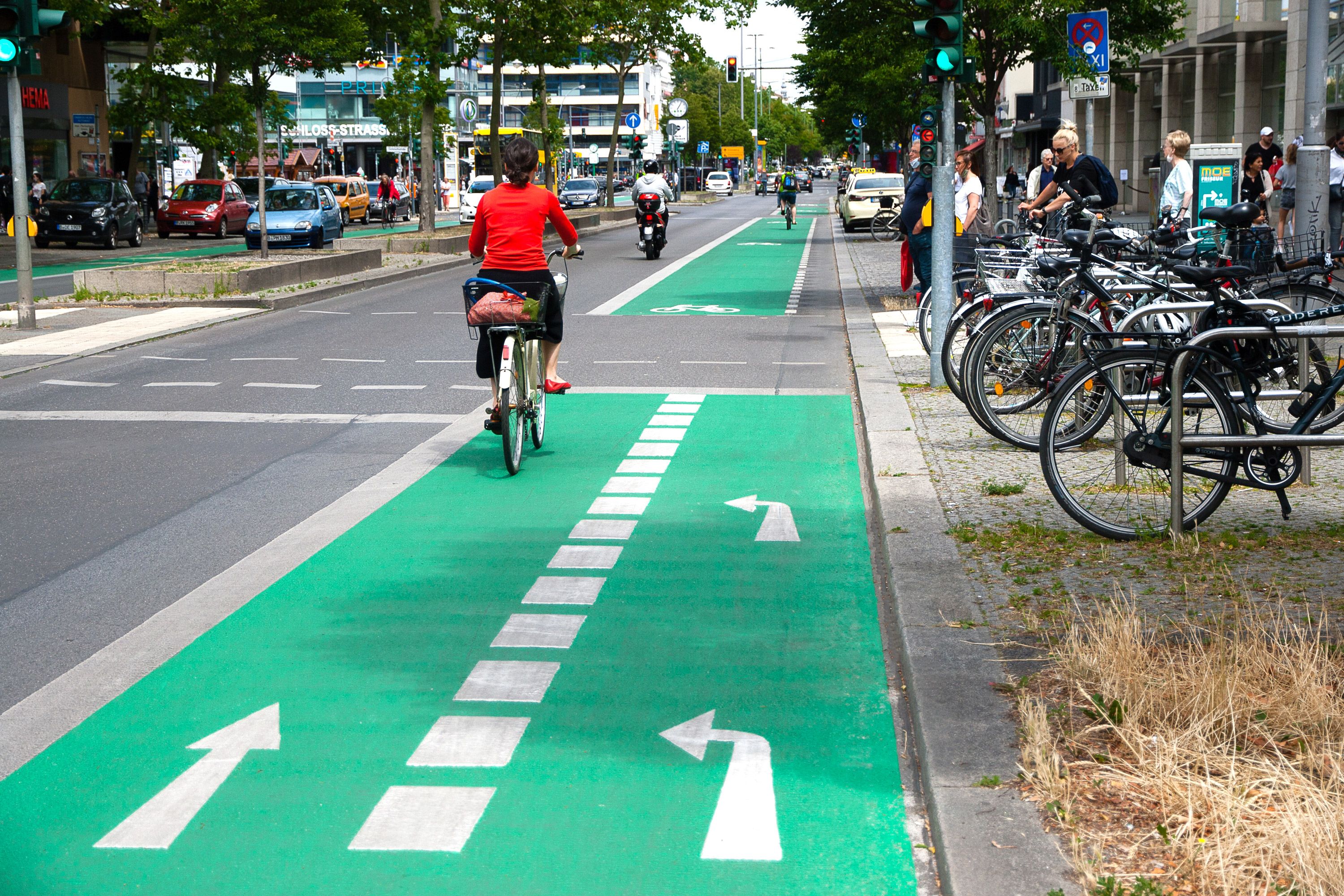 Clearly visible markings are better at attracting the attention of motorised road users, making bicycle lanes safer.
22 June 2021 – "Cycling is fast, healthy, environmentally and climate friendly, affordable, and has been extremely popular for many years. This makes bicycles an unbeatable means of transport for short distances. And yet, unfortunately, in many places, safety literally falls by the wayside," Andreas Nagel, Product and Sales Consultant at SWARCO Road Marking Systems, knows. The use of innovative marking systems is an efficient way to enhance safety on bicycle lanes. "In urban areas, in particular, these systems have proven highly effective. We recommend using a combination of several solutions to pool the advantages of individual materials," Andreas Nagel says.
An Innovative Combination for Greater Safety
SWARCO Road Marking Systems relies on combining its own products for marking bicycle lanes. "The Roller Plastic RP 15 and our
EUROTHERM preformed thermoplastics
are optimally adjusted to each other," Andreas Nagel explains. The cold plastics, which are practically solvent-free, offer excellent skid resistance. This is achieved through coarse fillers and an application technique involving rolling with a lambskin roller for finishing. The subsequent use of anti-skid materials is therefore no longer necessary. The Roller Plastic RP 15 is also more UV stable than other markings and can be used on asphalt, but also on concrete, if used together with a primer. This makes it the ideal material for bicycle lanes, EV charging stations, zebra crossings and other large-surface markings. "And EUROTHERM complements it perfectly. As preformed thermoplastics, there are virtually no bounds to the range of possible designs. They are always quick and easy to apply," Andreas Nagel continues. The highly versatile EUROTHERM material can take on many different shapes and colours and is often applied as traffic symbols, corporate logos or legends. The design of the shapes is finalized in the factory beforehand so that they can be welded on to the roller plastic directly. Thus, work involving stencils, or masking off the area, becomes obsolete. This saves valuable time and minimizes traffic congestions caused by road or lane closures.
Advantageous Synergy Effects
The combination of the Roller Plastic RP 15 and EUROTHERM preformed thermoplastics provides for a thick-layer, abrasion-resistant, and thus durable marking. For road operators, this means significantly lower application times and a longer service life. In addition to these economic advantages, cyclists, in particular, benefit from this system. Thanks to the clear markings, they can enjoy their dedicated lanes more safely again, with optimal skid resistance even in wet conditions as a result of the combination's properties.
About SWARCO Road Marking Systems
Quality products and services from SWARCO Road Marking Systems guide traffic safely from A to B by day and, above all, by night. On all types of roads. Whatever the weather. From a single source. Over 5,000 customers in more than 80 countries place their trust in them.
For further information visit: www.swarco.com/solutions/road-marking-systems/cycle-path-markings