Cycle Path Markings
More Safety for Cyclists
Bicycle lane markings are used to demarcate bicycle lanes from adjacent motorist traffic. They are mostly used in built-up / urban areas where space is scarce and motorised and bicycle traffic have to be routed alongside each other. A distinct colour-based separation protects cyclists, hence the signal colour red is often the colour of choice.
Particular attention should be paid to the anti-skid properties of the surface. Depending on the marking material used, anti-skid additives (e.g. quartz sand, coloured sand, glass granulate) will either be added during production or as drop-on material.
We offer a wide range of products suitable for bicycle lanes. Our bicycle lane marking materials are elastic and are not only ideal for bicycle path markings but for any large area markings.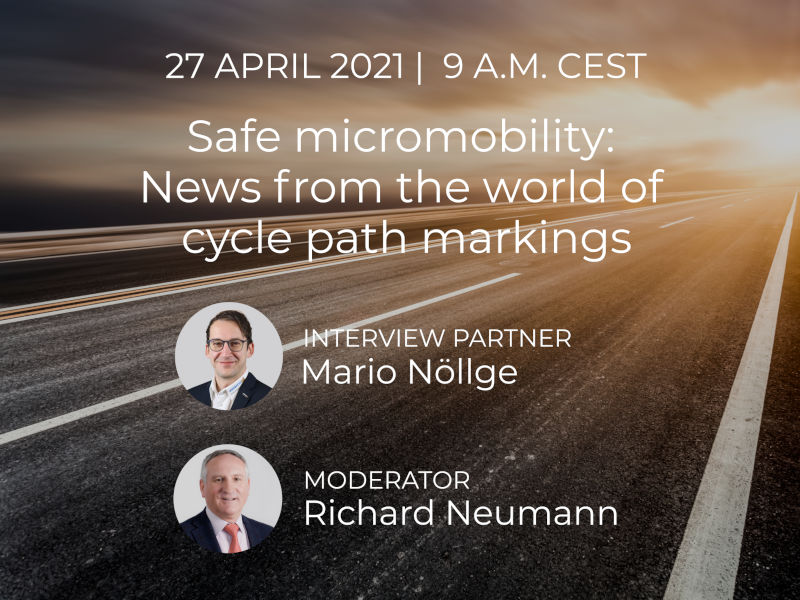 Safe Micromobility: News from the World of Cycle Path Markings
In this talk we address the booming topic of environmentally friendly locomotion in cities and target municipal decision-makers, road marking contractors and existing SWARCO customers. Why are bike lane markings important? What makes a good cycle path marking? What marking systems are available, and how can you increase safety on bike highways? Mario Nöllge, Managing Director of SWARCO Limburger Lackfabrik in Germany, will be available to answer these and other questions in the upcoming Innovation Talk.