ACTROS.compact
Small and powerful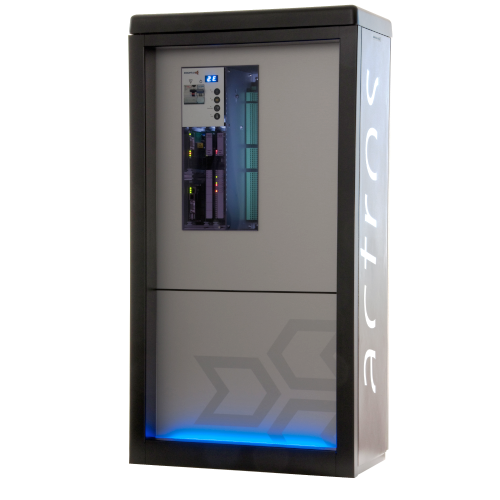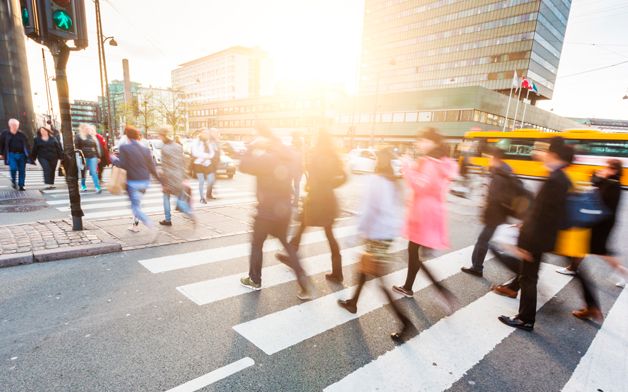 ACTROS.compact is the new milestone in traffic controller technology. The extremely compact device was developed specifically for smaller junctions and pedestrian crossings, and rounds off the ACTROS product family. Thanks to the further development in ACTROS controller technology, ACTROS.compact is small in size and energy-efficient and features all the properties which set ACTROS products apart: easy maintenance, user-friendly operation, good extensibility and high stability.
ACTROS.compact is compatible with all ACTROS interfaces, such as OCIT®, ACTROS.connect, SB15 and SB12. Control cores and peripheral modules such as fault sensors, KSR or audible "green light" signals for blind pedestrians can be integrated without difficulty and without major expense: "connect, program, go!"
24 outputs, which can be toggled and monitored independently of each other, are provided for traffic engineering applications. Information can be imported and requests can be toggled via 12 inputs and four outputs. The control panel is directly integrated into the front panel (as a default setup) where the program and error information is displayed. Operation via durable touch sensors enables switching on/off and the changeover of programs and control levels.
Traffic engineering is generated via LISA+, the long-standing ACTROS programming language, or via JAVA programming.
Benefits
small size
quick assembly on the rear wall of a cabinet
simple installation
direct connection of the exterior system to control-spring power connectors on a central back PCB
available for signalling device voltages 230V, 10V and 40V
utilises the proven electronic modules of the ACTROS product family
fully ACTROS-compatible due to ACTROS.fusion technology
optimised for most efficient power consumption
also available with ACTROS.line and ACTROS.energyline
as ready-to-operate basic insert for quick replacement on-site
as tabletop device for programming and demonstration purposes
safety class according to DIN VDE 0832 / HD638:S1
Technical Details
Housing (Optional)
Standard cabinet with or without power supply unit
Sizes 0, 1, 2 according to DIN 43629 part 1, IP54
Power supply unit
Power supply according to TAB 2000, IP54
Size
(W x H x D) 190 x 420 x 200 mm
Controller Electronics
Max. number signal groups
24
Max. number light outputs
24
Number of I/Os
12 inputs, 4 outputs
Detectors
connection via CAN-Bus possible
Traffic control features
configurable fixed cycles, clock controlled cycles, signal group and phase oriented, adaptive control, coordinated deploymnet point control with LISA+ or freely programmable in JAVA, control cores such as VS-PLUS, PDMe/TL, MOTIONe, TRELAN/TRENDS, BALANCE
Interfaces
OCIT V1.1 and V2.0, Profil 2 und Profil 3,
ACTROS.connect, SB12, SB15, SB16, VnetS, SSI, DVI35, CANTO
Operation
internal touch-sensor user interface, web-server
ACTROS.access, optional additional graphical operator unit, BDI-2 (with 8 x 40 chars.)
Cycle traffic technology
0,5 s, 1 s
Clock
DCF77, GPS, NTP (via central interface)
Signalling

freely programmable, standard according to RiLSA

PT
R09 telegrams according to Standard VÖV 04.05.1
Signal safety
fault-proof technology, current and voltage monitoring for all lamp
outputs according to DIN VDE 0832, Section 100 and RiLSA
Power Electronics
Max. power consumption w/o lamp power
36 VA
Mains voltage
230 V (-15 ... +10%)
Mains frequency
50 Hz (-5 ... +5%)
Permitted lamp voltage
10 V, 230 V
Permitted LED-signal voltage
40 V OCIT, 230 V
Lamp power per output
12 – 200 W at 10 V and 230 V,
5 – 40 W at 40 V LED signal
Max. lamp output per control device
900 W at 10 V and 230 V,
200 W at 40 V LED signal

ACTROS.line properties of de-centralized technology

Max. number of independent bus lines
12
Max. number of external modules per bus line
15
Number of lamp outputs per external switch board
6
Number of inputs per external switch board
4
Max. length of a bus line
1,000 m
Types of signals
40 V OCIT LED signals