ACTROS - TRAFFIC CONTROLLER
Efficient sustainability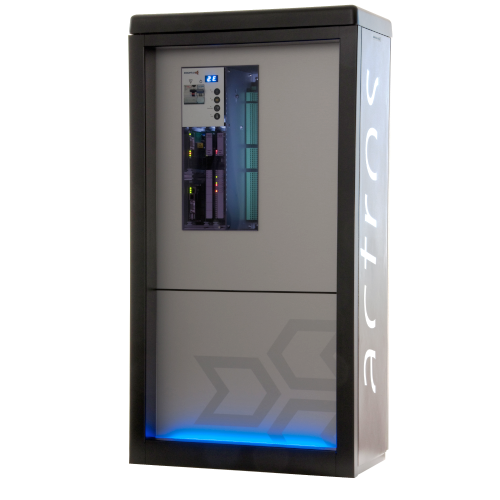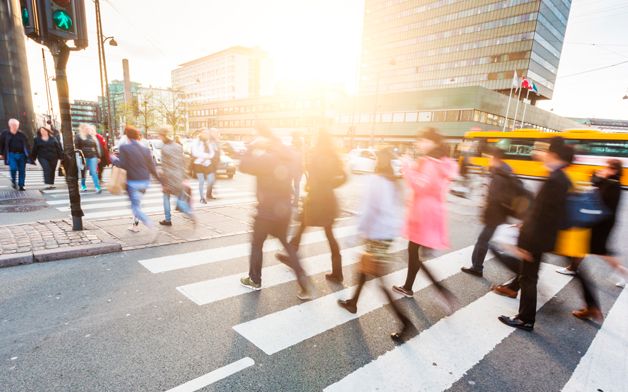 ACTROS is used for individual intersection control, or as a system component of a comprehensive Traffic Management System.
A variety of central interfaces assures easy integration into all important traffic management environments. For this purpose, especially the open standard for central interfaces, OCIT, is fully supported. ACTROS also supports manufacturer-specific interfaces, including SIEMENS computer interfaces. ACTROS performs the following control processes: LISA+, VS-PLUS, PDM/TL (with Motion), TRELAN/TRENDS, as well as additional modifications within individual program sequences. The extensively equipped standard traffic engineering platform LISA+ is primarily used.
Perfected hardware structure
ACTROS offers a modular architecture for flexible and individual adaptations, suitable for almost all modern traffic control systems. The system is based on fast and compact hardware, divided into three areas: system and functional modules, and optional components.
Ergonomics and Safety
ACTROS sets new standards in terms of ergonomics and operating safety. It can be conveniently controlled on-site by means of the integrated control unit, or by an integrated ACTROS.access web server via PDA or a workstation with Microsoft Internet Explorer. The ACTROS safety concept has resulted in a design with defined fail-safe technology. All lamp outputs are subject to current and voltage monitoring. All signal states are monitored, identified and controlled as per DIN VDE 0832 Part 100 and the guidelines for traffic signal systems (RiLSA).
ACTROS.line and ACTROS.energyline system variants
The ACTROS.line and ACTROS.energyline variants offer a decentralized control unit design, linking intelligent, distributed system components via flexible, easy-to-install bus lines to form an overall system.
Housing

Standard cabinet with / without public utility part: Size 1, 2, 2 as per DIN 43629 Part 1, IP54
Public utility part: as per TAB 2000, IP54





Control electronics

Max. number of signal groups: 64
Max. number of lamp outputs: 192
Number of lamp outputs per control board: 24
Max. number of I/Os: 144 (up to 288 with special design)
Number of I/Os per I/O card: 16 inputs, 8 outputs
Traffic-related control: Fixed time program, clock control, signal group, and phase-oriented, trafficdependent control, coordinated activation point control LISA+, or freely programmable in Java control elements such as VS-Plus , PDMe/TL, MOTIONe, Trelan Trends , BALANCE
Central operation / interface: OCIT, V1.1 and V2.0, as well as Profile 2 and Profile 3, SB12, SB15, SB16, VnetS, SSI, DVI 35, CANTO, ACTROS.connect
Operation: Control unit, integrable manual control unit, web server
System clock: 0.5 s, 1 s
Signal sequence: Freely programmable, standard as per guidelines for traffic signal systems (RiLSA)
Public transport: R09 messages according to the VÖV 04.05.1 standard
Signal safeguarding: Designed with fail-safe technology; current and voltage monitoring of all lamp outputs as per DIN VDE 0832 Part 100 and guidelines for traffic signal systems (RiLSA)





Power electronics

Max. power consumption without lamp wattage: Typ. 50 VA, max. 300 W
Mains voltage: 230 V (-15 … +10%)
Power frequency: 50 Hz (-5 … +5%)
Permissible lamp voltages: 10 V / 40 V (OCIT-LED conformant) / 230 V
Lamp wattage per signal output: 12 to 460 W at 230 V and 10 V, 3 to 40 W in the case of 40 V LED signal transmitters
Max. lamp wattage per signal output: 460 W or 2 A
Max. lamp wattage per control unit: 3,000 W or 13 A






ACTROS.line: Features of decentralized technology

Max. number of independent bus lines: 24
Max. number of open-loop control modules per bus line: 15
Number of lamp outputs per decentralized control board: 6
Number of inputs per decentralized control board: 4
Max. length of a bus line: 1 km
Lamp types: 40 V OCIT-LED signal transmitters