CCAM: Cooperative, connected & automated mobility
CCAM – i.e. cooperative, networked and automated mobility – will permanently change the traffic of the future and is one of the major future trends in the automotive industry. By gradually networking and automating the transport system, CCAM technologies will help to reduce the number of accidents, cut CO₂ emissions, avoid empty runs and fundamentally improve the efficiency of (urban) transport as a whole.
Definition: CCAM
CCAM stands for Cooperative Connected and Automated Mobility.
It is thus an umbrella term for intelligent mobility, also called smart mobility: Today and in the future, cars should communicate with each other, be connected to each other and to their surroundings (e.g. with traffic lights) and finally drive autonomously.
CCAM-Technology: Goals & Opportunities
No question: CCAM technologies – such as autonomous driving, MaaS, connected mobility and many more – will first assert themselves in large cities, metropolitan regions and, of course, in logistics. After all, there are many opportunities in CCAM to sustainably overcome long-known challenges in transport and logistics.
The most important goals of CCAM are:
Increase road safety

Creating easy access to mobility for all (keyword: MaaS)

Reducing the negative impact of vehicles on the environment

Avoiding search or empty trips (logistics)

Reducing the volume of traffic

Promoting micro-mobility

Expansion of inner-city green spaces and cycle paths

Promotion of autonomous vehicles - public transport, logistics & individual transport
Good to know: Widespread deployment and effective use of smart vehicles are critical to the future success of CCAM.
CCAM Automotive – When will autonomous driving arrive?
Autonomous driving does not come overnight, but in stages. And with each step, drivers gain more time, are safer on the road and reduce their CO₂ footprint.
The following graphic illustrates this development step by step: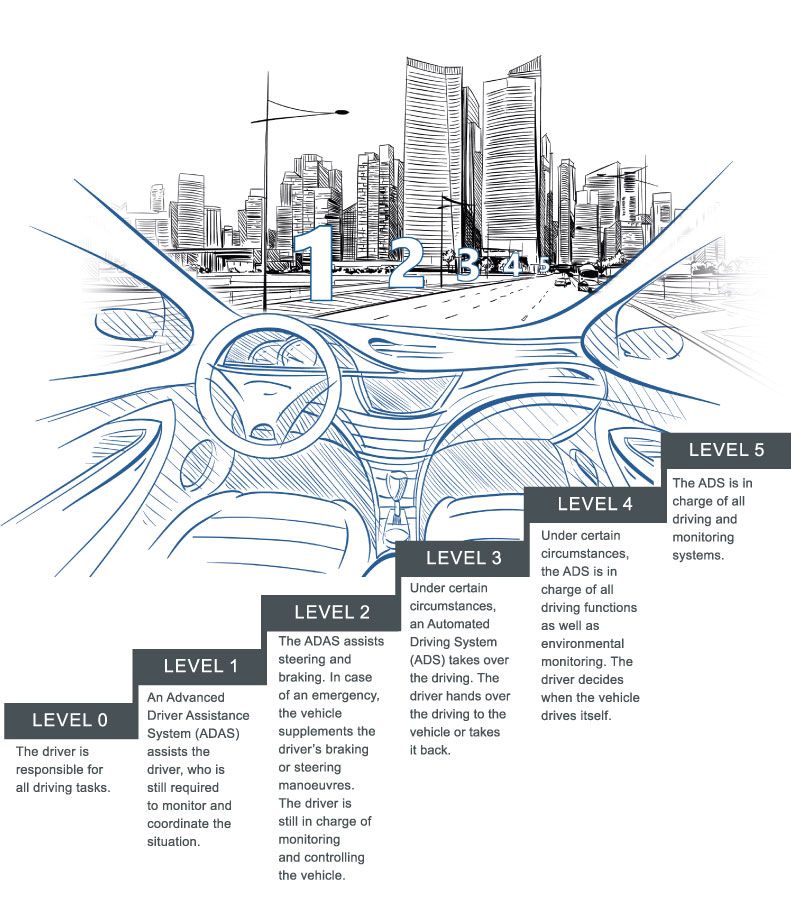 ADAS & ADS: What is the difference? In the case of driver assistance systems, Advanced Driver Assistance Systems, the abbreviation ADAS is used. For self-driving vehicles, the abbreviation ADS stands for Automated Driving Systems.
CCAM: related topics & solutions
Conclusion: Cooperative Connected and Automated Mobility (CCAM)
CCAM – Cooperative Connected and Automated Mobility – focuses on the safe, efficient and environmentally friendly movement of people and goods. Connected, automated vehicles and Mobility-as-a-Service (MaaS) offerings will play a crucial role in the expansion of CCAM technologies.
Based on society's needs, the mobility of the future will cross a new, digital frontier that enables vehicles to communicate with each other and with their environment - in real time. This creates previously unknown possibilities for coordination and takes traffic management a decisive step forward.
Last but not least: The technologies around CCAM ensure better connectivity between vehicles and the infrastructure. This connectivity will lead to more efficient and environmentally friendly traffic or fleet management and increase safety. Automated freight and mobility services will become just as possible as seamless mobility for all people - including the last mile.
FAQs - Frequently asked questions briefly explained
CCAM stands for Cooperative Connected and Automated Mobility and is a kind of subcategory of intelligent transport systems (ITS). CCAM is primarily about advancing the networking, automation and coordination of vehicles (also in logistics).
Communication between vehicles and infrastructure will be crucial to increase the safety of future automated vehicles in the transport system. Cooperation, connectivity and automation will merge into one over time.
Self-driving cars (ADS) will not come overnight, but in several steps:
Step: assisted driving (e.g. parking or lane assist).
Step: partially automated driving (hand remains on the handlebar)
Step: highly automated driving (hands-free driving possible to a limited extent)
Step: autonomous driving (vehicle drives independently)
The main objectives of CCAM are:
Increase road safety

Creating easy access to mobility for all (keyword: MaaS)

Reducing CO₂ emissions

Avoiding search or empty trips (logistics)
The networking of transport vehicles (keyword: connected mobility) with their clients and their environment speeds up the location of freight, reduces empty runs and detours, optimises fuel consumption and ensures improved use of the vehicle fleet.