SWARCO to integrate Parkopedia's premium parking services
Parkopedia to provide parking services to SWARCO's PARCO smartphone app.
SWARCO to leverage Parkopedia's on- and off-street-data in Europe.
Parkopedia, the world's leading parking service provider, and SWARCO, leading solution provider of intelligent traffic systems and parking systems in Germany, announced today that they will provide each other with parking data in Europe.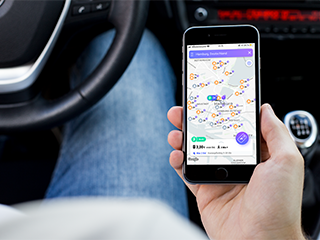 Parkopedia will provide static and dynamic parking information to SWARCO's mobile parking app, named PARCO. The app is a digital solution for road users to find, compare and pay for parking spaces ticket-free and cashless. The app is available for download on Apple App Store and Google Play Store. PARCO complements SWARCO's wide traffic and parking management portfolio enabling cities and companies to manage traffic and parking spaces digitally and efficiently.
Through this partnership, SWARCO will also provide Parkopedia with its unique car park data, which Parkopedia will use to further improve its parking coverage for its consumers and B2B customers. Parkopedia's full portfolio of services covering garage and street parking data, ensures drivers are able to find the closest parking, compare prices and pay for parking across 15,000 cities and 89 countries worldwide, covering over 70 million parking spaces.
Commenting on the announcement, Parkopedia's COO Hans Puvogel said, "We are thrilled to provide SWARCO with our premium parking services. This integration will help millions of users access our parking data and find suitable parking near their destination."
Uwe Pertz, SWARCO's Head of BU Parking & E-Mobility in Germany, added, "Our partnership with Parkopedia strengthens our market leading position for parking guidance systems in more than 190 German cities by providing the most accurate and highest quality parking information to drivers. This integration will improve the driver experience by allowing drivers to plan trips and find and navigate to the nearest free or cheapest parking space."
About SWARCO and PARCO
SWARCO's leading idea is to improve quality of life by making the travel experience safer, quicker, more convenient and environmentally sound. For this purpose, the Austrian traffic technology corporation produces and provides a large range of products, systems, services, and turnkey solutions in road marking, urban and interurban traffic control, parking, and public transport. Cooperative systems, infrastructure-to-vehicle communication, electromobility, and integrated software solutions for the liveable city are latest fields in the group's portfolio. Our 3,800 traffic experts are keen to shape together with our customers the transition from conventional traffic management to value-added services fit for the traveler in the digital age.
PARCO is a joint product of the traffic management provider SWARCO and the technology company ParkHere GmbH. The development has been started in April 2018 with the aim of digitizing parking space management in metropolitan areas, providing parking information and enabling ticket-free and cashless parking payments for users across cities. PARCO has been available for download from the Apple App Store and Google Play Store since April 2020 and is initially available in Germany.
Visit https://parco-app.de/ for more information on PARCO.
About Parkopedia
Parkopedia is the world's leading parking services provider used by millions of drivers and organizations such as Audi, Apple, BMW, Ford, Garmin, GM, Jaguar, Land Rover, Mercedes-Benz, Peugeot, Sygic, TomTom, Toyota, Volkswagen, and many others.
Parkopedia is available in 15,000 cities across 89 countries globally, covering over 70 million parking spaces, helping drivers take the pain out of parking. Parkopedia does this by helping drivers find the closest, cheapest, or available parking to their destination, pay in selected locations, and navigate directly to the parking space.
Parkopedia is a founding member of the Autonomous Valet Parking consortium, which develops highly detailed parking maps and corresponding algorithms to help self-driving vehicles navigate to an available parking space and park autonomously.
Visit business.parkopedia.com for more information.