Safe Pedestrian Crossings for the Start of the School Year
With holidays soon coming to an end, renewed focus is placed on traffic safety for schoolchildren. In this context, pedestrian crossings play a crucial role.
According to current statistics, one third of all accidents involving pedestrians occur on these crossings. In 2019, the last benchmark year prior to the COVID-19 outbreak, 1,207 people in Austria suffered accidents at pedestrian crossings; 12 of them died. Therefore, with the school year starting soon, children's safety is receiving increased attention again. Unfortunately, children are affected by serious accidents particularly often. According to a study by the OeAMTC, the Austrian Automobile, Motorcycle and Touring Club, 89 percent of drivers are willing and ready to stop at uncontrolled pedestrian crossings. Clearly visible pedestrian crossings and conspicuous pictograms can help increase attention, and thus, safety. SWARCO Road Marking Systems has been developing innovative solutions to that end.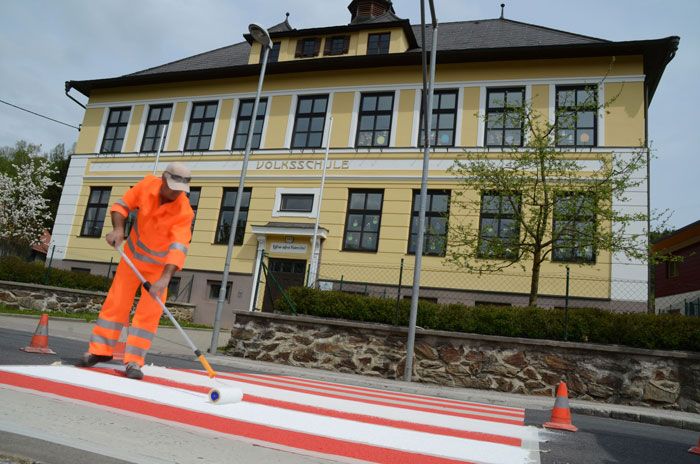 Conspicuous lane markings can help increase drivers' willingness and readiness to stop at pedestrian crossings, thus making them safer.
26 August 2021 – In Austria, the summer break is drawing to a close. Soon, thousands of schoolchildren will go back to their everyday school life. With the end of the holidays, the topic of children's safety on their way to school is in the spotlight. "Naturally, accident hotspots are found particularly in areas where different road users converge, such as pedestrian crossings. According to the OeAMTC, one third of all accidents involving pedestrians happen precisely there – unfortunately, often with tragic consequences, too," Alexander Fasching, Sales & Application Engineer at SWARCO Road Marking Systems knows.
100 Pedestrian Accidents Happen Every Month
Analyses by Statistics Austria have shown a high prevalence of accidents at pedestrian crossings. "Looking at 2019, which is essentially the last regular year prior to the COVID-19 outbreak, about 100 accidents on average were recorded every month. This is clearly too much for what is meant to be safe pedestrian crossings," Alexander Fasching says. The OeAMTC did some research to get to the bottom of this issue. A study shows that only 89 percent of drivers stop at pedestrian crossings when a pedestrian is showing their intention to cross. The reasons for these alarming numbers are manifold, as the study reveals. "Very often, drivers are distracted or not paying attention, and simply don't notice the crossing. Therefore, pedestrian crossings and pictograms play an important role," Alexander Fasching explains. Here, modern road marking systems can help improve road users' situational awareness.
Visually Conspicuous Markings Improve Safety
Lane markings are a key factor for roadway safety. They make essential installations like pedestrian crossings visually conspicuous, which enhances safety. When it comes to visibility, the decisive safety element is the glass beads embedded in the marking material. They reflect the beam from the headlight back to the driver, thus providing optimal orientation. The Austrian corporation has been a pioneer in this area, making a compelling case with their system expertise in combining the Roller Plastic RP 15 and SWARCO SOLIDPLUS premium glass beads. These are part of a new generation of premium glass beads, which offer higher retroreflection values and long-term durability. "Measurements have shown that this system can be several times more retroreflective than standard markings. This quality can literally save lives by making pedestrian crossings more visible, especially in dark or wet conditions," Alexander Fasching explains.
About SWARCO Road Marking Systems
Quality products and services from SWARCO Road Marking Systems guide traffic safely from A to B by day and, above all, by night. On all types of roads. Whatever the weather. From a single source. Over 5,000 customers in more than 80 countries place their trust in them.
For further information visit: www.swarco.com/rms