Port of Dover / UK
Flexible HGV Management for the Port of Dover
Better signage, increased efficiency and less congestion: With 15 Variable Message Signs, SWARCO controls the entire truck traffic at the British port. The largest project of its kind.

The port of Dover (GB) is one of the most important passenger and commercial ports in Europe. More than 2.5 million units of freight with a value of over 15.5 billion pounds are shipped here every year. This corresponds to a turnover of 119 billion pounds and no less than 17 per cent of total British trade. Impressive figures with impressive logistics behind it. To further optimise, SWARCO was brought on board.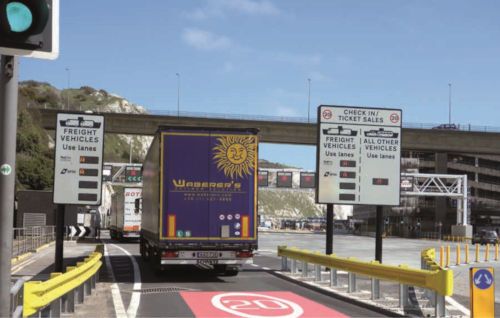 The Goal: 0 Waiting Time instead of 4 km of Traffic Jam
After record sales of 2.53 million freight units in 2015, an increase of 5%, an investment programme was launched to adapt the infrastructure to the growing traffic. Part of this is to increase capacity for trucks waiting to be transported across the English Channel. The plan: the construction of 13 stops for 220 trucks. These are designed to help contain 4 km of queues and the associated congestion during busy periods and reduce emissions. It also needed a system that automatically guides arriving vehicles to the right ferry service.
VMS - The Variable Solution
SWARCO installed a total of 15 Variable Message Signs (VMS), signaling devices and barriers, and provided the lanes with vehicle recognition. Depending on the traffic, two VMSs are used to direct trucks directly through customs or onto the site. The other 13 are overhead panels of the entry lanes in the 57.5 metre long portal of the holding facility. These VMS guide the driver directly into the lane that leads him to his ferry service. Each VMS consists of 160,000 individual LEDs and was manufactured and installed within three months. Another challenge: the LEDs had to meet the port's light emission standards to minimise light pollution and disturbance to local residents during 24/7 operation.
Just as Variable: The Software Behind it
The SWARCO management software allows operators to change and adapt 12 different settings at any time of the day or night. For example: default setting 1 directs traffic past the holding device and directly through customs. Preset 2, on the other hand, directs traffic into the system, but limits the number of lanes opened to 3. Each setting takes into account a different scenario to allow operators maximum flexibility to direct traffic and redirect it if necessary for smooth truck handling.
This is the best example of how road and shipping traffic can be steered and controlled with intelligent hardware and software.
KEY FACTS

PROJECT DURATION
2015–2016

THE CHALLENGE
Stop area with highly efficient traffic management to reduce congestion and assign trucks to the right ferry

SERVICES
Planning and implementation of a smart traffic control system

TECHNOLOGY
15 variable message signs (VMS) with 160,000 LEDs each, vehicle detection, 57.5 m stop area, signals, barriers