Parking at Porsche
Better Orientation for Employees
Dr.-Ing.h.c. F. Porsche AG operates its development centre in Weissach, some 30 km west of Stuttgart, with approx. 6,500 employees. Particularly at the start of work, there is a lively search for parking spaces by employees in the company's own parking garages and parking lots. Timely information about the spots where parking spaces are still available reduces search traffic and stress in the morning.
SWARCO in Germany reports the successful implementation of more than 20 parking guidance systems during 2017. New installations, the maintenance of existing systems with signage and computer upgrades and numerous extensions were the job of the experienced team based in Gaggenau near Karlsruhe.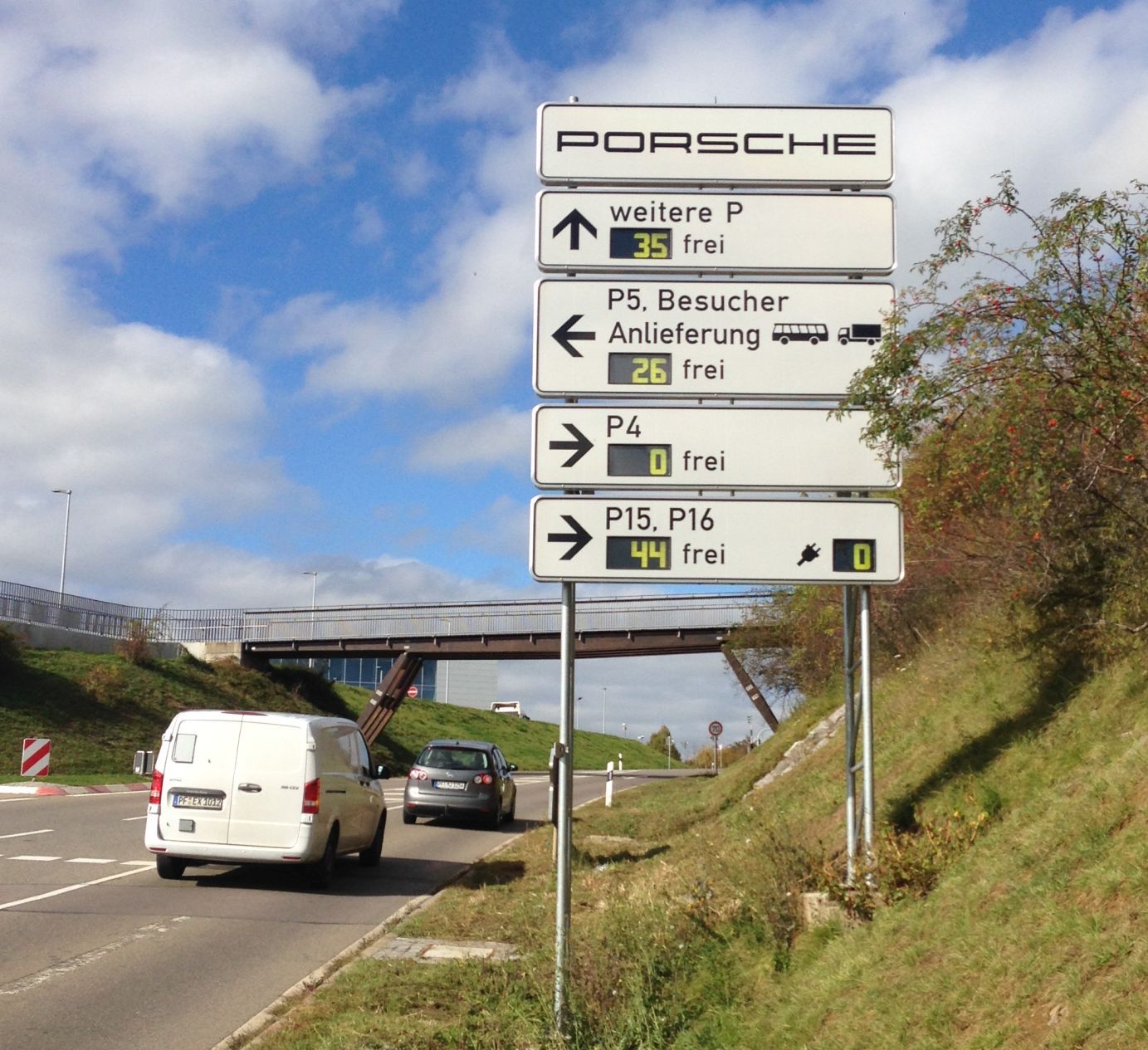 Better orientation for the employees
Sports car manufacturer Porsche AG is a prominent customer who ordered dynamic parking guidance systems for their development center in Weissach and the headquarters in Zuffenhausen. The expansion of the main factory also led to an increased need for parking spaces. In a first phase, new car parks were built and equipped near the entrances with eleven dynamic parking guidance signs informing about the current occupancy. Meanwhile a second construction phase has started, putting up signs in the city area of Stuttgart to inform the Porsche employees at an early stage which road to take to the next free parking house in Zuffenhausen.
A complete package
In Weissach seven sign posts indicate the availability of free parking spaces. This is either assessed by counting the difference between cars entering and cars leaving or by a single space monitoring system. SWARCO was responsible for the entire parking system including civil engineering work, production of dynamic signs, installation and commissioning. Data transmission occurs via GPRS. Uwe Pertz, parking expert with SWARCO, knows that there are new, extended requirements for parking guidance systems. "We have the right answers to such trends by developing specific software tools. As examples he names the following:
- Hosted parking guidance centre (Software as a Service)
- Integration of parking spaces with charging stations for e-vehicles
- Parking space reservation option before starting the trip
- Personnel number related single space monitoring for employees
- Integration of single space monitoring systems of car parks into citywide
parking guidance systems
- Communication of car park occupancy data on the internet and as
smartphone app
- Integration of fully graphic RGB LED information boards
- Control of bollards to bar parking spaces and sensitive city areas
- Connected mobility integrating public transport and park & ride facilities
Getting emissions under control
Often a parking guidance system is the first cornerstone for an integrated citywide traffic guidance and information system, as it has been installed by SWARCO in the Swiss town of Thun, considering particular traffic situations such as events, traffic incidents or construction works. C-ITS ready, modern parking guidance systems will be a great help for communities to tackle fine dust and emission impact.
KEY FACTS

PROJECT DURATION
2017

THE CHALLENGE
Design and implementation of a parking guidance system for a large employer


SERVICES
Development, planning and execution incl. civil works and cabling

TECHNOLOGY
Parking guidance central computer, data collection at 6 parking facilities by means of energy-autonomous ParkHere sensors, data processing of single-space monitoring equipment, 7 dynamic parking guidance boards