Norra Länken / Stockholm
Pleasant Driving
Safe Driving in a Tunnel Situation
Norra Länken ("the Northern Link") is one of the largest infrastructure projects in Sweden consisting of a 13 km long motorway and tunnel system built in two separate tubes with three lanes each beneath the city centre of Stockholm.
Trafikverket, the Swedish Road Administration, is SWARCO SVERIGE's largest customer, with numerous traffic solutions delivered and continuous business relations in place. The bid for Norra Länken was won by the TUNNELENTREPRENAD SVENSKA consortium, where SWARCO has been in charge of the traffic technology and communication equipment for the tunnel system.
Already in the first decade of the new millenium SWARCO had been involved in equipping Södra Länken, the southern motorway link in Stockholm.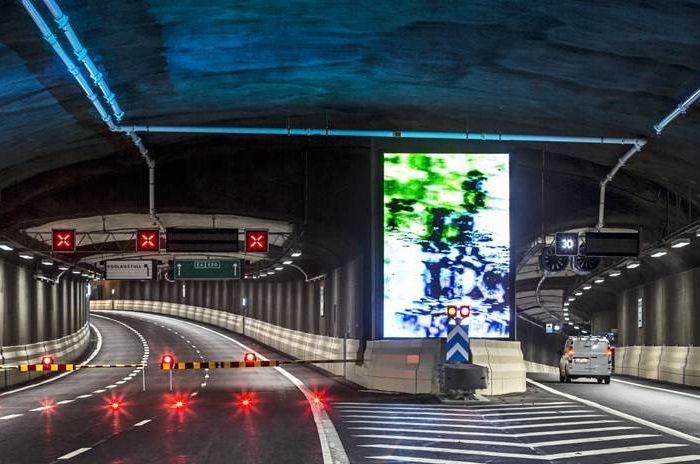 Assets: The most Competitive Solution and Organization
The project was carried out in by the joint-venture company Tunnelentreprenad Svenska AB consisting 50% each of SWARCO and Rolf Tannergård AB (former EIAB). Tunnelentreprenad performed design, installation and commissioning of all electrical and safety systems inside the tunnel. Many different suppliers and subcontractors were used. The JV was selected because it was able to offer the most competitive solution within the framework of a great project organization. Several SWARCO companies contributed with their know-how and technology to bring this large project to a successful end, and this well ahead of the original project schedule.
Art in the Tunnel
In addition to the usual traffic signs SWARCO was also awarded
with the task to deliver a 4.5 by 6.3m RGB variable message sign used
in the artistic design at one of the exit ramifications. It is the
objective to break up the monotony of underground driving with
art installations. Each of the six tunnel intersections has
its own identity to facilitate orientation for the motorists: Grassland,
reed, water, woodland, winter, and open landscape. The artists
Ernst Billgren, Mattias Klum, Ann-Margret Fyregård, Pål Svensson
und Per-Göran Hillinge were put in charge by the Swedish road
authority Trafikverket to convey also in the tunnel an experience
of Stockholm's nature and landscape by means of mood lightings
and the mentioned motifs. The display quality and the favourable energy efficiency of the VMS were decisive factors in selecting SWARCO for this job.
KEY FACTS

PROJECT DURATION
2010–2015

THE CHALLENGE
Complete installation of an underground motorway
tunnel system

SERVICES
Planning and implementation of traffic related components of tunnel system

TECHNOLOGY
1 large VMS, outstation, detectors, barriers


MAJOR BENEFIT
Project finished ahead of original time schedule