FREELY PROGRAMMABLE VMS
Shaping the Future of LED Signalling Technology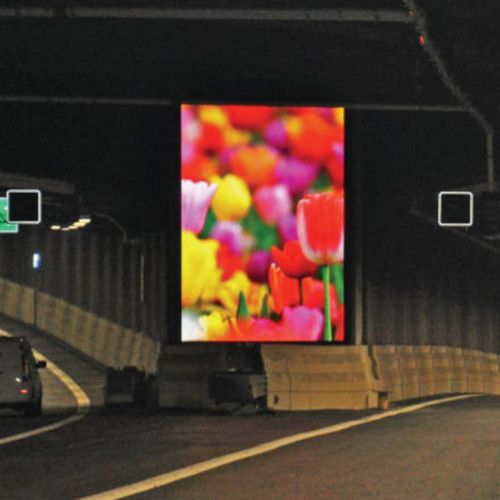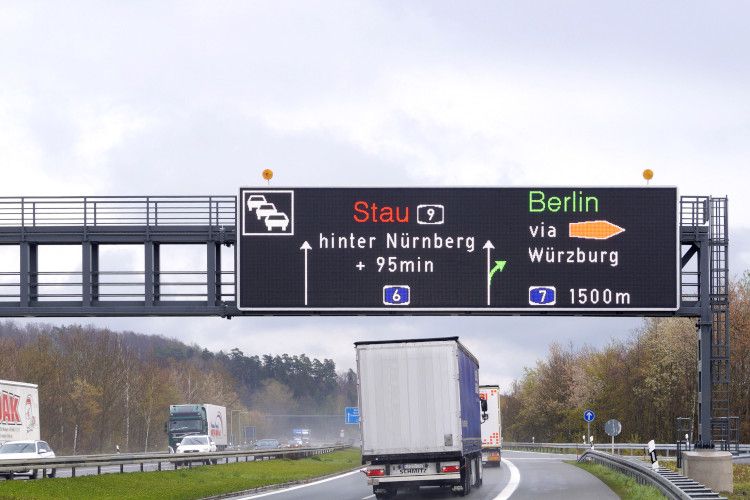 SWARCO's VMS constitute the cutting-edge of optical quality in signalisation and are used worldwide for dynamic traffic management on highways and traffic guidance in urban areas.
All VMS are certified by Notified Body SGS/INTRON and BASt according to the requirements of the latest version of EN12966 and provide brilliant legibility, energy efficiency and an excellent luminance ratio. Our patented lens technology enables the fitting of the optical lens directly in the matrix plate – there is no need for a distorting front screen. Our unique optical design avoids the problems associated with reflections. Even at low sun position (5°) the luminance ratio meeting the highest requirement classes guarantees best legibility.
Freely programmable VMS can be offered as text sign using 5x7 pixel technology as well as monochromatic, bicolour and full colour graphical displays.
Typical applications of freely programmable VMS include route/re-routing information, warnings (accidents, congestion), toll rates and special information.
Monitoring and
Error Reporting
Worldwide integration in traffic management systems using different interfaces and protocols for control and data exchange
The patented LED optical system

provides highest optical performance
directs the LED light to where it is needed
allows down to 97% reduction of LED forward current (depending on pixel pitch), maintaining all optical requirements with highest performance of brightness and contrast during the whole life cycle of the variable message sign, therefore increased availability and lowest energy consumption

All LEDs are continuously monitored, even when they are off; LED status will be reported to the traffic center or to a local control
Conformity to EN 12966:2014+A1:2018: more than 100 class-combinations of different colour, luminosity, contrast, beam width, pixel pitch, LEDs, forward current, etc. have been tested and certified by SGS/INTRON
A wide range of pixel pitch options from 12mm to 35mm, fitting to any application
The onboard operating system of the variable message sign provides permanent diagnosis and reports any error status to the central system
Full traceability of all used assemblies in the internal data base
A pulse width modulated at a constant very low level current increases LED life time and avoids ageing effects and loss of luminosity
Use of cutting edge LED technology: only highest quality LEDs from renowned manufacturers are used
Higher resolution by small pixel pitch (12mm with RGB) fulfilling most demanding requirements of EN 12966 (including contrast)
Quick and easy replacement of parts without use of tools
Reliable power supply for LED displays and controller
Optimised stability by proven construction
Light weight by weight-saving construction using non-corrosive aluminum or stainless steel reduces costs of structural system
Attractive and modern design
Adaptable to different ambient light conditions
Integrated sensors for temperature and light
Technical Details
Light source

High Power LEDs from renowned manufacturers

Housing

Modular design principle in seawater-proof, powder-coated profiles made of aluminum AlMg3 or stainless steel (V4A, 1.4571)

Protection classes

IP45 – IP65

Temperature classes

T1 (-15°C to +60°C) / T2 (-25°C to +55°C) / T3 (-40°C to +40°C) / T4 (-15°C to +55°C including sun radiation)

Humidity range

20 – 95% rel. humidity

Controller

Interfaces

Mounting options

C-rails

Pipe clamps

Other constructions on request

Protocols

FC2

FC2 via profibus

TLS 2002 / 2010

XDR/DAP

NTCIP

UTMC

others on request

Optics

Optical equipment fits into the matrix

luminance ratio (contrast) up to 100, even at low sun position <5°

Pixel pitch

(freely programmable VMS)

12 / / 15 / 16 / 20 / 25 / 30 / 35 mm

Light distribution

For all VMS's, beam width classes from B1 to B7 can be fulfilled with the highest luminance class L3(*) and luminance ratio R3 for various element spacings

Matrix

Anodized aluminium and coated – avoiding the front screen is standard

Power supply

80 - 265 VAC

12 - 48 VDC

Optional: photovoltaics, wind turbine, fuel cell

Maintenance access

Easy maintenance access

Rear door or front matrix access (depending on the type of variable message sign)

Certification

EN 12966:2005+A1:2009

CE-certification by SGS/INTRON

BASt-certified
Hermes
Hermes is a software solution to control up to eight VMS of SWARCO FUTURIT from one central controller PC. The main idea is to directly connect each VMS with the control centre without any relay- or outstation