More Safety for Micro-Mobility
A safe infrastructure in urban traffic can save lives. SWARCO Road Marking Systems offers solutions for every traffic situation.
Mobility is undergoing a trend reversal. In urban areas, in particular, many different modes of transport are coming together. The growing number of cyclists and bicycle lane networks also means a higher potential for dangerous situations involving road users. Therefore, a safe and reliable infrastructure is essential. SWARCO Road Marking Systems is an expert in tailor-made marking solutions, making roads safer for people.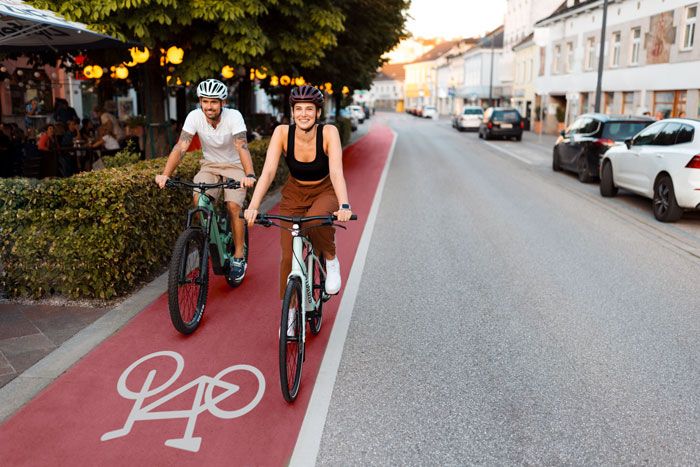 Nowadays, it's nearly impossible to imagine urban landscapes without micro-mobility. Bicycle lanes with clearly visible markings are essential for making traffic situations safe for all road users.
27 September 2022 – More and more people use a bicycle for everyday travel. Well-developed bicycle lane networks as well as rental offers facilitate easy access to and use of this climate-friendly means of transport. With cyclists regarded as vulnerable road users, safety plays a crucial role in this context. It is SWARCO Road Marking Systems' guiding principle to significantly enhance traffic safety for all road users.
Micro-Mobility Is Booming
Cycling is more popular than ever. In urban areas, in particular, micro-mobility is gaining in importance. Bicycles are increasingly becoming a means of transport for everyday travel. Whether for shopping, leisure or the journey to work – bicycles have long been more than just sports equipment. In many respects, micro-mobility brings added value to society. It closes the gap to public transport, helps prevent traffic jams and minimizes the problem of parking. And regular cycling also improves our health. "This is precisely where SWARCO Road Marking Systems' guiding principle comes into play. With our marking systems, we improve quality of life by making the travel experience safer, quicker, more convenient and environmentally sound," says Jonas Orschel, in charge of Product & Sales at SWARCO Road Marking Systems. Pop-up bicycle lanes set up in various European metropolitan areas in recent years illustrate the extent to which the population makes use of safe infrastructure once it's in place. The proportion of cyclists increased between 11 and 48 percent. However, the growing number of cyclists also comes with a higher risk of road traffic accidents, as shown by a study conducted by the European Transport Safety Council (ETSC). While the number of car occupants who died in accidents went down, fatalities among cyclists remained the same. Furthermore, 28 percent of fatal bicycle accidents occurred at road junctions, which underlines the enormous importance of safety and visibility for cyclists in road traffic.
Safety in Times of Mobility Transition
The safer the infrastructure, the more often people travel by bicycle. SWARCO Road Marking Systems' comprehensive portfolio offers a variety of solutions for area markings and visual designs. While bicycle lanes in green have a natural effect, red-coloured sections alert to potentially dangerous areas. Pictograms made of preformed thermoplastics are directly in the cyclist's field of vision and are therefore easy to see. "Coloured markings are used to designate bicycle lanes and separate them from the other road traffic. This heightens road users' attention and reduces the risk of accidents," Orschel continues, adding "We have taken on the task of making traffic situations as safe as possible for all road users."

About SWARCO Road Marking Systems
Quality products and services from SWARCO Road Marking Systems guide traffic safely from A to B by day and, above all, by night. Whatever the weather. From a single source. Over 5,000 customers in more than 80 countries place their trust in them.
For further information visit: www.swarco.com/rms