High Performance Meets Sustainability
"The next generation of glass beads" – SWARCO SOLIDPLUS premium reflective glass beads offer the best of both worlds by combining greater road safety and sustainable production.
With its SWARCO SOLIDPLUS premium reflective glass beads, SWARCO Road Marking Systems shows the way into the future. Thanks to their high retroreflection values, these high-grade micro glass beads help save lives on the road. Ongoing improvements in the production process allow for an efficient and responsible use of resources and reduce the environmental impact. New data analysis software now helps leverage additional potential to make production even more sustainable.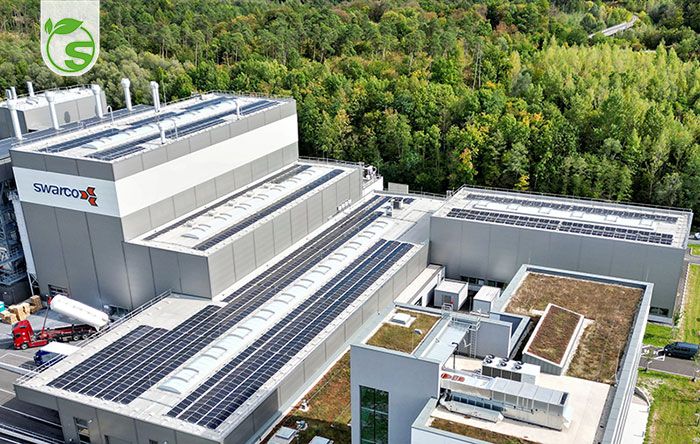 Eco-electricity generated from the PV system on the roof of the manufacturing plant is already being used for the production of SWARCO SOLIDPLUS. New analysis software will identify further possibilities to make production even more sustainable.
26 January 2023 – On an economic and technical level, SWARCO SOLIDPLUS is the worldwide standard for the next generation of reflective glass beads. Thanks to their excellent retroreflection, these premium reflective glass beads enhance the visibility of road markings in difficult conditions and make roads safer. They are the result of many years of research and development at SWARCO Road Marking Systems' Center of Competence for Glass Technology and Marking Systems and are improved on an ongoing basis.
Eco-Friendly Production
In addition to enhancing the performance of the glass beads on the road, these improvements also aim at making production more sustainable. SWARCO SOLIDPLUS has always been produced in the most environmentally responsible ways: Since last year, "the next generation of glass beads" is made in one of the most state-of-the-art and efficient facilities for the production of reflective glass beads. 100 percent of the electricity needed comes from renewable energy sources – and some of it from photovoltaic panels on the roof of the production plant.
Ambitious Goals
Further steps are now being taken to continuously reduce SWARCO SOLIDPLUS' ecological footprint. Friedrich Wiesinger, Head of the Center of Competence, presents SWARCO Road Marking Systems' clear ambitions: "We have set ourselves very ambitious goals in order to make our products even more eco-friendly. With our research on new glass formulations based on natural raw materials, we aim to produce the most sustainable reflective glass beads in the world."
Precise Analyses
New special data analysis software is now being used to help achieve these goals by thoroughly examining the emissions in supply chains and all production processes as well as the product life cycle. This even makes it possible to precisely determine the ecological footprint of individual products such as SWARCO SOLIDPLUS.
Systematic Research
The data collected helps the Center of Competence to carry out highly targeted research. For instance, the software identifies which raw materials leave a particularly high carbon footprint. Subsequently, they are replaced with more eco-friendly resources where possible, Friedrich Wiesinger explains: "Our product development team conducts research on how to switch from environmentally harmful materials to alternatives with the smallest possible ecological footprint. This helps reduce emissions, waste and transport over large distances, and achieve an effective circular economy." These are concrete plans to make the production of SWARCO SOLIDPLUS even more sustainable in the long term.
About SWARCO Road Marking Systems
Quality products and services from SWARCO Road Marking Systems guide traffic safely from A to B by day and, above all, by night. On all types of roads. Whatever the weather. From a single source. Over 5,000 customers in more than 80 countries place their trust in them.
For further information visit: www.swarco.com/rms