Collaboration for prioritising buses
Getting people to leave the car at home is a tough nut to crack for cities. To convince citizens to choose public transport, their journey must be on time and streamlined. Here's how the Public Transport Authority (PTA) in the Swedish county of Skåne is making everyday bus journeys easier for citizens.
Can bus priority be a solution for making buses and timetables more reliable? Skånetrafiken, PTA of Skåne county in south Sweden, launched a project with SWARCO that uses the existing infrastructure to provide a cost-efficient way to improve travel times.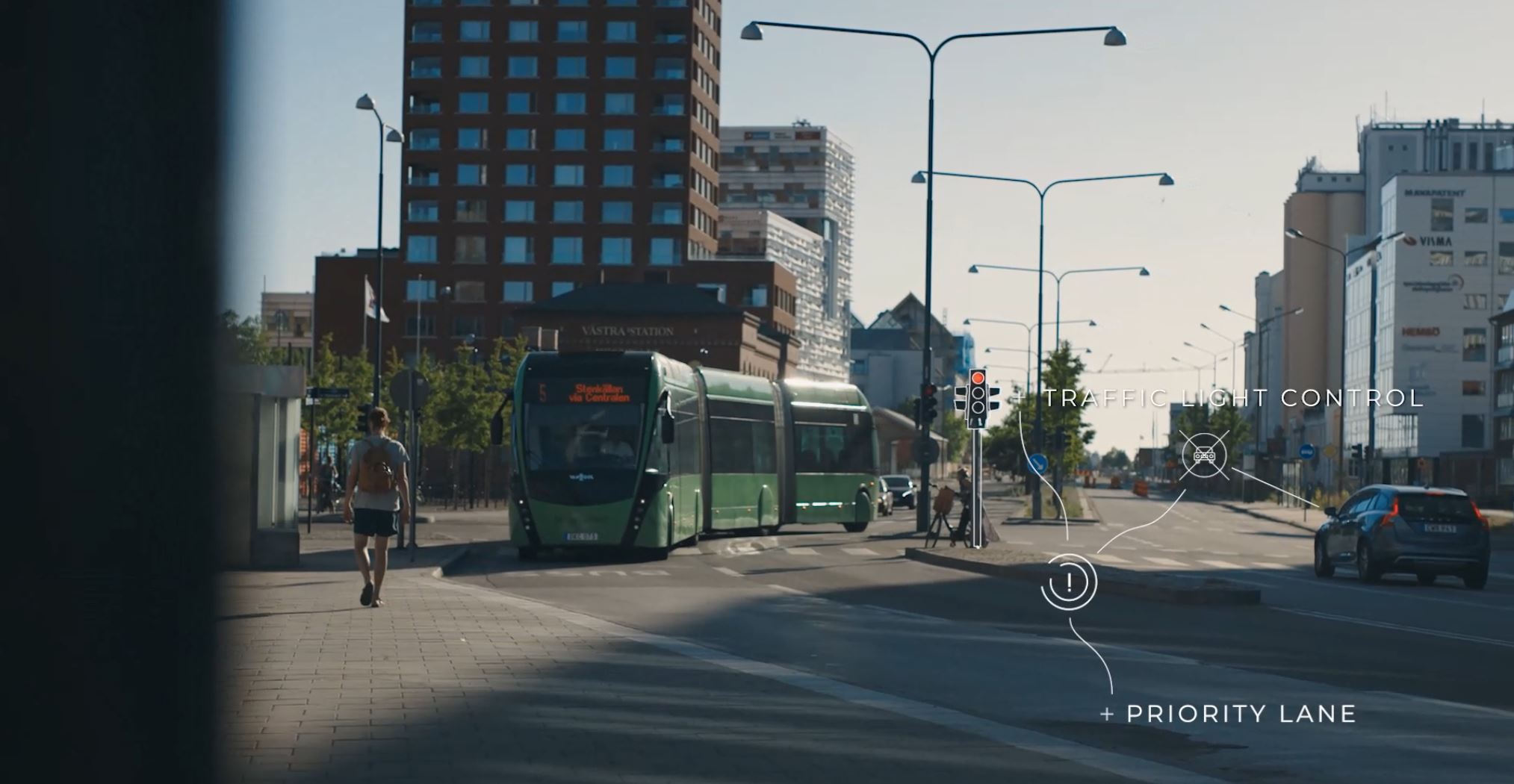 The priority is adaptive and based on importance. Priority based on timetable means absolute priority when a bus is late, medium priority when a bus is on time, and no priority if a bus is early. Priority based on passenger load means that a bus with more travellers takes precedence over a bus with fewer travellers.
Smart Priority prioritises requests based on the position of the bus. It uses virtual detectors placed and rearranged depending on the local conditions on the street. Requests for priority are transferred from the system Smart Priority to the Traffic Light Controller. The user interface allows you to monitor, interact with, and review traffic performance and statistics.
A new generation of Bus Priority
Malmö is the biggest city in the county of Skåne, where Skånetrafiken operates. The previous solution did not work as expected as the information flow did not work between Skånetrafiken and the City of Malmö. The system was partially shut down, leaving the City of Malmö without control over the prioritization.
With Smart Priority, Malmö now has an overview of the traffic via the interface, can see exactly what's going on at the traffic signals, and then sync bus priority to fit the current traffic situation.
"This new solution can offer a lot of benefits to Malmö. For the first time, they can do what they are good at – handling and controlling the signals, so Skånetrafiken can operate as efficiently as possible. It's a solution that works out well for everyone," says Niclas Sjöberg, Account Manager at SWARCO Sverige AB.
Reduced bus delays
First and foremost, Smart Priority is an investment for citizens. Bus priority is designed to help buses and trams shorten their travel times, improve regularity, and offer a smoother, more enjoyable travel experience. Bus travel times can be reduced by a third. When testing in one intersection, instead of about 60 seconds travel time through the intersection the time was down to around 40 seconds. The test also showed that when using Smart Priority, the travel through the intersection is not only shorter in average but will never have very long travel times: it is a more reliable trip.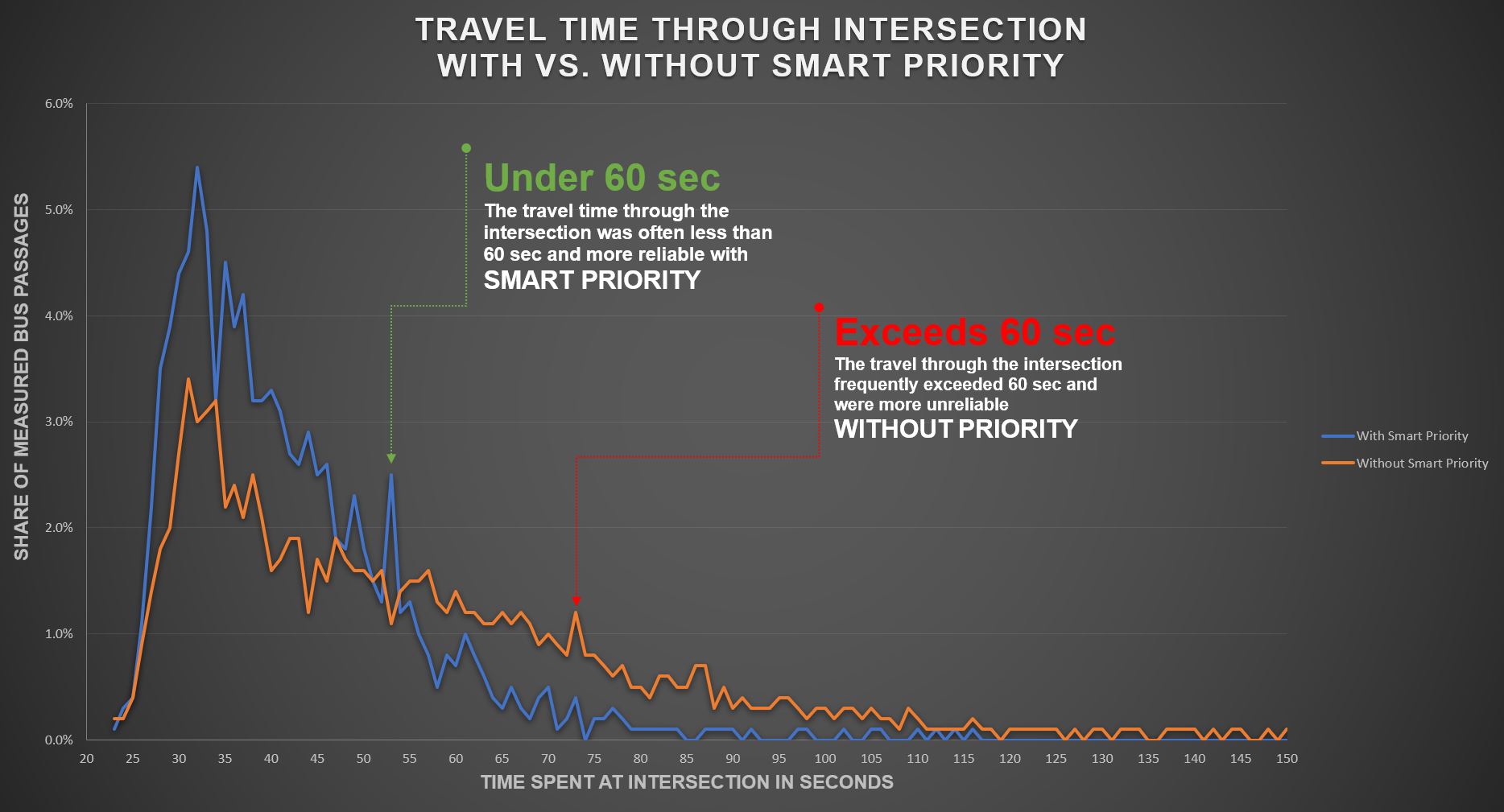 Plans for the rest of Skåne
The first phase of the project was completed 2017, and the next phase will include nearby city Helsingborg. The overall collaboration with Skånetrafiken will continue beyond the planned next phase.
"It's not about having more green lights times for the bus, it's about getting the green light exactly when needed. This can save a lot of time for a lot of people, especially if we are talking about a heavy loaded bus." says Petter Eistrand, Innovation, Research and Development at SWARCO Sverige AB.
Customised
Finnish software
The solution for Skånetrafiken is based on software from SWARCO in Finland, which was redesigned, scaled up and customised to fit Skånetrafiken's specific needs. Smart Priority is cloud-based, and transfers bus priority requests based on the bus or on-board unit position to the traffic controller.