How SWARCO Saved The Christmas Shopping Experience
With innovative parking guidance systems, SWARCO is helping to save time and nerves when looking for a parking space - now also in Bedford, England. Modern dynamic signage and real-time information ensure highly relaxed parking.
The capital of the English county of Bedfordshire faced the following challenge: Due to a new bypass, the traffic flow and routes in the city centre of Bedford had changed dramatically. As road users could no longer take their usual routes, there was chaos and general confusion. New signage and a new parking guidance system were needed for drivers who wanted to park in the city. With this order the Bedford Borough Council turned to SWARCO, a leader in the provision of traffic information.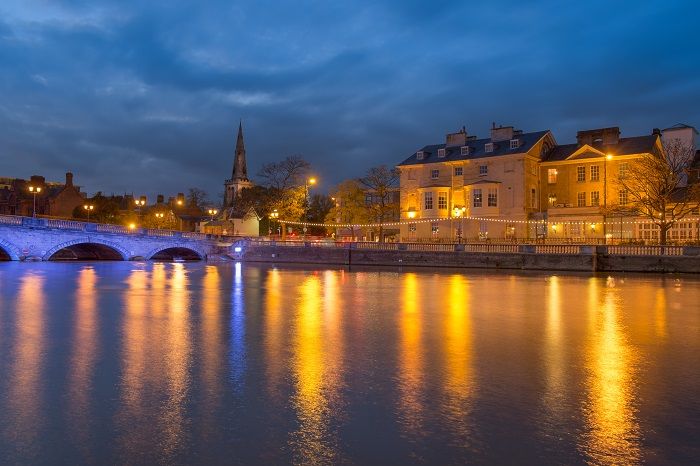 Flexible park management with Zephyr
The main focus of the innovative solution from SWARCO is on 6 dynamic signage systems, which alternately display the current load on the car parks, the specific directions to the car parks and any other information required. This flexible parking management is made possible by SWARCO's newly developed web-based Zephyr guidance system. In plain language: Zephyr records all relevant data and can be programmed to automatically change the content of the signs. In addition, even the graphics of the displays can be individually determined. A new counting system has been installed at key stations to ensure that the number of free parking spaces still available is always as accurate as possible.
Conclusion: Less stress & lower emissions
Clear directions to the nearest car park and information about available parking spaces on the street and in multi-storey car parks are key factors in shortening the annoying search for a parking space and, as a result, reducing traffic and emissions. Not to forget: Finding a free parking space quickly means less stress for the driver! SWARCO was able to complete the new parking guidance system for Bedford's most important car parks on time for the pre-Christmas season - and thus for stress-free Christmas shopping. The 800,000 Euro project also included 12 new flood warning signs installed by SWARCO.
KEY FACTS

PROJECT DURATION
2017 - 2018

THE CHALLENGE
Implementation of a flexible parking guidance system for the inner city of Bedford

SERVICES
Planning and execution of 6 dynamic signage systems

TECHNOLOGY
the web-based parking guidance system and parking management system Zephyr
SWARCO ZEPHYR
Zephyr from SWARCO is the ultimate sign and parking management system. Zephyr is a user-friendly web-based management system designed specifically to manage full colour matrix signs, car parking systems and warning systems enabling you to create, upload and schedule text and graphical messages.
Zephyr also manages speed warning signs and school signs as the platform can be used to access data on traffic data, speeds and volumes as well as set timetables, on/off times and provide key information such as power monitoring, LED monitoring and radar monitoring, all vital information on these safety critical signs.
A key feature of Zephyr is the zoom and pan map navigator, pinpointing all your assets in their locations and providing a preview of the relevant sign message and status. Find out more about Zephyr here
Talk to us today to discuss your requirements.