Real Time Passenger Information
Provide Optimal Information For Passengers.
Public transport vehicles transmit information to the central system in real time. This information includes current location, number of passengers and other data that can be used to optimize operations. At the same time, some of this information is also of great interest to passengers, e.g. arrival and departure times and punctuality of the service. This information needs to be displayed at bus stops and bus terminals, but can also be served to smart phone apps or web applications.
Information Displays
Public transport passenger information requires a wide variety of different displays, ranging from small and large indoor displays, e.g. in terminals and onboard, to outdoor displays at bays and bus stops. Depending on the situation, different technologies may be used, including RGB/LED and LCD. High-brightness, single or double-sided displays are required in difficult light situations, to maintain best possible readability, even in bright sunlight. Public transport control rooms may need large video walls for fleet management and surveillance.
Features


Gate and Bus Stop Displays
Information at each stop

LED/RGB or TFT monitors

SpeakOut voice announcements

Boarding signal
Tactile maps with SpeakOut announcers

Braille and text descriptions

SpeakOut multi-message / multi-language announcers

Interactive Information terminal
Entrance information at terminals

Detailed visit information at Gates

Integrated Reverse video system
Destination announcement

Next stop announcement

Multimedia content management

LED/RGB or TFT monitors

SpeakOut voice announcements
Content management system for geo fenced and service related information

Hardware independent content management app for display management

Supervision and fault management system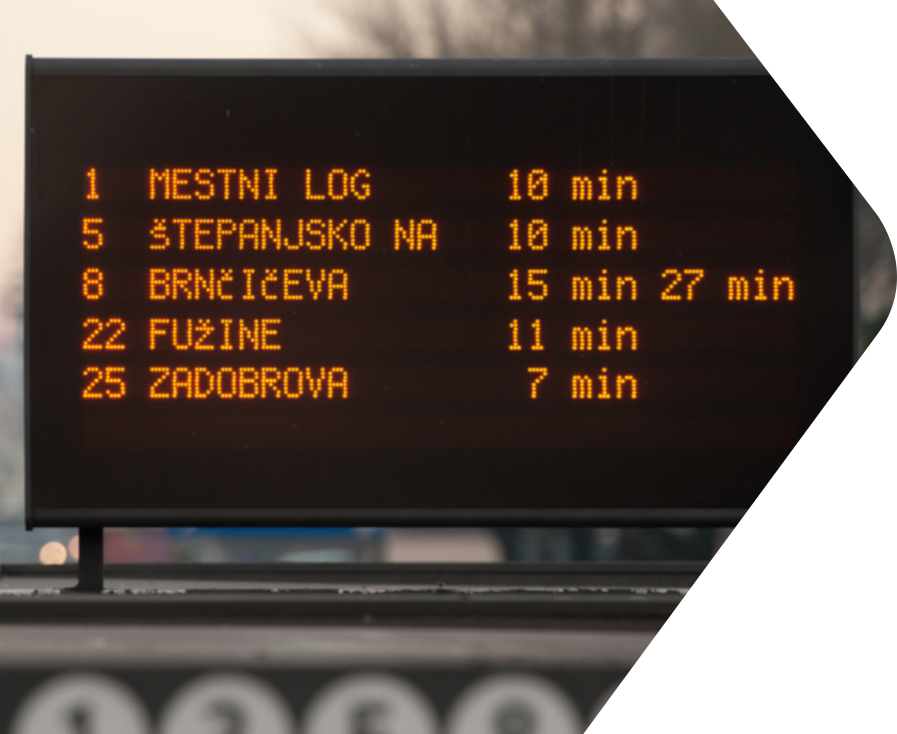 PASSENGER INFORMATION
Find Out More About Our Displays.
25 YEARS OF EXPERIENCE.
We have been manufacturing
Public Transport Information Displays at highest quality level for the past 25 years
in Austria, Germany, Slovenia and the UK.