Efficient and Safe Driving
Make Public Transport Even More
Environmentally-Sound And Efficient.
Making public transport even more environmentally-friendly is all in the hands of the drivers – or is it? With the right approach and method operators can further improve the efficiency of their fleets with the help of their drivers and SWARCO's efficient and safe driving solution.
For the companies operating vehicle fleets, the optimization of resources and improvement of the service lies mainly in the performance of their main productive resource, the DRIVER. Implementing a management system involving all the organization areas under the direction leadership is key for a continuous improvement of the performance and commitment of drivers, providing a more efficient and safer operation, committed to the environment and the quality of the service.
Integrated with
Fleet Management
Tools and Procedures for Operations / HR
Driver App and Gamification
We Utilize Blended Learning
for Efficient Driving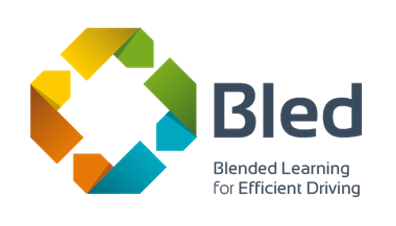 What is Bled?
BLED® (Blended Learning for Efficient Driving) is an innovative methodology supported by the IoT and data processing solution developed by ADN Mobile Solutions. It has been developed to improve efficiency and safety of bus fleets with a focus on the driver level.
It is based on a Plan-Do-Check-Act (PDCA) cycle and is specifically designed for bus fleets.
BLED® enables objective context-based indicators of the evolution of driving efficiency, plans and integrates the training and promotes motivation and incentive actions while providing benefits for each specific area and the whole company stakeholders: fuel savings, lower carbon footprint, loss reduction, lower insurance fees, reduced maintenance costs of the fleet. And on top of that, enables implementation of recognized management systems oriented to energy efficiency.


What is Bled trying to solve?
A bus fleet's efficiency is heavily dependent on the driver's performance. Due to heterogeneous driving conditions comparing drivers is often like comparing apples with oranges – with consequences. On the one hand, raw data comparison provides very little real insight into driver's performance. Drivers consider the comparison unfair and as a result the resistance against any change grows. Bled solve these issues.


How does Bled work?
Seemless operation with fleet management on-board hardware (Optionally: dedicated hardware as option).
Data on driving conditions (route, traffic load, weather, etc.) retrieved.
Data normalised by central system (comparable conditions identified).
Drivers' performances compared only where comparable conditions exist (fair assessment).
Measures implemented based on fair assessment:
Real-time performance information for drivers, collective and individual trainings, higher driver motivation
Major Benefits
Advanced Open Source, Modular Technology
100% open source platform based on standards, cloud services and method services and methodologies (called BLED -Blended Learning for Efficient Driving) perfectly aligned to the current needs of the passenger road transport companies.
Unique Services for HR and Operations Areas
SaaS analytics services and methodology for continuous training, traffic regulation (anti bunching), driving personalized recommendations, gamification and tools for HR and Operation (drivers & middle managers).
Seamless Integration with Existing AVM


Optional On Board Unit (OBU). Possible to take advantage of integrating with existing SWARCO OBU/AVM to cut down costs, reusing infrastructure and obtaining new value-added indicators on operation & security/efficiency.
Guaranteed
KPIs


Fuel savings / extended battery range (mileage): 6-10%. ROI >200 first year.
Drivers and passengers satisfaction > 8 in 10.
Accident reduction: 15+%.
Frequency and punctuality improvement.
Proven
References


Unique service with successful references involving more than 4000 drivers in different cities and areas across Europe, America and Africa.
"The number of accidents in which TUSSAM drivers are responsible has fallen by 11% in one year. In addition, we have achieved savings of more than 7,5% in diesel and CNG vehicles."
Ángel Blanco
Operations Manager
TUSSAM (Seville Bus Operator)
(400 buses – 1200 drivers)
"We have reduced the consumption of diesel near the 9% in the last year. This translates into a saving of 40,171 litres of diesel. In addition, CTEA has reduced carbon dioxide emissions by 99.26 tons."
Miguel Ángel Alonso
General Manager of the Maintenance Division
ALSA National Express
(CTEA in Spain)
"We have managed to save with respect to the base year, up to 8% of fuel in our fleet operating at AGADIR and more than 7% in the one operating the urban area of Marrakech. In addition, we have obtained in the first half of 2018 an average accident reduction of 26% on both exploitations compared to the same period last year."
Alberto Pérez
General Manager
ALSA Morocco
(435 buses – 1400 drivers)