FUTURLED 6 X-Line
The first LED Module Communicating with Infrastructure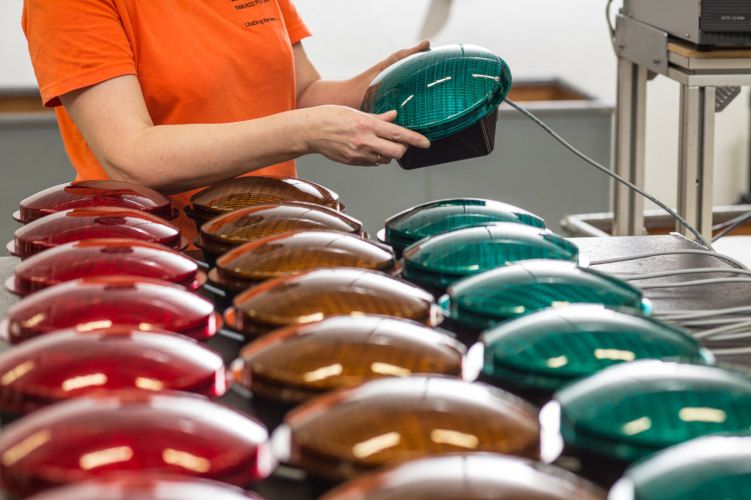 FUTURLED 6 X-Line signals are active elements of the intersection infrastructure and are not acting as an electronic bulb replacement like all previous generation of LED module have done. The signals are communicating directly with the intersection controller via a CAN based field bus.

For operating X-Line signals intersection controllers do not need lamp switch cards any longer, because these functionalities (e.g. switching on/off the light or safety monitoring of the signal status) are migrated into the signals. The signals just receive appropriate commands from the intersection controller and transmit back the current status.

This concept results in traffic lights with high maintenance efficiency, additional functionalities and utmost energy efficiency. The traffic lights are designed to meet the demanding safety requirements of the international standards EN 12368,
EN 61508 and EN 50556.
Open interfaces for
Smooth integration
Increased Energy
Efficiency
Increased Safety
Level and Up-time
excellent optical properties and performance based on well-known LED signals from Swarco Futurit
lowest power consumption (1W or even less)
individual adjustment of signal intensity
compensation of temperature effects on LED brightness
compensation of the LED degradation
configurable LED failure behavior
operating hour counter for efficient maintenance planning
reduce installation and cabling efforts due ring wiring
available in diameter 100 / 200 / 300 mm
Technical Details
Optical performance
meet EN 12368 and local requirements or even surpass them
Interface
CAN-bus communication with intersection controller
Operation voltage
24VDC (-35%/+20%) permanent
EMC
acc. EN 50293
Ambient temperature range
acc. to EN12368
Class A, B, C
(-40°C to +60°C)
Protection class
Safety Class II acc. to EN 61140
Tightness
IP 65 acc. to EN 60529
Impact resistance
Class IR3; acc. to EN 60598-1
Material of lens / housing
UV-stabilized polycarbonate
Cable
2x 2x0,25mm² twisted pair, 1m
Weight
100 mm: < 0.25 kg
200 mm: < 0.9 kg
300 mm: < 1.5 kg
Dimensions (incl. front lens)

100 mm: Ø 108 x 72 mm
200 mm: Ø 210 x 117 mm
300 mm: Ø 300 x 149 mm
For more technical details please don't hesitate to contact us.
The values shown are nominal for the FUTURLED 6 product. SWARCO design and manufacture variations of the FUTURLED 6 module to comply with local in country standards. Local in country models of the FUTURLED 6 family may exceed the stated values.
Customer-specific versions are available on request.