ACTROS. ALPHA.FIX
Compact efficiency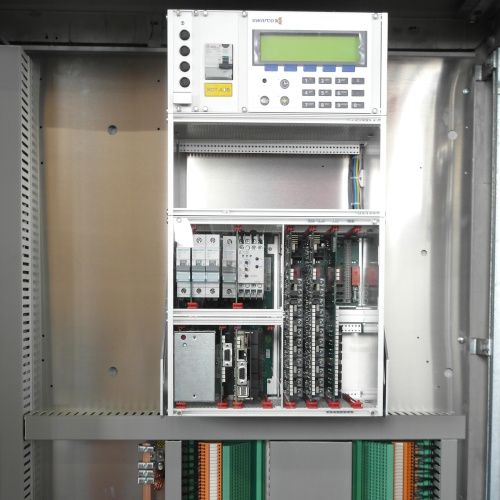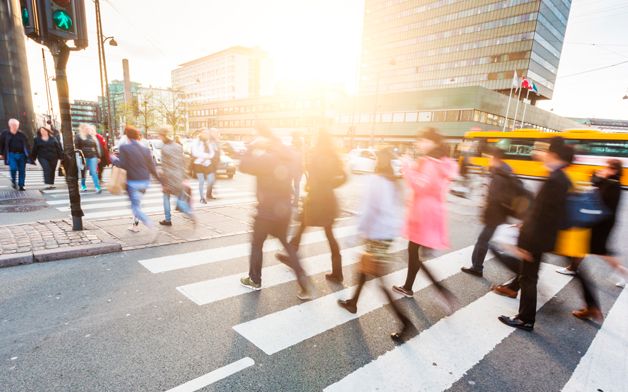 The new ACTROS.alpha.fix is the latest version of the traffic controler family and is designed and optimized
specifically for use on smaller and medium-sized traffic junctions. It is an ideal addition to the well-known ACTROS family.

Thanks to its compact design, the ACTROS.alpha.fix requires only a minimum of energy and space. It is based on the
known features of the ACTROS family, such as ease of maintenance, stability and security of investment thanks to compatibility. In addition, all known ACTROS interfaces are supported. These include, for example, OCIT®, ACTROS.connect, canto®, as well as control cores and peripheral components (TOPic-ready, public transport prioritization, blind clearance).

48 independently switchable and monitorable outputs are available for modern, energy-saving 40V-LED signal heads for traffic engineering implementation. Information can be read in and requests can be switched via 32 inputs and 16 outputs.

The control unit is integrated directly into the rack and allows full access to operating parameters. In addition, the user has an overview via the graphic display: Switching on and off, manual operation and switching programs and control levels are just some of the options that are available to the user.

With the ACTROS.alpha.fix, LISA+ or Java, as the tried and tested language of the ACTROS family, continue to be used.
Benefits
Minimal size in the standard size 1 cabinet, or alternatively in the size 2 cabinet.
ntegrated 40V-toroidal core transformer with inrush current limiting
Easy expandability thanks to free 3 HE rack space
Easy installation, since the terminals are permanently assigned to the outputs
Connection of the outdoor installation on optimized terminal units directly to tension spring clamp terminals
Four terminals are available per lamp output
Dimensioned for 40V-LED signal head voltage
Uses the proven electronic assemblies of the ACTROS family
Fully ACTROS compatible thanks to ACTROS.fusion technology
Ready to use size 2 mounting plate ensures quick on-site replacement
Safety according to DIN EN 50556 and SIL 3 EN 61508
Technical Details
HOUSING (OPTIONAL):
Standard cabinet with / without EVU component EVU component

Sizes 0, 1, 2 according to DIN 43629 Section 1, IP54
in accordance with TAB 2000, IP54

Size of the traffic controller (WxHxD)
190 x 420 x 200 mm
ELECTRONIC CONTROLS:

Max. number of signal groups

48

Max. number of lamp outputs

48

Number of I/Os

32 inputs, 16 outputs

Detectors

Connection also possible via CAN bus

Traffic-engineering controls

Fixed-times programme, clock control, signal group-oriented and phase-oriented
control dependent on traffic, co-ordinated deployment point controls LISA+ or
free programming in JAVA, control cores such as VS-PLUS, PDMe/TL,
TRELAN/TRENDS, BALANCE

Controls for centralised operation / interface
operation

OCIT V1.1, V2.0 an V3.0 as well as Profile 2 and Profile 3,
ACTROS.connect, SB12, SB15, SB16, VnetS, SSI, DVI35, CANTO, C2X ready
Internal TouchSensor control panel, Web server
ACTROS.access, optional additional graphic control panel with 8x40 characters

Cycle for traffic engineering

0,5 s, 1 s

Time source
DCF77, GPS, NTP (via centralised interface)
Signal sequence
Freely programmable, standard according to RiLSA R
Local public transport
09 telegrams in accordance with Standard VÖV 04.05.1
Signal circuit breaker
Setup in error-proof technology, current and voltage monitoring for all lamp
outputs according to DIN VDE 0832, Section 100 and RiLSA
PERFORMANCE ELECTRONICS:
Max. power consumption w/o lamp power
74 VA
Mains voltage
230 V (-15 ... +10%)
Mains frequency
50 Hz (-5 ... +5%)
Permissible LED signalling device voltages
40 V OCIT
Lamp output per signal output
1 - 40 W
Max. lamp output per traffic controller
400 W
ENVIRONMENTAL CONDITIONS:
Temperature Range
CERTIFICATION:
TÜV Rheinland
DIN VDE 0832-100: 2010, DIN VDE V 0832-110: 2013,
DIN V VDE V 0832-500: 2008, EN12675: 2015,
SIL3 acc. EN 61508 (Part 1 to 7): 2010, EN50556:2011