MiTra
The Smart Trailer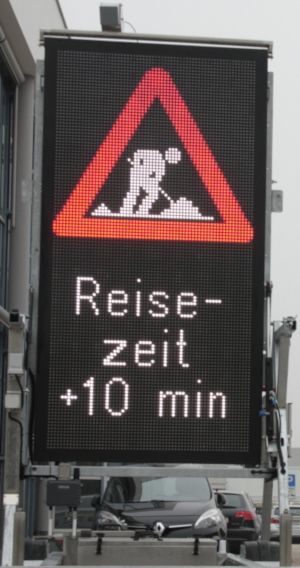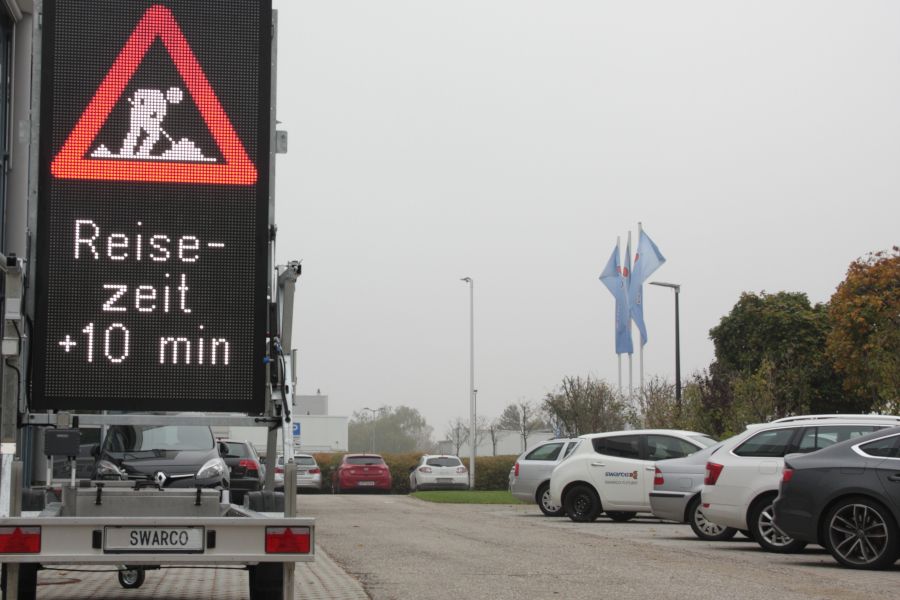 MiTra is an intelligent trailer to be used for multiple applications including functionality to inform drivers via a VMS, estimate the travel time, detect speed reduction with a radar sensor, monitor the traffic via a video camera and communicate with vehicles over ITS-G5 technology. Additionally the trailer can be controlled via a remote traffic management center.
See the full reference story here.
Highly Efficient
RGB LED-Matrix
The unique selling point is a fully networked, sensor-integrated and "talking" warning trailer. It has a modular structure so that the sensor equipment can be adapted to the customer and the application. The RGB LED matrix display is also available in different resolution and size. The vehicle-to-infrastructure communication module (road side unit) is fully integrated into the warning trailer and at radio and data level complies with international standards and future harmonized data profiles.

Basic functionality:
static, dynamic contents, animations up to 10 frames/second automatic or manual brightness control, local or remote control
single LED error detection
in-matrix or external flashers
lifting/lowering control
GPS localization

Road side unit:
Based on ITS-G5 and WLAN 802.11p

Application interface to cooperative central system

Harmonised with European standards
Supported Sensors:
Bluetooth/WLAN sensor for travel time estimation
Radar sensor for warning of approaching trucks
Radar sensor for speed reduction detection
Technical Details
Housing
Modular design principle in seawater-proof, powder-coated and made of aluminum AlMg3
WL9, DSL2, TDB2
Light source

High-power LEDs from renowned manufacturers.
Low LED forward current increases LED life time and avoids aging effects.

Optic

Optical equipment fits into the matrix
Luminance ratio (contrast) up to 100, even at low sun position <10°

VMS size and type
64x128 RGB
Pixel pitch
20 mm
Light distribution
highest EN12966 optical classes L3(*) R3 C2 B6
B7 on request
Power supply
12 VDC battery charger (220 VAC)
Battery
1 x 230Ah or 2 x 230Ah
Remote control
Integration in management system via ASFINAG IMIS protocol or FuturitCom2
Interfaces

Ethernet, WiFi (for PDA)

Local control
Touchscreen PDA with wireless connection
Protection class
P2 (EN12966), IP54 housing
P3 (EN12966), IP56 front matrix
Temperature classes
T1 (-15°C to +60°C) / T2 (-25°C to +55°C) / T3 (-40°C to +40°C)
Humidity range
0 – 95% rel. humidity
Chassis
According to ASFINAG requirements
Certification
EN 12966:2005+A1:2009
CE-certification by SGS/INTRON
ECE R10-05