MiTra - The Talking Trailer
Travel Time Information Along the Motorway
The MiTra smart warning trailer communicates current information to road users in real time to make travelling safer, more predictable and more pleasant.
The Austrian motorway operator ASFINAG (Autobahnen- und Schnellstraßen-Finanzierungs-Aktiengesellschaft) was looking for an intelligent trailer that could be used for driver information via variable message signs (VMS), travel time estimation, speed reduction detection, traffic monitoring and vehicle communication.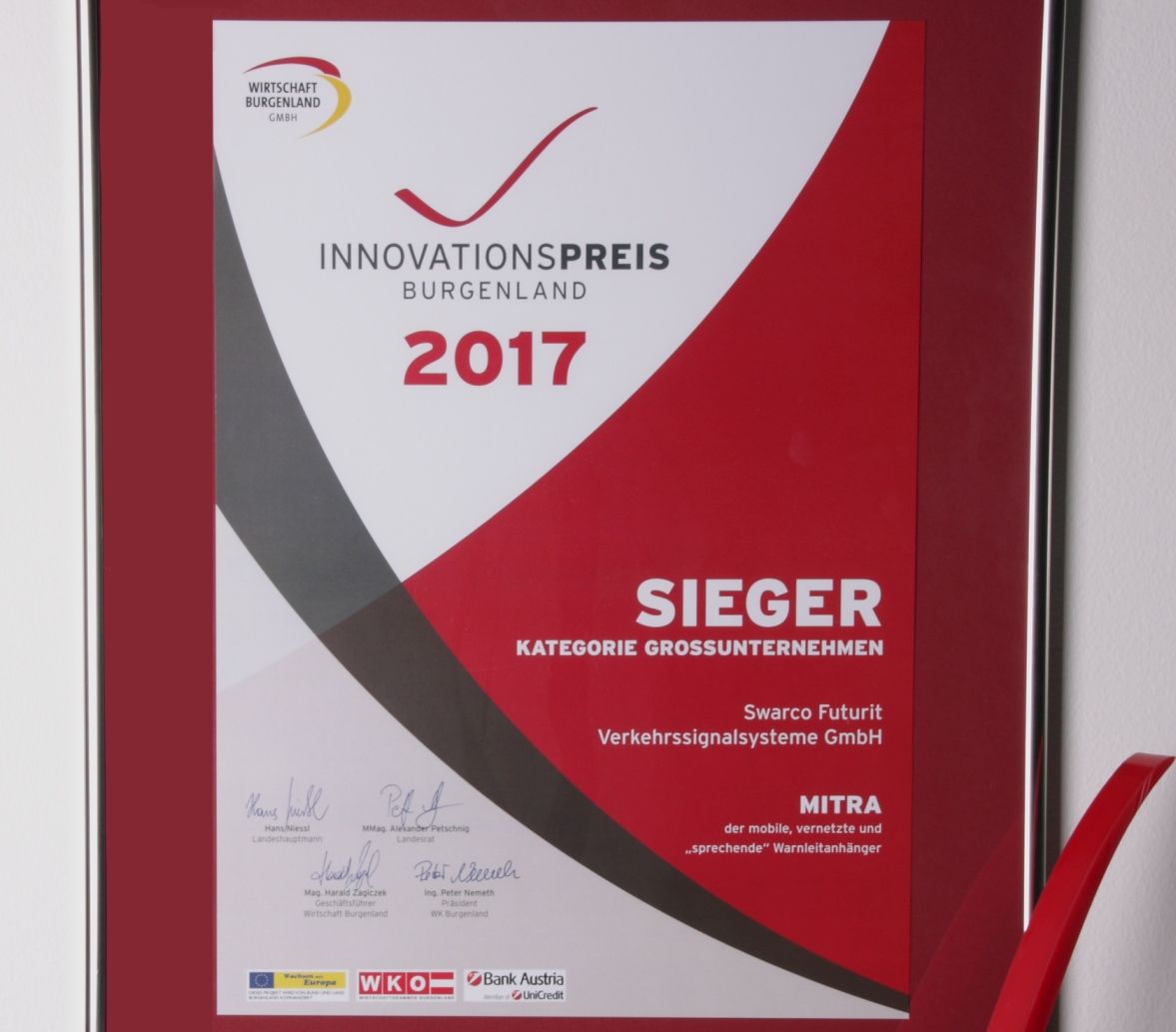 The Mobile Intelligent Trailer
SWARCO's LED variable message signs are known worldwide for their optical top performance with minimum energy consumption and are also used on warning trailers for mobile use on motorways. In the course of the project, these were further developed over three years in cooperation with ASFINAG and other industrial partners in order to be able to transmit traffic information directly from the trailer to the vehicles. The result: a new generation of warning trailers called MiTra (Mobile Intelligent Trailer), perfectly equipped for real-time communication between infrastructure and vehicle (cooperative ITS) on motorways.
The Main Components
Full-colour LED matrix display of the highest performance class with lowest energy consumption
ITS-G5 interface transmitting display information to vehicles
Bluetooth sensors to determine the travel time - enable the expected loss of time due to construction site sections to be displayed in real time
Radar sensor as collision protection against trucks
Communication and control of the trailer directly at the location or via a traffic control centre
Radar sensor for speed reduction detection
This is How MiTra "speaks"
The trailer is equipped with sensors and connected to a traffic control centre in order to be able to react to the current traffic conditions on the motorway. The operator sends traffic information directly to the vehicles via a I2V radio module. At the same time, the information is displayed as text or image on the energy-efficient RGB-VMS on the mobile trailer. A typical application example are temporary construction site areas, in which drivers are informed by symbols and graphics about changed speed limits, the course of the lanes and the expected loss of time.
An Innovation that Makes you Sit up and Take Notice
The fully networked warning trailer has a modular design so that the sensors can be adapted to the customer and the application. The trailer's communication module complies with future international standards and harmonised data profiles at the radio and data level. The motorway operator ASFINAG has meanwhile introduced this technology for its road network, so that the users of the Austrian motorways will soon meet MiTra more frequently. In addition, the "talking" warning trailer has already become a topic of conversation in the industry: namely it has already been recognised by public institutions, awarded the Burgenland Innovation Award 2017 and nominated for the Austrian State Award for Innovation.
"The innovation behind our MiTra development is its radio modem feeding travel time information directly into the vehicle in real time. An ability that will become more and more important in view of the advent of the self-driving cars."
Artur Pesendorfer, Managing Director of SWARCO FUTURIT
KEY FACTS

PROJECT DURATION
2015–2017

THE CHALLENGE
Create a self-sufficient, intelligent, mobile VMS system for I2V communication

SERVICES
Development, production and implementation

TECHNOLOGY
Full-colour LED matrix display, ITS G5 interface, Bluetooth sensors to determine driving time, radar sensor for collision protection, variable control software