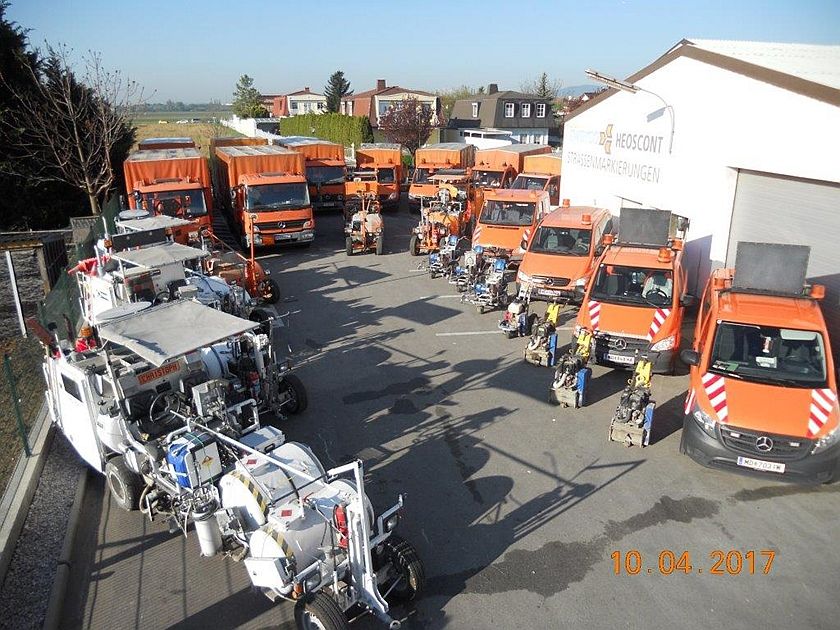 SWARCO MARKIERUNG GmbH
Professional road marking services in Austria
SHOWING THE WAY ... is literally what SWARCO MARKIERUNG does as a road marking contractor.
Road markings are among the most efficient methods of guiding drivers and keeping them safely in their lanes. Professionally installed, they are inexpensive and durable orientation guides whose effectiveness becomes more apparent at night when their retroreflective properties come to light.
SWARCO MARKIERUNG's striping crews have an impressive fleet of marking machines and modern equipment available to finish a project quickly, economically and safely for all involved. The range of equipment available begins with the hand-held machines for small road marking jobs on parking lots to the more powerful and productive motorized road marking machines for stretches of several kilometres.
SWARCO MARKIERUNG professionally applies the whole range of marking materials for every type of road surface. This includes low-solvent and waterborne paints as well as 2-component-coldplastics or rainreflective systems.
SWARCO MARKIERUNG GmbH
Hirschäckergasse 1
2514 Wienersdorf
Österreich
T. +43-720-150060
Business premises:
NL Guntramsdorf
Münchendorfer Straße 33, 2353 Guntramsdorf
T. +43-2236-53717
NL Klagenfurt
Gewerbestraße 6, 6a, 9020, Klagenfurt
T. +43-720-150060
NL Klagenfurt
Ebentaler Straße 139, 9020, Klagenfurt
T. +43-720-150060
NL Wattens
Blattenwaldweg 8, 6112 Wattens
T. +43-5224-3877-21
NL Wörgl
Brixentaler Straße 40, 6300 Wörgl
T. +43-720-150060
NL Wörgl
Brixentaler Straße 40, 6300 Wörgl
T. +43-720-150060
IMPRINT
SWARCO MARKIERUNG GmbH
Address
Hirschäckergasse 1
2514 Wienersdorf, Austria

T. +43-720-150060
E. markierung@swarco.com
Commercial Register No.: FN 124266 w
Court of Jurisdiction: Landesgericht Wiener Neustadt
VAT Identification No.: ATU19165702