SWARCO – Providing winter safety solutions to local authorities
The State of the Climate 2021 report by The World Meteorological Organisation (WMO) highlights a world that is "changing before our eyes." With weather conditions set to be increasingly dramatic across all the seasons, the importance of keeping motorists safe on UK roads during winter is now greater than ever. Flooding, snow, black ice, fog, thunderstorms, heavy rain, and high winds are all hazardous weather conditions that we face when driving in the UK in winter.

Data from Admiral Car Insurance revealed that the most severe road traffic accidents occur in winter; due to the road and weather conditions, the months of November, December and January were reported to have the highest volume of car insurance claims over the year.

According to their statistics almost a quarter of Brits had been involved in a car accident after driving in severe winter weather conditions; however, like with anything, early detection and notification can prevent accidents from happening.

During the winter months, when adverse weather naturally causes an increased risk of accidents, our warning systems, made up of Vehicle Activated Signs (VAS) and Variable Message Signs (VMS), are especially relied on - as they not only warn drivers of problems ahead, but the design capabilities provide the solution for any situation. The signs operate using a very low power consumption and can rely on off-grid power solutions even through the darker, colder months.

Live information from the VAS is available, including the number of activations and a status report on power, communication and fault detection, to ensure safety-critical signs are always in optimum condition. All of which, can be accessed remotely using our cloud-based, modular mobility management software, MyCity. With over 30 years' experience in this field, SWARCO has a portfolio of projects for local authorities to prevent accidents and maintain a safe traffic flow during the harsh winter months.

Flood Warning

As the planet is warming, the amount of heavy rainfall is also rising. Flooding has been a long-standing and increasing problem for North Yorkshire County Council as well as for residents and visitors to Wensleydale. A particular stretch of the A684 between Bainbridge and Wensley is often affected by flooding due to its location close to the River Ure and it's flood plain.

According to data recorded by the Environment Agency, there is a risk of flooding to low-lying land, including the affected stretch of road once river levels hit 2.5m at the monitoring station on the Ure at Bainbridge. On the 4th of November 2020, the water levels reached 4.08 metres after rainfall that would usually be expected throughout November fell in a 24-hour period as the UK experienced the tail-end of Hurricane Zeta. Local fire and rescue services had to rescue 9 people from vehicles after a lorry and 5 cars became stranded in the flood waters on the A684 at Wensley.

SWARCO Traffic Limited has installed a flood warning system for the affected area, whereby flooding is detected by pressure sensors housed in subterranean chambers. These chambers not only fill with water during flood events but become submerged under the standing water. The pressure sensors have a transducer, which converts water pressure into a 20mA analogue output. A standard car park outstation has been adapted to monitor the sensor and transmits messages to the central management software, which can then activate VMS to give advance warning of flooded road sections.

The sensors are connected to a control and communications cabinet, which is located nearby and at height to avoid flood damage to the components. These are battery powered with fuel cells to keep the battery at the correct operating voltage. Each fuel cell is calculated to have sufficient fuel (ethanol) to operate for up to two years. Fuel will be topped up at each annual maintenance visit. Remote Monitoring will generate alarms should fuel run low between these visits.

Andrew Walker, Business Development Manager at SWARCO Traffic, presented a paper on the flood warning project at the 2021 JCT Symposium. The paper, 'The Role of ITS in Improving Quality of Life Through a Flood Warning System in the Yorkshire Dales National Park', was awarded 'Most Promising New Product / Innovation' by the Institute of Highway Engineers.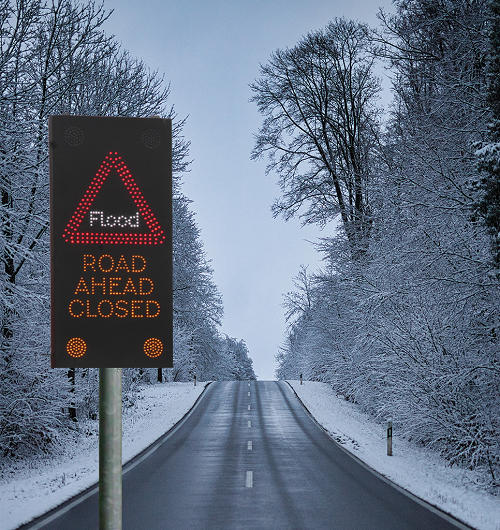 High Wind Warning

High winds during winter can blow vehicles off course, bring trees or branches down into the road and even blow other vehicles into your path, which can be immensely dangerous. SWARCO's automatic variable speed limit signs were installed on the A14 Orwell Bridge near Ipswich to enhance driver safety and allow the stretch of road to remain operational more often during windy weather. The bridge, which is crossed by 60,000 vehicles per day and forms the stretch of the A14 that diverts traffic around Ipswich, has been forced to close 21 times since September 2013 due to high winds, at an estimated cost of £1 million per day for the Ipswich economy, according to local business organisation Ipswich Central.

The 20 Variable Message Signs (VMS), installed by SWARCO, automatically change the speed limit according to wind speeds; implementing a 60mph limit in windspeeds up to 45mph and reducing this to 40mph in windspeeds between 45mph and 60mph. If the windspeed exceeds 60mph the bridge is forced to close due to the safety risks posed to motorists. These signs were installed during the depth of winter, in January 2021 and successfully maintain good traffic flow during stormy conditions.
Having proven experience in bespoke hazard warning solutions, we understand the different needs each customer has for each project, which is why we are so passionate about innovating to create tailor-made, quality solutions for our clients. Our team are available to discuss hazard warning solutions for you.