SWARCO part of the infrastructure project of the year
The Swedish construction sector magazine Byggindustrin has awarded Stockholm Norvik Port "Construction of the year 2021".
It is one of the most prestigious awards in the Swedish public construction sector. SWARCO is very proud to have been a part of the project and would like to congratulate our Swedish partner, Ports of Stockholm.
Norvik Port is located just south of Stockholm and opened in 2020. It consists of 2 main areas - one terminal for containers and one for rolling goods.
The project has been characterized by the outstanding collaboration between the many suppliers that contributed to the project meeting the delivery timeline on budget all while prioritizing safety and a good working environment.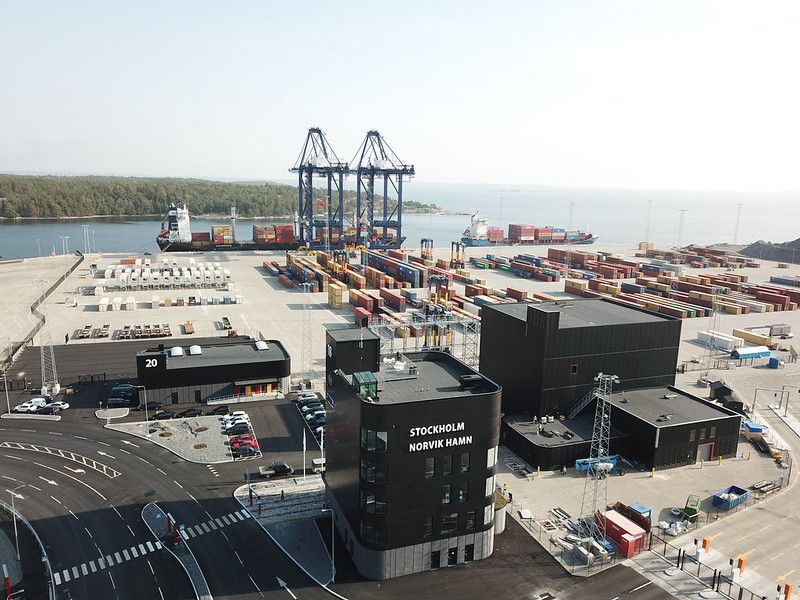 Photo: Ports of Stockholm
As part of the Stockholm Norvik Port project SWARCO delivered, among other things, barriers, VMS, ANPRD (Automatic number plate recognition) cameras, line scan cameras, detection equipment and most importantly SWARCO's port control system, SPCS. The system helps guide vehicles to the portals of the terminal where the length and width is scanned. The system also scans the number plate of the vehicle and confirms if it is authorized.
SWARCO will now handle the maintenance and warranty of the delivered systems and hardware.
"It's great that a project that SWARCO is a part of receives this type of recognition. In the case of Norvik, the primary challenge for us was the sharp end-date of the project, during a pandemic as well as being one of the last contractors in the project chain." – Göran Boivie, Operations Manager SWARCO Sweden