Stand with Äffle, walk with Pferdle
New pedestrian traffic lights with the Swabian cult figures at Stuttgart main station
Unterensingen / Stuttgart, 23. July 2022. This last Saturday, SWARCO put into operation a new traffic light in Stuttgart (Baden-Württemberg / Germany), featuring two regional celebrities: The Swabian cult figures Äffle and Pferdle (monkey and horse). To the applause of many spectators and fans, Stuttgart's Chief Mayor Dr. Frank Nopper and Baden-Württemberg's Minister of Transport Winfried Hermann officially unveiled the new and long-awaited attraction. They were accompanied by life-size Äffle and Pferdle puppets.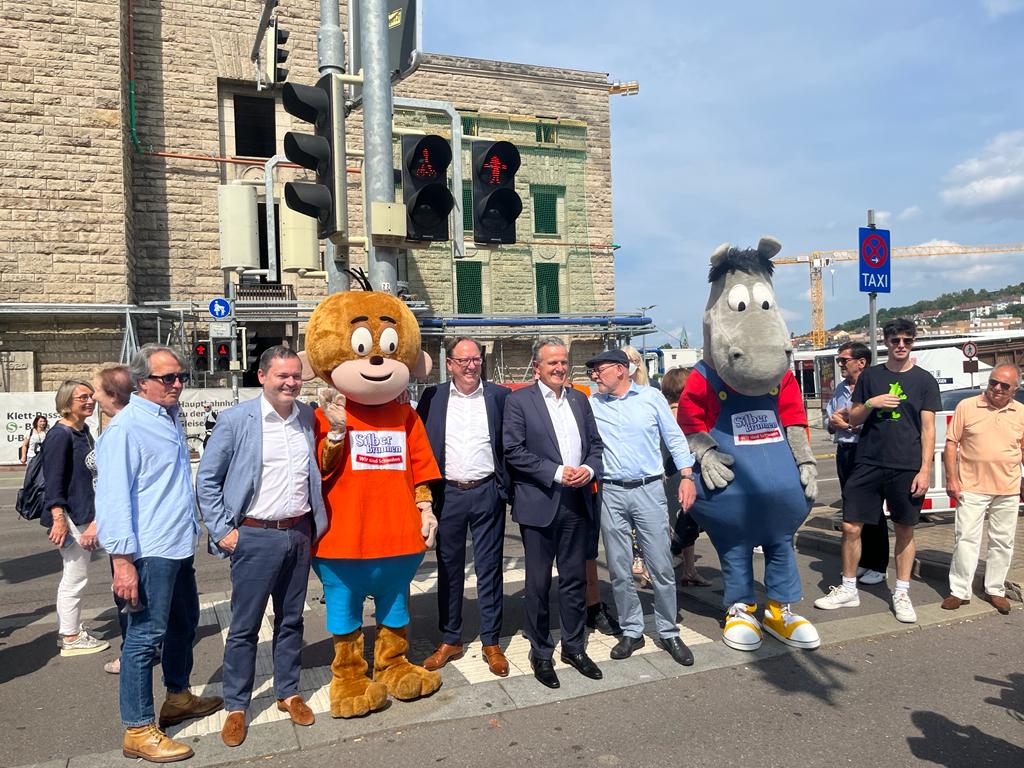 The new Äffle-und-Pferdle traffic light can be found immediately next to Stuttgart's main railway station - in the form of a twin traffic light right next to the existing pedestrian traffic light at the Arnulf-Klett-Platz / Königstraße passage. Since 2016, fans have been fighting for the two cartoon characters to be realised as traffic light figures in the capital of Baden-Württemberg, but failed because of German road traffic regulations. Now Äffle und Pferdle greet everyone walking from Stuttgart main station towards the city centre, while the existing traffic lights continue to operate. The new, second traffic light from traffic technology company SWARCO thereby consumes hardly any additional energy thanks to state-of-the-art (LED) technology.
"Patience pays off", says Klaus Winter, first chairman of the Pferdle & Äffle Club. "We've been fighting for this traffic light for six years now, together with our club members and fans, and we've never given up. The timing of the inauguration couldn't be better - we are celebrating 70 years of Baden-Württemberg and next year the 30th anniversary of the Pferdle & Äffle Club. For us, it is so much like an early birthday present!"
"We at SWARCO are proud that we, as a local company, are allowed to install this prominent traffic light with the Swabian cult duo in our federal state capital," says Marcus Anders, Managing Director of SWARCO Traffic Systems GmbH based in Swabian Unterensingen. "We would like to thank everyone involved for the good cooperation and are very pleased that Stuttgart now joins the many cities we have already equipped with special traffic light motifs."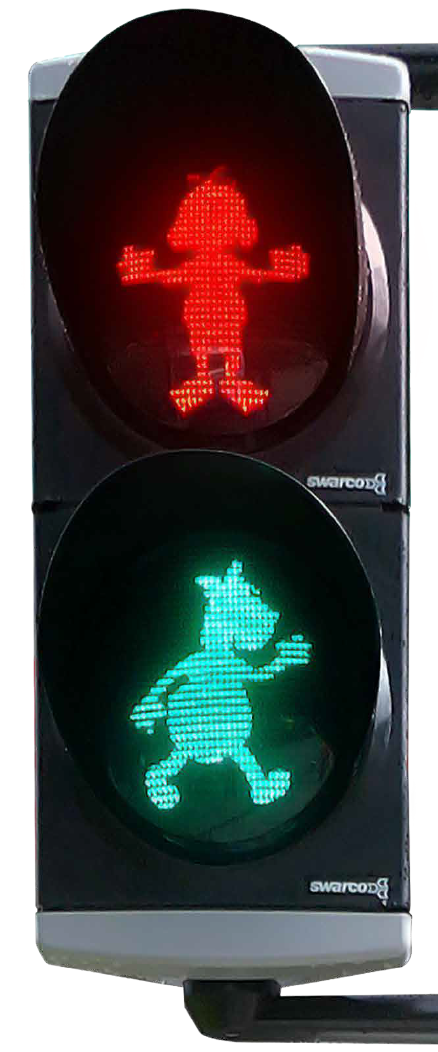 Throughout Germany and also around the world, one repeatedly encounters extraordinary traffic light motifs that replace the classic traffic light figures. SWARCO has equipped several cities with special traffic light motifs. In the north-eastern German city of Neuruppin, for example, the author Theodor Fontane decorates the pedestrian traffic lights, in the Danish city of Arhus a Viking makes people cross the road and in the Austrian city of Vienna heterosexual and homosexual couples have been used as traffic light motifs for some years now.
About Äffle and Pferdle
Äffle und Pferdle (monkey and horse) are two Swabian-speaking cartoon characters from the German TV station Süddeutscher Rundfunk that later became Südwestrundfunk. Since 1960, they have been used on television as short cartoon sequences to liven up the commercial blocks - as advertising bumpers, so to speak. Over the years, the duo became genuine ambassadors for the "Schwabenländle" Baden-Württemberg as well as for the Swabian dialect, which is spoken in wide areas of southern Germany. Today, Äffle und Pferdle no longer appear on television, but they still fascinate people, even beyond the borders of Baden-Württemberg.