Small, Durable and Visible
SWARCO SOLIDPLUS reflective glass beads demonstrate their durability: Field test measurements still yield maximum retroreflection values of up to 1000 mcd/m²*lx after a year and a half.
Durable lane markings improve road safety significantly. Here, the micro glass beads embedded in the marking material play a key role. They reflect the beam from the headlight back to the driver, illuminating the road markings at night, and thus provide optimal orientation. What's more, lane markings with modern premium glass beads are markedly more visible over a longer period.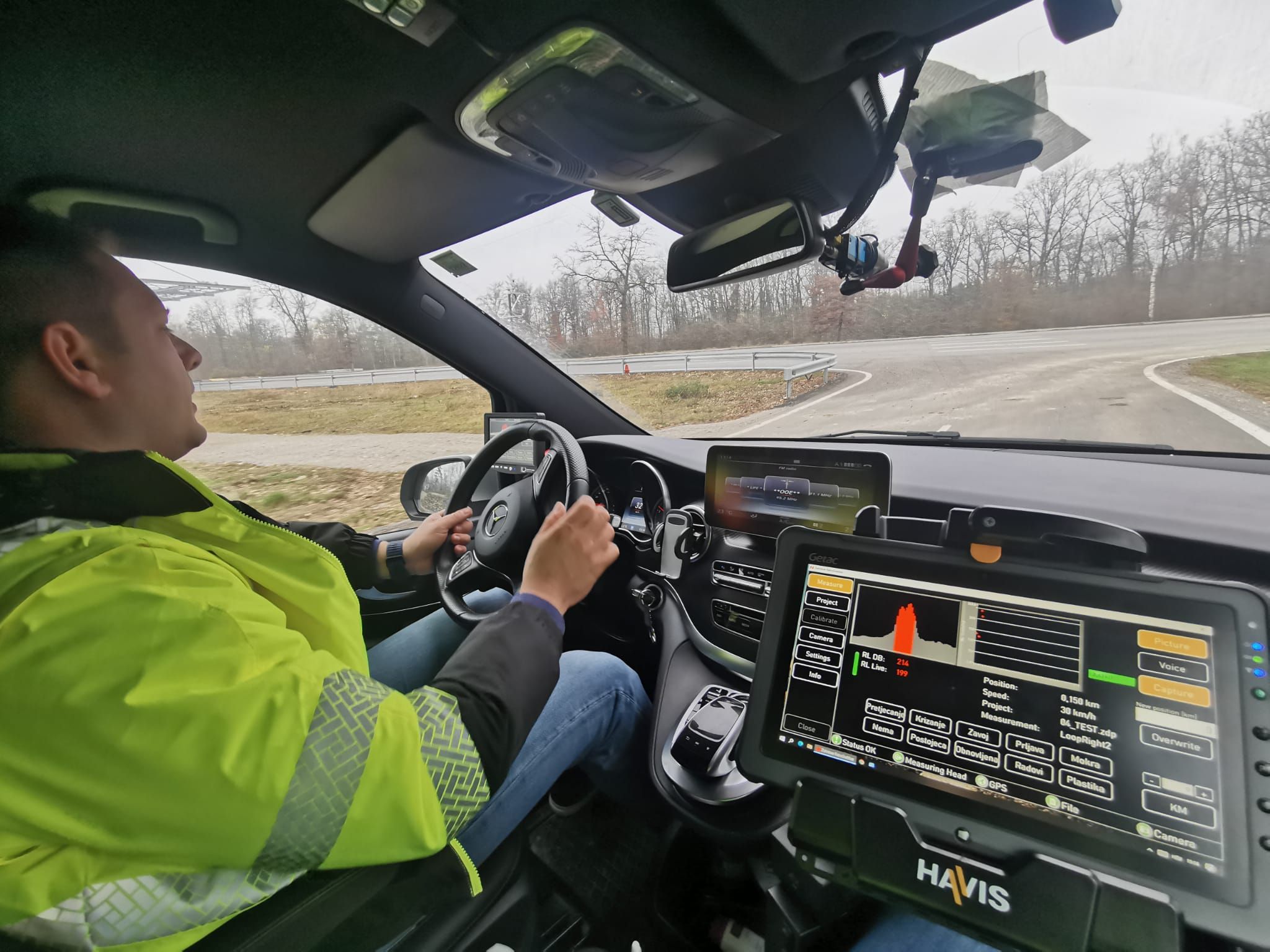 Measurements up to 130 km/h: The lane markings' retroreflection values on the test track were recorded by a measuring vehicle of the University of Zagreb, Croatia. Even a year and a half after the markings had been applied, SWARCO SOLIDPLUS impressed with high retroreflection values (RL).
Photo: UniZG/FPZ
It's precisely this point that SWARCO Road Marking Systems is examining scientifically in a joint field test with the Faculty of Transport and Traffic Sciences of the University of Zagreb, Croatia. In 2021, marking systems were applied at the Digitrans test center on the test track in St. Valentin, Austria, using SWARCO SOLIDPLUS premium reflective glass beads as well as standard glass beads. Now, a year and a half later, the international research team is evaluating the markings' retroreflection values (RL) to be able to draw conclusions on the durability of the different types of micro glass beads.
More Measuring Points for More Meaningful Result
To gain a comprehensive picture, the researchers use a dynamic retroreflectometer mounted on a university vehicle. For the assessment, the test vehicle is driven along the entire test track, including the City Zone, at the Digitrans test center in St. Valentin. The precisely calibrated instrument measures the lane markings' retroreflection every two milliseconds. The values obtained are then merged into an average value for every 25 metres. "In dynamic retroreflection measurements, the high number of data points offers a clear advantage compared to the static measuring method," explains Friedrich Wiesinger, Head of the Center of Competence, SWARCO Road Marking Systems' internationally connected research department. "Instead of giving the value of individual points only, which are limited to a tiny area, the large number of data points provide a good overview of the road markings' quality on the entire track," Wiesinger adds.
Three Times Higher Retroreflection Values
Do the results of the different types of glass beads vary significantly? The answer is clearly yes! After a year and a half on the road, markings with SWARCO SOLIDPLUS allow for more than three times higher retroreflection values than those with standard glass beads. In concrete numbers: Markings with premium reflective glass beads excel with maximum values of up to 1000 mcd/m²*lx, and, on average, yield RL values of 700 mcd/m²*lx. In comparison, standard glass beads achieve average values of 225 mcd/m²*lx.

The numbers highlight that SWARCO SOLIDPLUS demonstrates higher resistance, a longer service life, and better visibility compared to other types of glass beads. Applying these findings from the test track to the road, this means that even after multiple years of traffic exposure, required standard values are exceeded significantly. SWARCO Road Marking Systems' premium reflective glass beads thus increase road safety and reduce remarking costs.

Friedrich Wiesinger draws positive conclusions from these measurements: "SWARCO SOLIDPLUS is the result of many years of research and development at our Center of Competence. Time and again, tests such as our current work together with the University of Zagreb illustrate the advantages gained thanks to the unique glass formulation of these beads: great durability, a long service life and excellent retroreflection."
About SWARCO Road Marking Systems
Quality products and services from SWARCO Road Marking Systems guide traffic safely from A to B by day and, above all, by night. On all types of roads. Whatever the weather. From a single source. Over 5,000 customers in more than 80 countries place their trust in them.
For further information visit: www.swarco.com/rms