Rumble Strips: safety-enhancing and winter-proof
Special markings from SWARCO Road Marking Systems remained stable for three years despite heavy mechanical stress.


SWARCO Road Marking Systems uses a specially developed cold plastic vibrating strip to improve road safety at accident black spots. On the Sudelfeld route in Bavaria, this marking system helped to reduce the number of accidents. It also proved to be extremely hard-wearing and withstood the intensive loads of snow clearing equipment for three winters.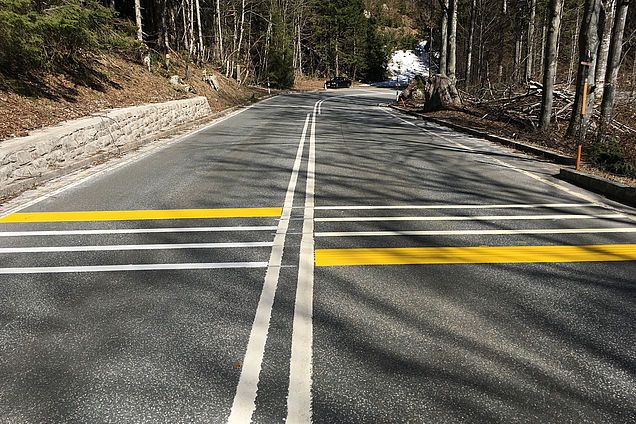 Bayrischzell/Amstetten, May 10, 2019 – With the start of the motorcycle season, there is also the discussion about how to increase road safety for two-wheeled vehicles. On the Sudelfeld route in Bavaria, the number of accidents has decreased since the installation of rumble strips at neuralgic points. After three years of withstanding tough mechanical stresses, the transverse markings were renewed by Pfnür Verkehrstechnik in April.

Durable, dimensionally stable and hard-wearing
Manufacturer of the rumble strips is SWARCO Road Marking Systems. The strips consist of a specially developed cold plastic, which is solvent-free and consists of two components. On the Sudelfeld route it was applied several times as a yellow and white rising line marking across the roadway. The resulting haptic effect increases attention and causes road users to slow down. At the Sudelfeld, the vibratory strips have survived weather influences such as ice, snow and heat for three years at an altitude of more than 1,100 metres above sea level. Even multiple overruns and the associated maximum mechanical loads caused by snow ploughs could not harm them.

Few contra - many pros
Vibrating strips increase the driver's awareness through vibrations and noise when driving over. However, the acoustic effect limits their range of application. In built-up areas, they can only be used to a limited extent. However, increased attention, speed reduction and more careful driving clearly speak in favour of their use on dangerous road sections. Andreas Nagel, Product and Sales Consultant at SWARCO Road Marking Systems, puts another argument to the table: "Vibrating strips do not in any way interfere with winter service with snowploughs and also survive them surprisingly undamaged.

Corporate data
Quality products and services from SWARCO Road Marking Systems guide traffic safely from A to B, day and night. On all roads. In all weathers. From a single source. More than 5,000 customers in more than 80 countries rely on it.
Text: Kommhaus