Parking apps as part of urban traffic and parking management
In the ongoing process of digitalization, road users are increasingly using parking apps for parking in cities. Most importantly, these apps make parking easier, more flexible and less stressful. However, the mobile applications do not only offer advantages to citizens and visitors of cities. Municipalities themselves also benefit when they offer holistic solutions.
By adding parking apps to existing parking and payment options, cities are getting ready for their future as Smart Cities and are presenting themselves as modern and innovative places to live, which in turn benefits residents' satisfaction and quality of life. Parking apps are not merely an additional offer to pay for a parking ticket, but a module that extends and completes modern, modular and holistic urban traffic and parking management.
Traffic and parking management: the challenge
Cities and municipalities are facing a variety of challenges due to the ever-increasing volume of traffic. They are therefore already controlling and optimizing road traffic with intelligent traffic and parking management today. Intelligent traffic management can prevent traffic jams and distribute road users more evenly over the city's available traffic routes. In parking management, especially dynamic parking guidance systems make an important contribution to reducing traffic searching for parking space as well as to evenly and effectively using the entire available public parking space. Through traffic and parking management, road traffic and search traffic can be optimized in an environmentally sensitive way, which can lead to a sustainable deviation from pollutant and emission limits and less traffic noise. As a consequence, road users also arrive faster and with less stress.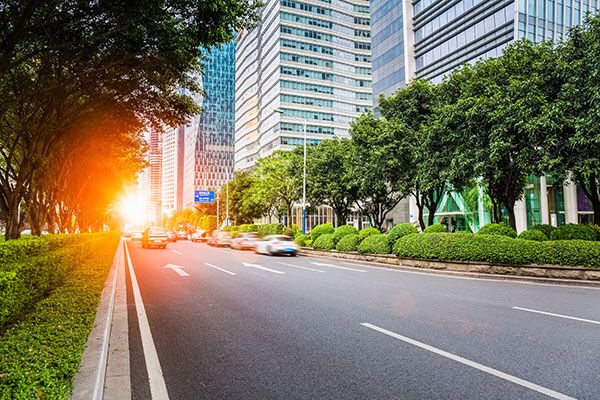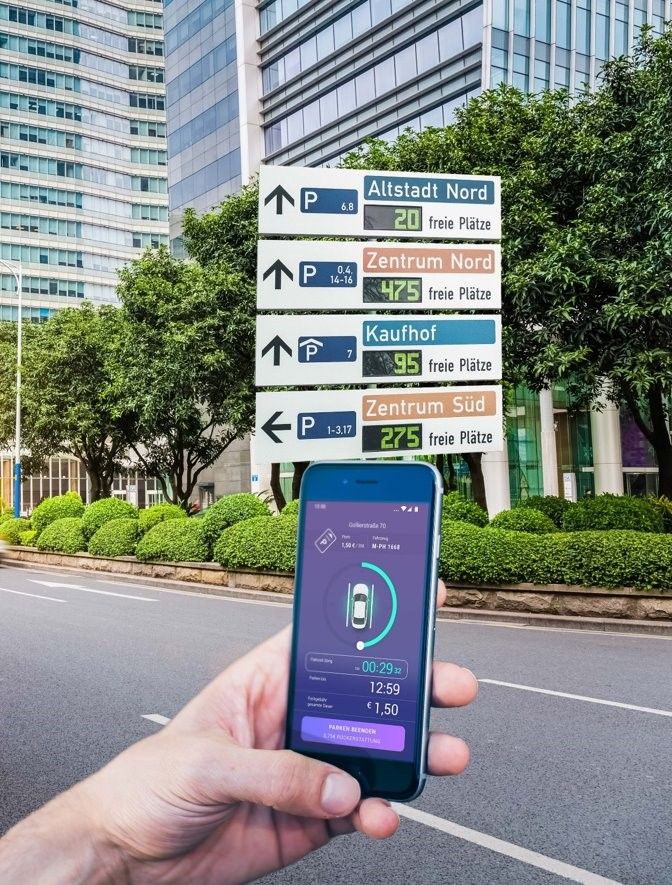 Parking apps as part of urban traffic and parking management
Parking apps complement and expand existing static and dynamic parking guidance systems (PGS) by adding a mobile component that directly addresses road users. They are, so to speak, "PGS on the go" that fit in every pocket. The mobile applications allow city administrations to provide comprehensive and reliable information on the occupancy of parking spaces in the city area at an early stage and to guide citizens to free parking spaces - right from the front door. This target-oriented navigation to (free) parking spaces alone can reduce the amount of traffic searching for parking space.
The representation of the parking offer in parking apps via smartphones alone considerably extends the classic function of parking guidance systems. The apps can show available parking spaces in parking garages or at the roadside and exchange the collected real-time data with dynamic parking guidance systems to provide relevant information for road users at any time and any place. In addition, the data can be evaluated and analyzed by cities in order to distribute road users more homogeneously and via sensible parking search routes to existing parking areas in the future. This interaction works best with a dynamic parking guidance system, which records the occupancy of parking spaces in the city area in real time, but also works without dynamic data: The more residents and visitors use a parking app, the better the parking space utilization is optimized. A cloud-based parking guidance system in combination with a parking app also forms a complete digital parking guidance system and can enable a low cost entry point into parking management for small or medium-sized cities.
Especially when the parking app backend is closely linked to the municipal traffic computer, cities can positively influence the routes and destinations of people searching for parking space and thus road traffic. Based on defined environmental and traffic criteria, e.g. existing road works can be avoided or events that influence road traffic can be avoided in the app's navigation. This also benefits citizens and visitors - through less stress, time savings, reduced emissions and less traffic noise.
The parking app PARCO
One example of a parking app is PARCO. The parking app by SWARCO and ParkHere was launched in April 2020, is initially available in Germany and now active in more and more cities. PARCO is a complete solution for finding and paying for parking spaces in cities without tickets or cash. The app offers the possibility to integrate both urban and private on- and off-street parking facilities. In addition, dynamic parking guidance systems and other information and services from external sources can be connected to the app.
The app PARCO pulls data from a variety of sources to ensure the greatest possible accuracy and highest quality of the information displayed. This helps drivers to plan a trip and to find and navigate to the nearest free or cheapest parking space near their destination. By integrating their own parking data into the app, city authorities can ensure even greater accuracy and parking comfort.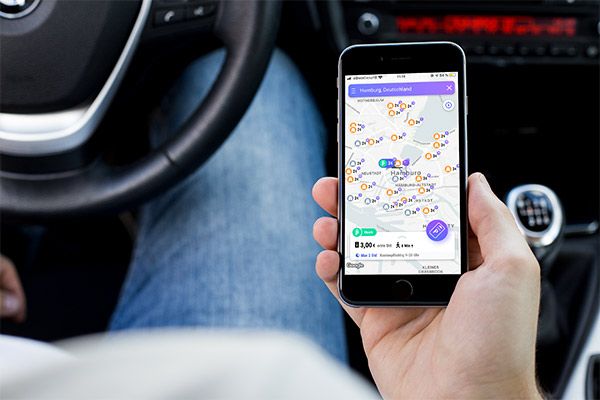 By integrating PARCO into the city's traffic and parking management system, there are decisive advantages: SWARCO is Germany's market leader in parking guidance systems and leading provider of traffic management systems for municipalities and cities. In Germany alone, SWARCO has already installed more than 190 dynamic parking guidance systems. We are therefore perfectly familiar with the needs and options of all kinds of cities. In addition to PARCO's basic functions, further individual fields of application are possible in every city, e.g. the integration of electric charging stations or the establishment of a municipal parking exchange program.