More German Glass Beads for even better Road Safety
"With immediate effect, the Austrian road safety and intelligent traffic management technology group SWARCO is offering its customers even greater road safety," says a delighted SWARCO COO Philipp Swarovski. "This is made possible by the integration of the German Vialux Glasperlen GmbH into the global SWARCO family," adds fellow board member Daniel Sieberer. On 25 September 2018, SWARCO acquired 100% of the shares in the German Vialux Glasperlen GmbH in a transaction with Gilde Equity Management Benelux. Vialux Managing Director Thomas Pilkenroth sees the new owner as a driving force for technical development and growth: "Vialux glass beads are already ranked among the best direct glass beads in their class."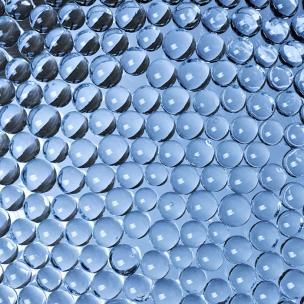 Wattens, Schönborn – 27 September 2018. Vialux is one of the leading manufacturers of high-quality reflective glass beads. The company operates a production facility in Schönborn/Brandenburg with 25 employees. Vialux glass beads with a diameter of up to 1.8 mm make road markings more visible at night, particularly on wet roads. "They significantly enhance road safety," emphasises SWARCO board member Philipp Swarovski, COO of the Road Marking Systems Division.
"The takeover is therefore a perfect fit for our family of companies". SWARCO has been pursuing a central philosophy for five decades: "We aim to make the travel experience for all travellers safer, quicker, more convenient and environmentally sound. In this way, we are improving the quality of life."
"Vialux glass beads are already ranked among the best direct glass beads in their class."
Thomas Pilkenroth
Managing Director of Vialux
"The acquisition of Vialux is a strategic step towards strengthening our global glass bead business portfolio," commented Daniel Sieberer, board member of SWARCO. The CFO of the Group emphasises, "The customers of both SWARCO and Vialux will benefit from the transaction. The merger offers the world market great technical and economic potential in terms of road safety."
"Since the company was founded by my father Manfred Swarovski in 1969, SWARCO has dedicated itself to producing the best reflective glass beads in our industry," says Philipp Swarovski, stressing the technical and cultural significance of the acquisition for the technology group's core business. "Vialux's commitment to product quality and customer service is a perfect complement to SWARCO. Our values are also very much in harmony. We are delighted to welcome Vialux employees to our international extended family," added Philipp Swarovski.
"On behalf of my dedicated team, I would like to warmly welcome the new owners," says Thomas Pilkenroth, Managing Director of Vialux Glasperlen GmbH. "We are convinced that, as part of SWARCO's high-tech family, we will accelerate our growth and technological development," explains Pilkenroth, delighted with "a win-win solution for everyone: the market, our customers, Vialux and SWARCO".
About Vialux
Vialux Glasperlen GmbH with headquarters in Schönborn/Brandenburg produces high-quality reflective glass beads for horizontal road markings. The retroreflective glass beads enable road markings to be easily spotted in both darkness and wet conditions. Vialux glass beads are recognised worldwide as the best direct glass beads in their class. Vialux operates and owns a 65,000 square metre production facility in Schönborn. With 25 employees, the company exports its highly refractive Vialux pearls to customers in international markets. In 2017, Gilde acquired the Schönborn plant as a spin-off from the Sovitec Group and has hitherto been operating it independently under the brand name Vialux. In June 2017 the Sovitec plants in Belgium, Spain, Argentina and France were sold to Potters Industries, a US manufacturer of technical glass materials.