Micro-Mobility in Urban Traffic
Safe Cycling in Berlin with Proven Solutions from SWARCO Road Marking Systems
Cycling is booming! With four bicycles sold every second, there are almost twice as many bicycles as cars in the world. The trend towards climate-friendly mobility keeps growing, as does the need for safe cycling infrastructure. A pilot project in Germany is now using products made by SWARCO Road Marking Systems.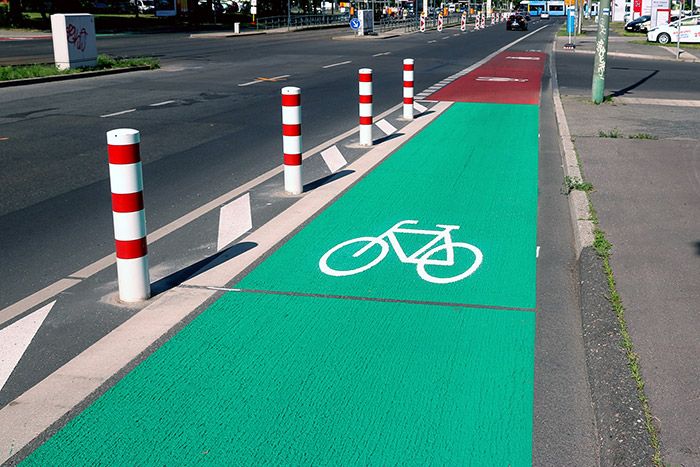 Coloured area markings on bicycle lanes enhance visibility and thus safety for all road users.
07 July 2022 – Nowadays, it's nearly impossible to imagine urban landscapes without cyclists. Many people, especially young people, prefer cycling over driving. The reasons for this cycling boom are manifold: a large number of traffic jams on main traffic routes, insufficient parking, and climate-related aspects, in particular. GB infraVelo GmbH and SWARCO Road Marking Systems have been conducting a pilot project using coloured markings on existing bicycle lanes, demonstrating how these factors can be reconciled to create a new "traffic symbiosis".
Berlin Project
The pilot project to make Berlin greener and, above all, safer, to promote cycling, and to minimize car traffic began in 2018. To achieve these goals, GB infraVelo GmbH has been creating new cycling infrastructure using products from SWARCO Road Marking Systems for bicycle lane markings. Part of this project involves observing the behaviour of road users on select sections, and interviewing people in person. The pilot project also includes an evaluation of the materials used.
In April 2021, the first results were presented in an interim report. They prove that coloured area markings on bicycle lanes have a positive impact. The final report is expected to be published in 2023.
Safety through Visibility
The purpose of using coloured surfacing for bicycle lanes is to set the lanes apart from the rest of the road infrastructure in a clearly visible way, thus reducing the risk of conflicts. With its wide range of products, SWARCO Road Marking Systems provides the right solutions to achieve this.
For the pilot project in Berlin, the tried and tested Roller Plastic RP & 15 was applied in green. Red textured cold plastics and bicycle pictograms made of preformed thermoplastics were used as well. On certain sections, glass granulate was added to improve skid resistance.
"Green has a natural and soothing effect. In areas with heavy traffic, such as at intersections, our textured cold plastics were used in red. Red is a stronger signal colour that systematically alerts road users to potentially dangerous situations at intersections, increasing safety for everyone," says Jonas Orschel, Product Management & Sales at SWARCO Road Marking Systems.
About SWARCO Road Marking Systems
Quality products and services from SWARCO Road Marking Systems guide traffic safely from A to B by day and, above all, by night.
On all types of roads. Whatever the weather. From a single source. Over 5,000 customers in more than 80 countries place their trust in them.
For further information visit: www.swarco.com/innovation-talks
www.swarco.com/rms