Germany – SWARCO's No. 1 Market
Anno 1978: Argentina wins the soccer World Cup, Germany takes the handball world championship title, and in Austria Manfred Swarovski makes a world champion's decision – to enter the German market by taking over Vestglas.
In the course of a few years, the company develops into the central production location for micro glass beads for retroreflective road markings and various surface treatment technologies in Recklinghausen. What's more, the SWARCO Road Marking Systems Division with its three production sites in Diez, Recklinghausen and Schönborn has established itself as a market pacer in Germany. It leads the way, determines new trends and enjoys a high reputation.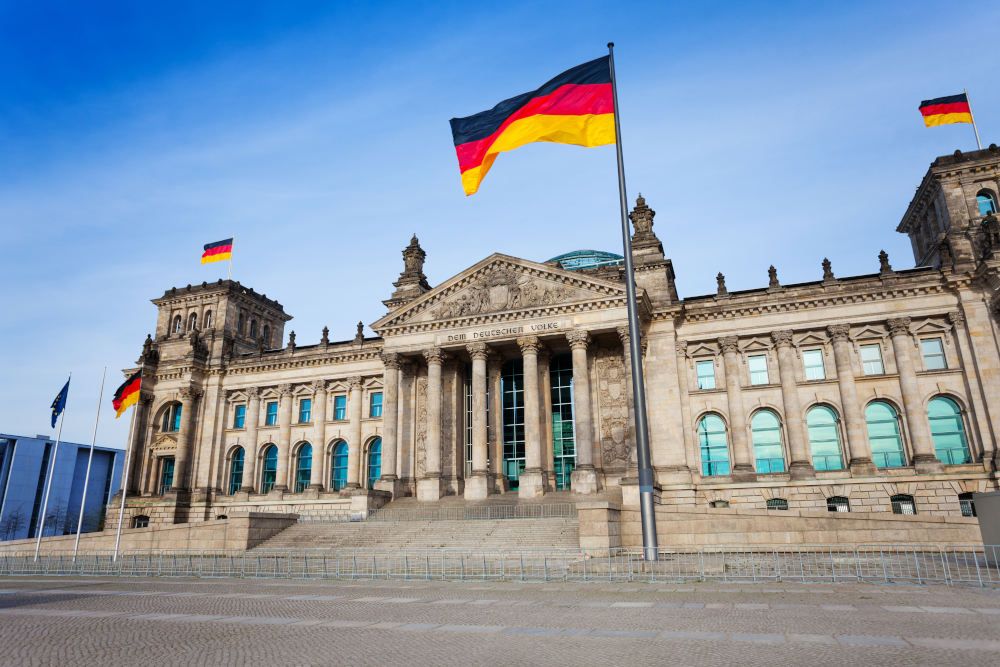 Deutscher Reichstag in Berlin, Germany.
For a quarter of a century, it has been Germany's number one in liquid road marking materials and a leading manufacturer of thermoplastics as well as reflective and industrial beads. Stateof-the-art laboratory and production facilities enable SWARCO to offer road marking systems of the highest quality.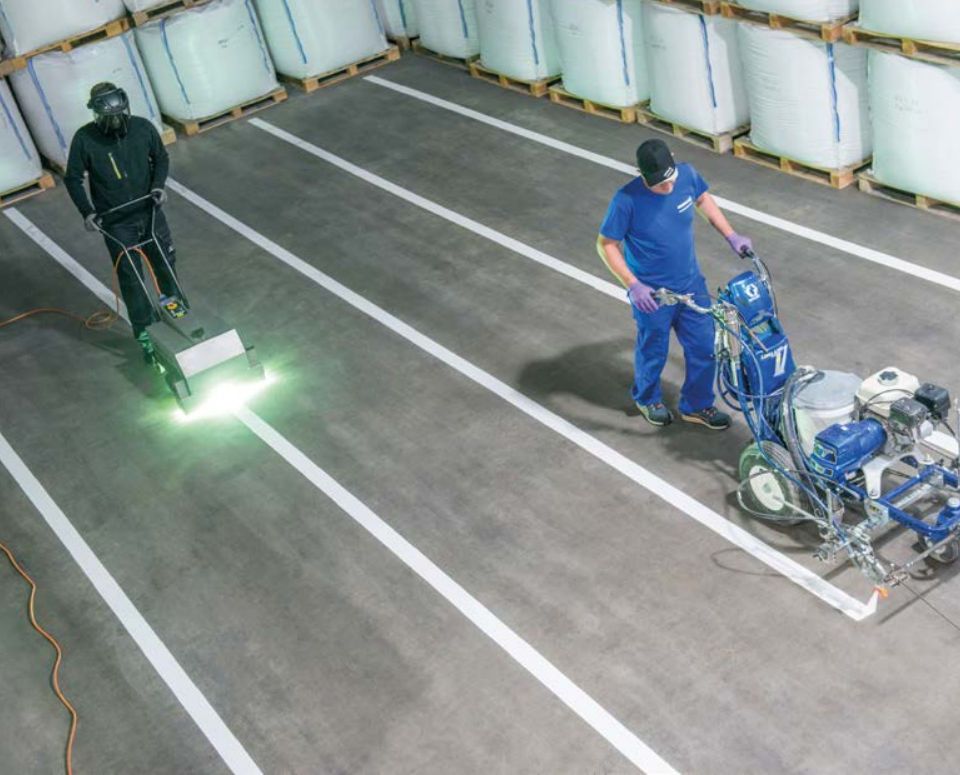 SWARCO UV-LINE: A novel ultra-fast curing indoor marking system.
The extensive product portfolio includes one- and two-component paints (soluble and solvent-based), cold plastics, cold spray plastics, thermoplastics, spray thermoplastics and preformed marking materials (EUROTHERM) as well as reflective and industrial beads, skid resistance aggregates and special products such as thinners, primers, adhesives for road studs, and fluorescent and phosphorescent paints. All production companies are certified according to DIN EN ISO 9001 and stand for the highest level of environmental friendliness and occupational safety. Materials and applications are permanently optimized. This is ensured by a competent research and development team of technicians and chemists, closely coordinated with marketing and sales. Customers can rely on bundled road marking know-how from material production to research and development at the highest level and receive this from a single source.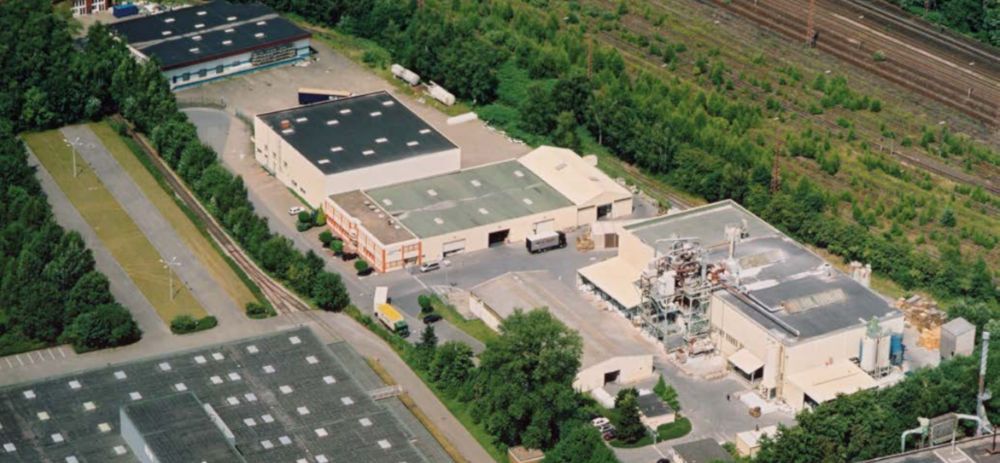 An aerial view of the SWARCO VESTGLAS premises in 2005.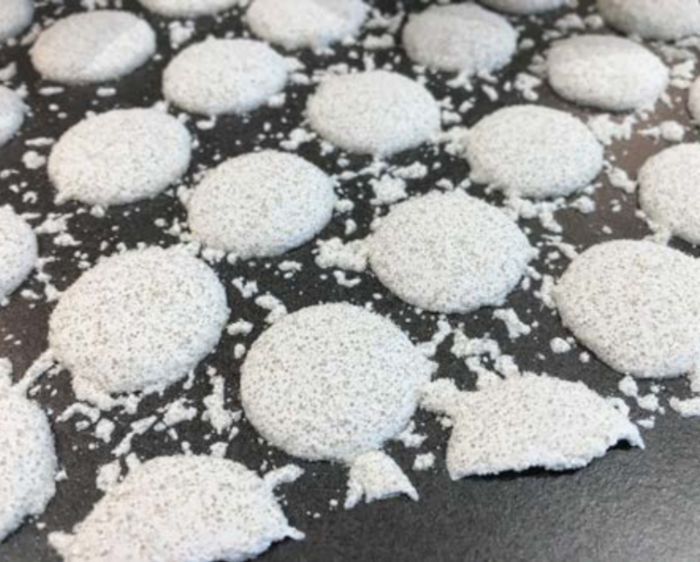 Reflective glass beads in a multi-dot structured road marking.
One of SWARCO's particular strengths is its flexibility in developing marking systems that are precisely tailored to customer requirements, taking into account the type of road surface, layer thickness, durability and nighttime visibility. Not only for roads, but also for airports, cycle paths, construction zones, escape routes, industrial halls, schoolyards, etc. But SWARCO in Germany today is much more than that. Over 1,500 employees at over 70 locations and one of the densest service support networks have made the German market the most important one of the SWARCO Group over the last four decades. The range of services offered covers the entire spectrum of what SWARCO as a whole is all about. It ranges from road markings and signage to urban and interurban traffic management, parking space management and electro mobility.
A fictitious ride is the best way to see where you encounter SWARCO every day.
A field report: "When I leave the house, my electric vehicle has already been loaded and preheated at a SWARCO wallbox. On the way to the airport, I pass several motorway sign gantries, SWARCO traffic light systems and static traffic signs. Always well guided by SWARCO road markings, which are highly visible at night thanks to SWARCO glass beads. This is how the company's history began 50 years ago. There is the "individual green wave" in the city when I head for the motorway towards the airport. After all, you know whether you'll reach the next intersection at a green light or when the next red light will turn to green. The urban traffic management system says "traffic jam on the highway" along my main route. All right – then I take the alternative motorway feeder. But at the next intersection I notice: red light in three directions at the same time! And my waiting time forecast jumped up by 30 seconds. An error in the system? No: The fire brigade comes from the one direction that has green. I can understand this prioritization. And lo and behold – as soon as the vehicles have passed, the normal course continues immediately. I enter the motorway which has a lot of traffic. But it flows. To keep it that way I first have to pass the ramp metering section: one car per green phase. I continue past the exhibition guidance system. Ah, I see, a big fair is the reason for the high traffic volume. The adaptive speed control really keeps the traffic flowing. On the way, I pass a large truck parking lot. There are still 30 parking spaces available as the parking information system from SWARCO indicates.

The flexible use of the hard shoulder increases motorway capacities at peak hours.
Fortunately I know my parking space: P3 level 2, bay 254. With a charging station carrying the SWARCO label. I booked the space via my eMobility provider. So he seems to be talking through standards with the SWARCO stations. I find the right car park thanks to the parking guidance system – also from SWARCO. And at the entrance, the barrier opens automatically, thanks to the advance booking. Very convenient - that's free-flow parking. No more ticket, no queue at the pay & display machine. This time I do not rely on SWARCO's single space detection system, as I had booked the parking space in advance. Arrived at the airport. Take my suitcase, lock my car, now I have to walk. It's loud in the multi-storey car park. The noise is due to construction work outside. Oops – Lights out! The excavator must have cut the electric cable. No problem: SWARCO's afterglow marking system shows me the way out. An intelligent zebra crossing becomes brighter as we approach it. Some last-minute shopping in the airport building. But where is a supermarket? From a distance I can see the brightly lit logo of my favorite discounter. At the cashpoint I praise the vendor for the well recognizable sign. He tells me it was delivered and installed just last week – by SWARCO." — So much for the field report.
Of course, 50 years of SWARCO also means 50 years of innovation with which SWARCO has made major contributions to the technological development in road safety. Just last year, SWARCO was honored as one of the "most innovative companies in Germany". This award recognizes the many years of innovative strength of SWARCO and its subsidiaries, multiply proven with first moves such as the first prism sign, the first parking guidance system, the first mobile congestion warning system and the first flat lane control sign for tunnel ceilings.
SWARCO also pioneers when it comes to key issues of the future. Some examples are connected and automated driving, the prioritization of emergency vehicles, buses and trams at traffic lights, cooperative congestion avoidance on the motorway with speed recommendation for shockwave damping, traffic light assisant and forecast, traffic volume and environmental parameter based traffic control, dynamic parking space management, innovative solutions for NOx reduction, and automated valet parking. Given such a broad range of services and so much innovative power, SWARCO staff can rely on a sustainable employer and customers on a reliable business partner.