A Forum Connecting the Entire Composites Industry
On 23 November, the JEC Forum DACH is convening representatives of the composites industry to a unique event in Frankfurt, Germany.
The JEC Forum DACH is a platform for networking and information exchange in the composites industry. This event, which was launched by the JEC Group in close cooperation with AVK, the Federation of Reinforced Plastics e.V. in Germany, will take place at a different location within the German-speaking economic area each year.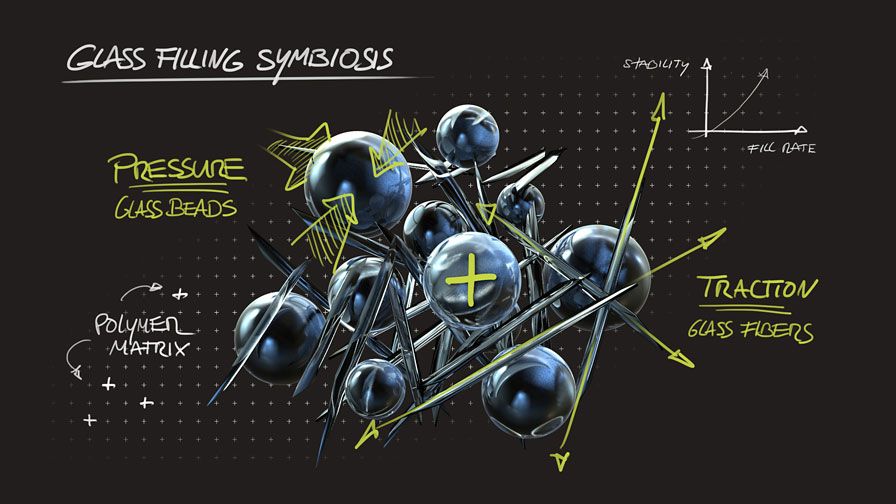 SWARCOFORCE glass filler beads are used in a wide variety of applications in the composites industry.
Amstetten, 21 October 2021 – At the core of the upcoming 2021 JEC DACH Forum is a series of keynotes dedicated to process technologies for hybrid structures and integrated manufacturing systems relating to modern mobility as well as new materials for the construction sector. The event will also focus on market development, environmental protection, and sustainability. As another highlight of this year's Forum, for the first time, the Innovation Awards will be conferred jointly by JEC and AVK. The Awards honour innovations in the fields of fibre-reinforced plastics and the development of new production methods.
A Valuable Contribution
Being able to produce the first-class quality
SWARCOFORCE glass filler beads
in different grain sizes allows for a very broad range of applications. With this, SWARCO Advanced Industry Systems has a technology at its disposal which is needed in many areas of the composites industry. Be it for paints, varnishes and coatings, or plastics and 3D printed materials – SWARCOFORCE glass filler beads are used as high-grade filling agents to improve their physical properties in a wide variety of fields. These include the automotive industry, for example, where they reduce warping of injection moulded components used in vehicle interiors. Or the building materials industry, where they are used in the production of translucent joint sealants, a material that breaks light in addition to reflecting it. The surface structures of such building materials, which are compacted with SWARCOFORCE glass filler beads, are waterproof and especially easy to clean. Given the diverse range of applications of glass filler beads as well as their high degree of specialization, SWARCO Advanced Industry Systems is a particularly valuable participant in the JEC Forum DACH, where it can share its know-how and experience with partners from the industry.
About SWARCO Advanced Industry Systems
As part of the international SWARCO group, SWARCO Advanced Industry Systems leverages the universal benefits of glass beads for special industry applications. In 1969 SWARCO started out with the manufacture of tiny reflective glass beads for road markings. Today, the group has grown into one of the world's leading manufacturers of micro glass beads, with production facilities in Europe, the United States and Saudi Arabia. Micro glass beads serve as high-grade filling agents for industrial applications and as blasting media for surface treatment applications. In traffic technology, micro glass beads which are embedded in the marking materials reflect the beam from the headlight back to the driver, making road markings visible; this enhances road safety, especially at night.
For further information visit: www.swarco.com/ais