Carmel Tunnels Haifa / Israel
Tunnel Management System To Relieve Downtown
SWARCO equipped the Carmel Tunnels of Israel's 3rd largest City with new hardware and software – now travel times are reduced and better safety for road users is ensured.
The old part of Haifa with port and major business districts is located on a narrow strip beneath 550m high Mount Carmel. To relieve traffic-congested downtown Haifa and to provide an alternative to driving up and across the Mount Carmel the Carmel Tunnels Project was started. SWARCO acted, together with Partner Menorah Izu Aharon in Israel, as system integrator and coordinator.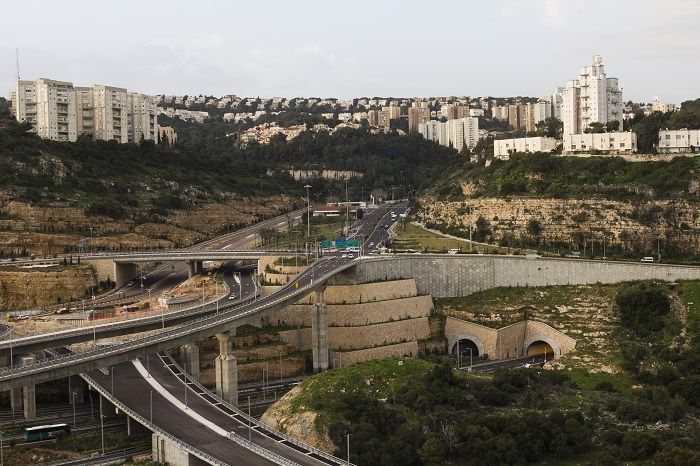 Project Scope, Challenges and Goals
The project consists of two sets of twin tunnels, the 3.5 km long western set and the 1.6 km long eastern set, with two lanes of traffic in each tunnel and four portals. The entire project is 6.5 km long and includes 5 conventional bridges, 6 segmental bridges and 11 km of roads.

Using the tunnels, which require a paying toll, cuts the current ravel time from the Haifa South interchange in the west to the checkpost interchange in the east from 30 to 50 minutes down to 6 minutes.
Central System for Central Management
The project includes the complete tunnel management system with a central software and 27 outstations. The central software allows controlling all tunnel systems by means of a visualization screen. All information is available all the time in one overview. The tunnels are monitored from the tunnel control center in Krayot. Furthermore, the system is connected with the facility management system (FMS) including fire detection, electrical control, light control and ventilation control. This safety feature reacts in case of an alarm e.g. fire with predefined measures such as tunnel closure.
KEY FACTS

PROJECT DURATION
2009–2010

THE CHALLENGE
Reduction of traffic congestion for downtown Haifa, reduction of travel time for road users

SERVICES
Project coordination, system integration

TECHNOLOGY
Central control software, 27 road stations, 4 internal variable message sings (LED), 73 lane control signs, 4 prism openers for variable routing, 46 double induction loops, 84 traffic detection cameras, 8 PTZ cameras, 18 corridor motion detection cameras, 9 routing & blocking barriers, 2 overheight controls, 144 emergency roadside telephones