Bucharest & Cluj / Romania
Intelligent Roads for Romanian Cities
In the capital Bucharest as well as in Cluj-Napoca, Romania's second largest city, SWARCO was able to make traffic fit for the 21st century ...
In other words: optimize urban traffic through intelligent traffic management - reduce fuel consumption and CO2 emissions, shorten travel times, minimize traffic jams and increase traffic safety. Read more about the two flagship projects here.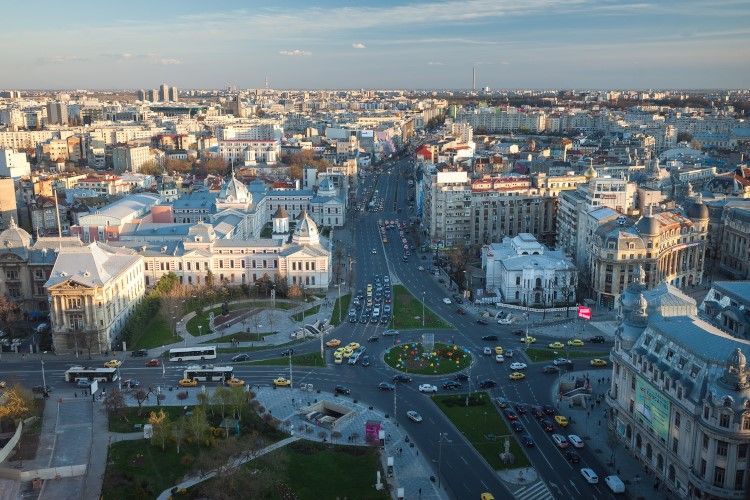 Bucharest: 600 tons less CO2
In order to meet these requirements, a new traffic center was installed in Bucharest. Also 194 intersections including fully adaptive traffic control with SPOT/UTOPIA (expandable to 1,000 intersections) and 194 controls type ITC-2. In addition, the FLASH management system is used in 370 public transport vehicles. The particular challenge was to integrate the various systems such as video surveillance (CCTV), fault management (FMS), network management (LMS), performance monitoring (PM) or traffic information interface (TTII) into the new traffic concept.
The result of the project carried out between 2007 and 2008:
-20 % less daily driving time
- 10 % less CO2 emissions = 600 tons/year
- 1.5 million Euro Productivity gain / year
Cluj: Foresighted traffic management
Similarly in Cluj-Napoca, where a few months later SWARCO products and concepts were trusted to be reliable and innovative. Here, however, networking and communication via optical fibre was not possible, but only with GSM. SWARCO's solution: 41 intersections with ITC-2 traffic control and LED traffic lights, OMNIA traffic monitoring system and recognition for traffic data acquisition (video and loop recognition). Just recently (2018), traffic management was upgraded with UTOPIA, enabling the 300,000-inhabitant city to benefit from SWARCO's fully integrated adaptive traffic control system. Future extensions to other intelligent systems can therefore be implemented at any time: e.g. public transport management system FLASH, passenger information at bus stops COMPASS, infomobility platform MISTIC, video surveillance systems, etc.
In short: 2 comprehensive projects - 1 clever solution: SWARCO.
KEY FACTS

PROJECT DURATION
Bucharest (2007- 2008), Cluj-Napoca (2008-2009, extension 2018)

THE CHALLENGE
Optimize traffic (reduce congestion/pollutant emissions/fuel consumption, increase traffic safety), interlink different systems

SERVICES
Project planing and execution

TECHNOLOGY
intersections with fully adaptive traffic control (SPOT/UTOPIA), ITC-2 type controls, OMNIA traffic monitoring system, traffic data acquisition detection, public transport management system (FLASH), video surveillance (CCTV), fault management (FMS), network management (LMS), performance monitoring (PM), traffic information interface (TTII), traffic information interface (TTII)