An all-round contribution to the revolution in the field of production technology
Every additive manufacturing process, such as stereolithography, laser sintering, or jet printing, offers different benefits for specific applications. However, the type of material used is restricted by the respective printing technology. Tests to broaden the spectrum of material types that can be used extensively have therefore been the biggest challenge for a long time. They are also the driving force for innovation.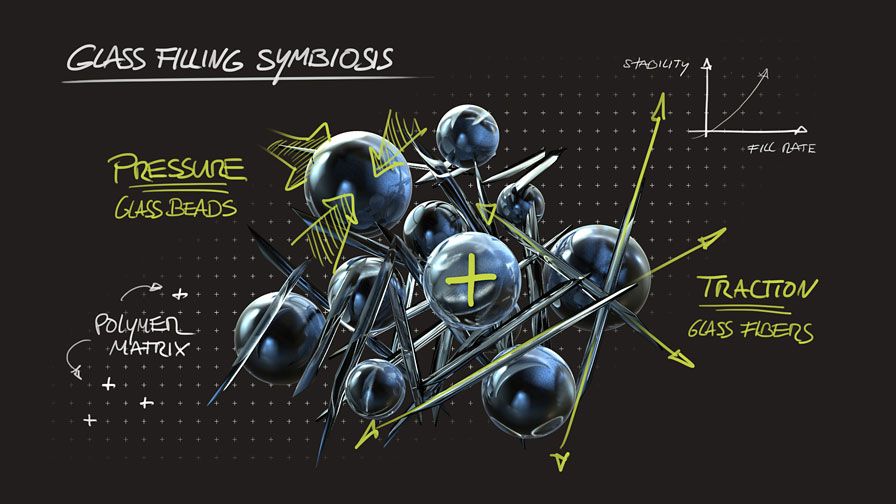 It's all in the mix
Composite materials are a proven way to achieve individual physical properties. Ultimately, the new material acts as the sum of all its components. Composite materials have always been a popular way to achieve certain performance characteristics or to solve problems such as loss of dimensional accuracy due to shrinkage. Consequently, composite materials have also proven themselves in the field of additive manufacturing – especially since the introduction of methods such as fused deposition modeling (FDM) or selective laser sintering and the accompanying emergence of light-curing resins with ceramic particles as a printer material in high-temperature applications.
A well-rounded matter
SWARCO Advanced Industry Systems now develops tailor-made solutions for additive manufacturing. The range of glass filler beads can be employed in many different printing technologies and improves the properties of the materials used according to individual parameters. Adding them simultaneously increases the hardness and creep behavior of the basic material. Glass filler beads give molded parts a higher density and contribute to reducing material costs, thanks to the highly efficient production process with a small carbon footprint. Both types of glass filler bead are excellent solutions in the use of 3D printed parts.
Corporate data
SWARCO Advanced Industry Systems is part of the international SWARCO Group and utilizes the universal benefits of glass beads for special industrial applications. What began in 1969 as a business producing small reflective glass beads for road markings has evolved into one of the world's leading manufacturers of micro glass beads, with production sites in Europe and the USA. Micro glass beads serve as a high-grade filler material in industrial applications and as a blasting abrasive for surface treatments. In the field of traffic technology, the micro glass beads embedded in the marking material reflect headlamp light to keep road markings visible. This increases road safety, particularly at night.