Afterglow markings increase the safety for cyclists
The city of Duisburg has Germany's first cycle path equipped with a special two-component afterglow plastic. A 2.6 kilometre-long cycle path in Duisburg was fitted with afterglow markings. The innovative and eco-friendly system provides increased safety for cyclists in open traffic and saves electricity. The idea for the elegant solution implemented in Duisburg originated from a school competition. Five students from the federal state of Northrhine-Westphalia dedicated their project to the topic.

SWARCO Road Marking System installs Germany's first afterglow cycle path in Duisburg.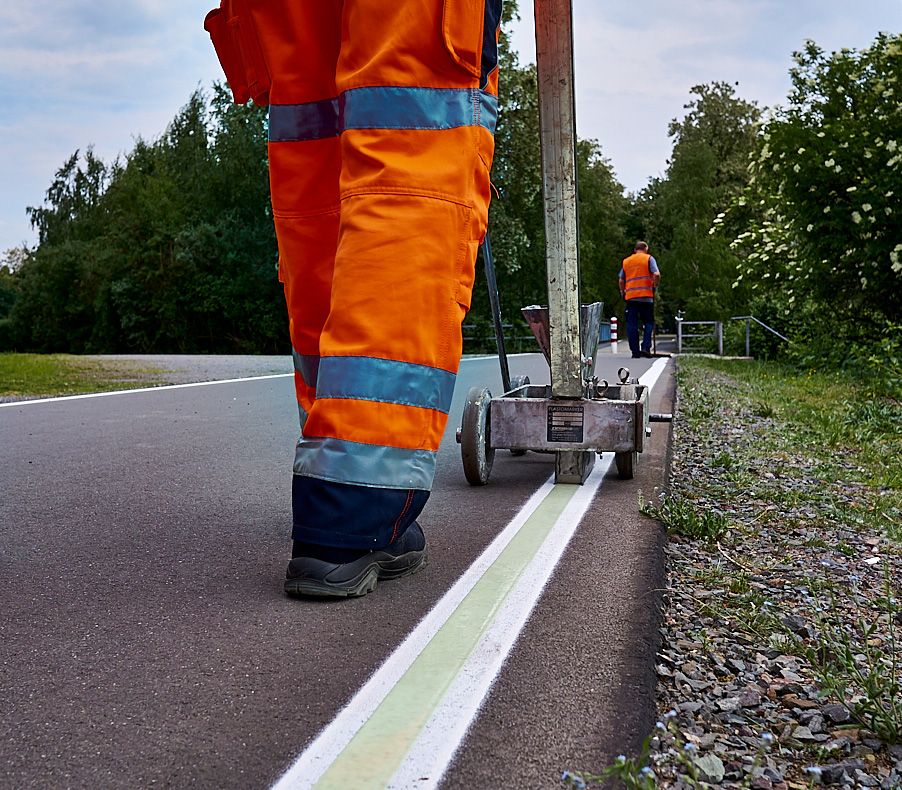 Application of the 2-component afterglow system for cycle paths
Picture: SWARCO Road Marking Systems
Amstetten/Duisburg, 21 October 2019 – A cycle path that is safely illuminated without using electric light was the idea five students from the high school in Meiderich, North Rhine Westfalia came up with. The student competition "Drilling for ideas" held in the 2016/17 school year offered them the ideal platform to develop their idea. The competition's objective was to develop ideas that increase a city's lifestyle quality or promote good relations among neighbours. The students teamed up with Duisburg City Council, the Ruhr Metro Regional Association, Evonik and SWARCO. "We found a similar project in Poland on the Internet and thought that this kind of thing would also work well here in our city," remembers Lisa, one of the students.

Maximum safety without electrical power
A 2.6 kilometre-long asphalted stretch of the "Green Path" in the Duisburg-Nord Nature Reserve offered itself as the perfect cycle path for their idea. A subsequent fitting of electric lights was out of the question due to environmental concerns and the high installation costs. This made the 2-component afterglow plastic manufactured by SWARCO the first choice. Dr Harald Guder, Managing Director of SWARCO Limburger Lackfabrik GmbH, explains the technology behind this innovation: "The marking stores light energy from UV radiation, daylight or artificial light. The light is stored and then emitted during darkness. Depending on the thickness of the layer, the luminous effect can last up to 10 hours and be repeated indefinitely."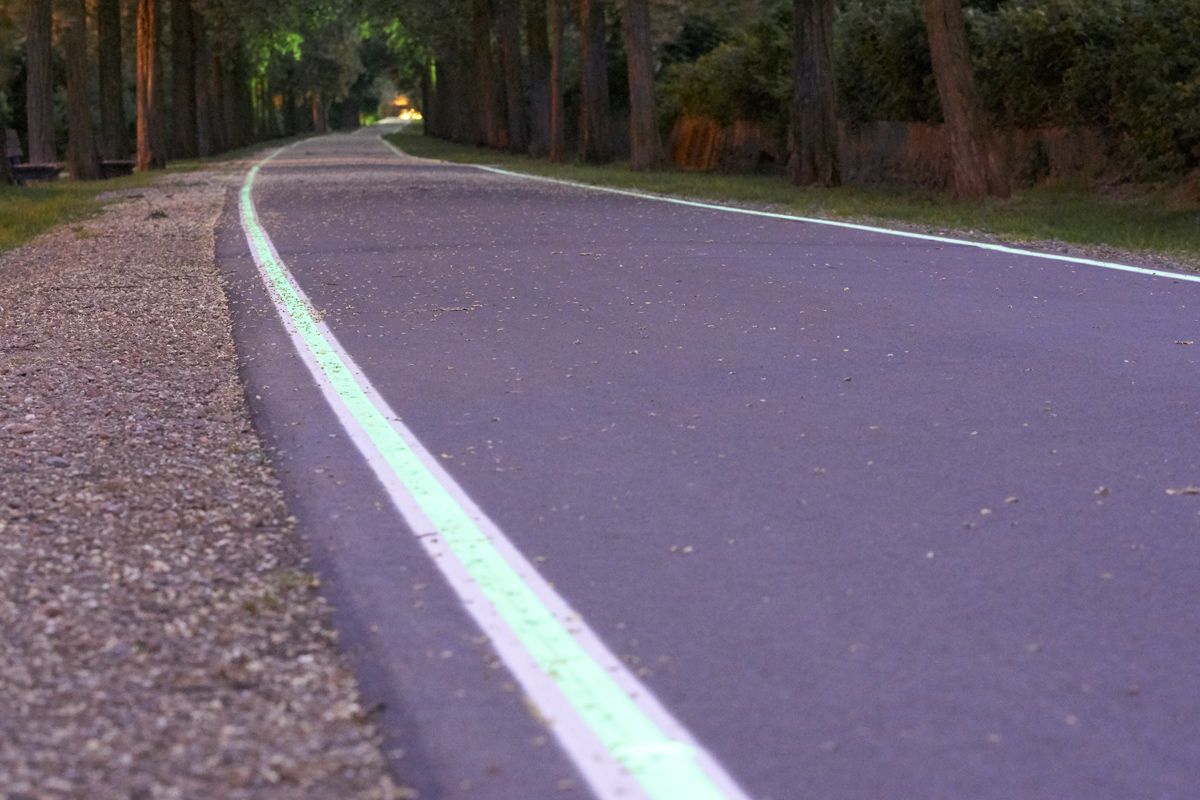 Afterglow Cyclepath in Duisburg during the day
Picture: SWARCO Road Marking Systems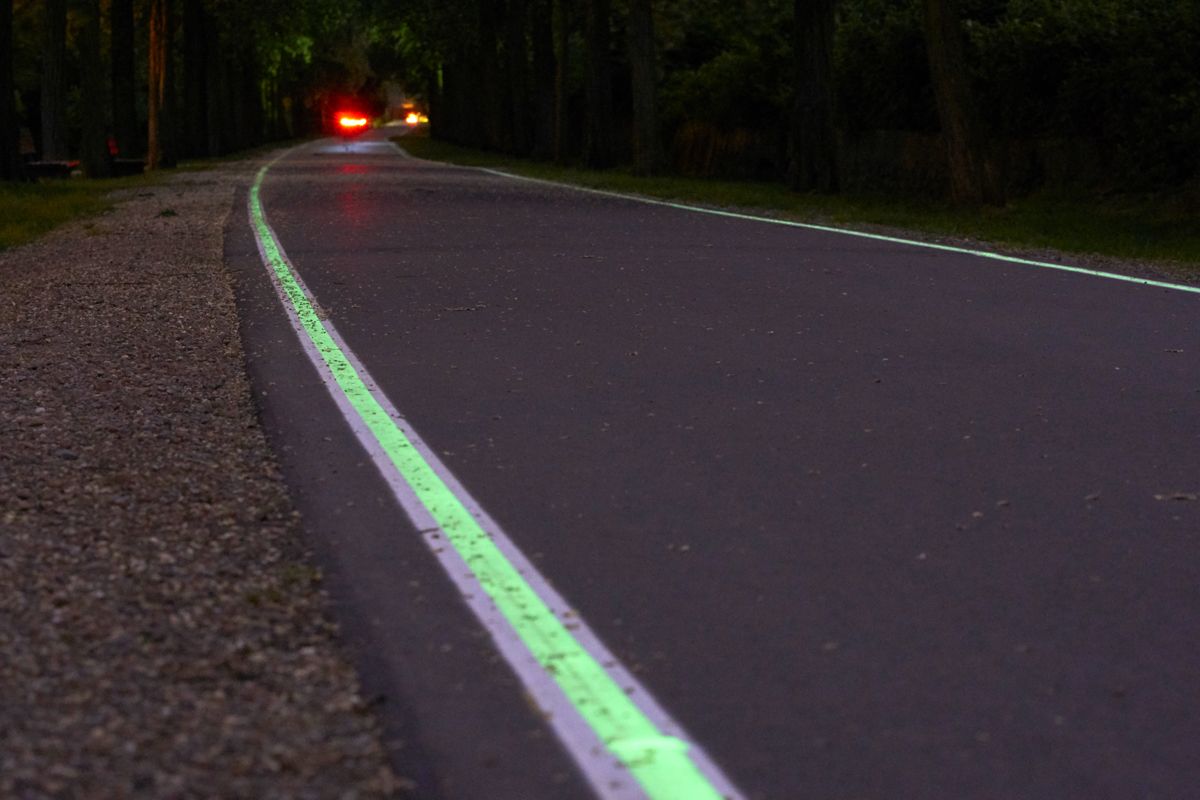 Afterglow Cyclepath in Duisburg at night
Picture: SWARCO Road Marking Systems
Eco-friendly, safe and versatile
The special pigments used in the marking do not contain solvents, phosphor, radioactivity, or toxic substances. They are energy efficient and a cost-effective alternative to expensive street lights. The afterglow markings are also a creative safety element that raises the attractiveness of cycle paths, a feature that can be used by councils and traffic planners for marketing them. Road traffic is however only one of many possible applications of the afterglow plastic. "This technology is perfect for supplementing existing emergency lighting and safety guidance systems in the case of a power failure or smoke obstructing visibility. It can greatly improve the safety in stairwells, underground car parks, factory halls, shopping malls, tunnels and accident-prone traffic spots," explains Mr Guder.
Corporate Data
Quality products and services from SWARCO Road Marking Systems guide traffic safely from A to B by day and, above all, by night. On all types of road. Whatever the weather. From a single source. Over 5000 customers in more than 80 countries place their trust in them.