TRAFFIC MIRRORS
Weather-resistant Traffic Mirrors with Optional Heating System.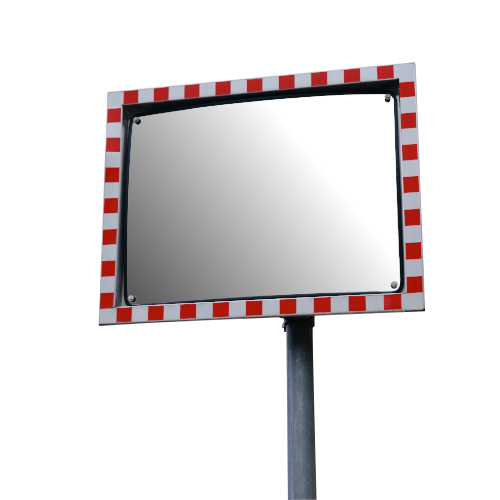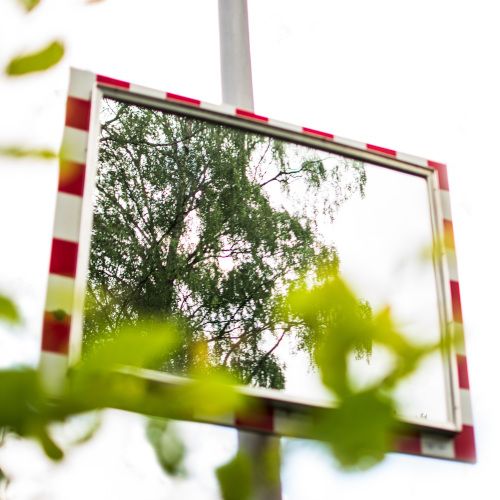 For every situation, SWARCO has the right signage solution to dynamically suit the temporary traffic requirements. SWARCO Traffic Mirrors are designed to function under all weather conditions.
For protection against mechanical and weather-related influences, the mirror is held by a 50 mm wide, rugged aluminium frame with special connecting elements. The mirror edges are additionally protected with plastic profiles. The surrounding lateral offset to the edge of the mirror and housing of at least 5 mm assures that the interior side of the mirror is ventilated, fogging of the mirror is prevented, and no corrosion-producing moisture is formed. The construction is designed such that snow and water are always drained away. The frame is coated with red/white reflective foil, providing enhanced visibility in road traffic.
HEATING
If required, SWARCO traffic and observation mirrors can be equipped with thermostat controlled electrical heating (selectable trigger range: -10°C to +40°C). The large-area heating element prevents fogging even in very unfavourable conditions, and the formation of frost or ice.
SUPPORT
SWARCO mirrors ship with a support adjustable to any horizontal and vertical angle. Special supports available on request.