BICYCLE ROUTE SIGNS
Smart Bicycle Route Sign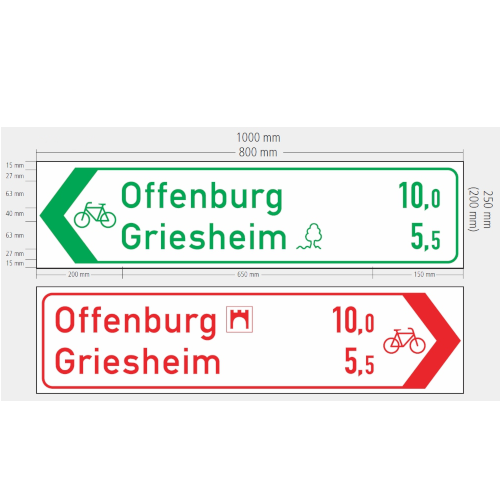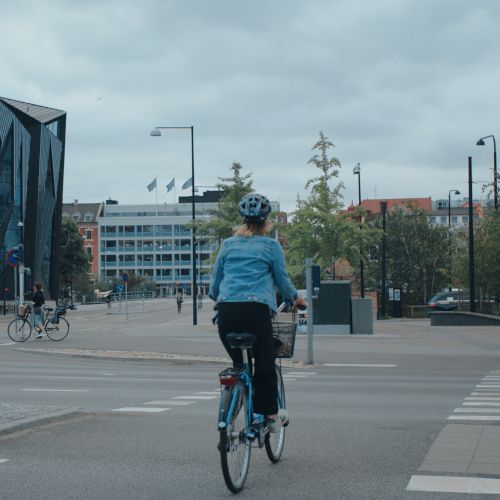 The basic elements of guidance systems are:
Tabular signs
Arrow/direction signs
Additional signs
Depending on the font size destination signs require special dimensions. A font size of 63 mm and two lines on an arrow sign will lead to dimensions of 250 x 1,000 mm. This can be taken as a rough guideline for an urban environment. Outside, when the signs mostly fulfil purposes of tourism and leisure, 200 x 800 will suffice. For both dimensions DAMBACH Noval with its multitude of mounting options is the ideal solution.
Bicycle route signs according to the Federal State of North-Rhine-Westphalia
In accordance with the "Allgemeinen Deutschen Fahrrad-Club" the Federal State of North-Rhine-Westphalia has commissioned a special guideline for the sign-posting of bicycle routes.
Individual solutions
Bicycle route signage according to the guidelines of the Federal State of North-Rhine-Westphalia
| | | | | | | |
| --- | --- | --- | --- | --- | --- | --- |
| Type | Dimensions | Colour | Max. number of lines | Font size | Size of pictogram | Size of arrow |
| Standard signs | 1000 x 500 mm | white / red | 7 | 65 | 70 | 150 |
| | 750 x 600 mm | white / red | 5 | 65 | 70 | 150 |
| | 500 x 500 mm | white / red | 4 | 50 | 50 | 80 |
| | 200 x 1000 mm | white / red | 2 | 65 | 70 | 80 |
| Intermediate signs | 400 x 400 mm | white / red | 2 | 35 | 35 | 80 |
| | 200 x 200 mm | white / red | - | - | 35 | 60 |
| Signs for leisure and tourism | 520 x 450 mm | white / green | 4 | 35 | 80 | 35 |
| Type "A" | 520 x 450 mm | white / green | 2 | 35 | 80 | 70 |
| Type "B" | 230 x 200 mm | white / green | - | - | 60 | 35 |