Omni eX® Intersection Control Software
A revolutionary tool for managing the most demanding traffic control applications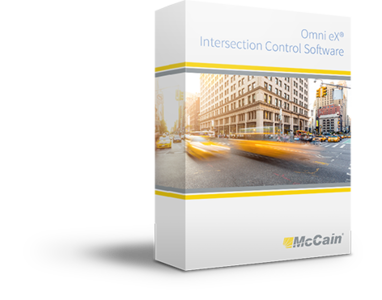 Omni eX® Intersection Control Software is a revolutionary tool for managing the most demanding traffic control applications. Compatible with 2070 and NEMA-based ATC platforms and any style cabinet, Omni eX software provides a single solution for any infrastructure. Integrating with McCain Transparity® TMS enables complete ITS functionality by controlling all NTCIP devices through one system.
Provides a single solution for any controller/cabinet configuration
Complies with national industry standards including NEMA, ATC, and NTCIP
Assigns inputs and outputs, programmable logic and available custom NEMA D connectors without cumbersome external wiring or relays
Supports a 16-line screen with simultaneous display of status and menus
Ensures data accuracy and consistency with built-in data validation
Powerful data collection features, including measures of effectiveness (MOE) and detector data logging, with results storable locally via USB or to a central management system.
Phases
16 volume/density vehicle phases
16 pedestrian phases
4 rings with flexible phase assingments and sequences
Automatic barrier calculation based on compatible phases
Variable phase sequence
Exclusive pedestrian-phase operation
Alternate timing for special vehicles, bicycles, or pedestrians
Advanced and delayed walk
Texas diamond operation
32-channel support
4 unique sets of phase timing and options
Overlaps
16 vehicle overlaps
16 pedestrian overlaps
Negative (excluded) vehicle and pedestrian phases
Delayed start of green
Flashing yellow or red arrow overlaps
Detector call phases and locking
4 unique sets of overlap configurations selectable by pattern
Coordination
250 free or coordinated patterns
Automatic or manual permissive
Fixed or floating force off
Reference beginning or end of green
Change virtually all operational parameters by pattern
16 phase sequence selection by pattern
Detection
128 local/system detectors
Single or dual detector speed calculation
Phase assignments configurable per detector, multiple phases per detector
Direct detector actuation for vehicle and pedestrian overlaps
All NTCIP detector options
Delay and extend timing
Alternate passage, minimum green and pedestrian timing detection
Vol/Occ configurable per detector
Detector failure monitoring configurable by time-of-day
Connect directly to video detection
Supports all industry standard communication protocols, including:
ATC 5.2b compliant controllers
Ongoing support packages are available to ensure that you always have the latest software version. Contact your McCain representative for more details.