SPEED INDICATOR SIGNS
Your Speed Is...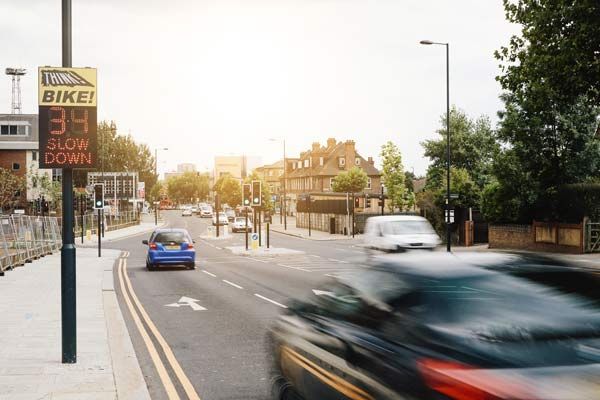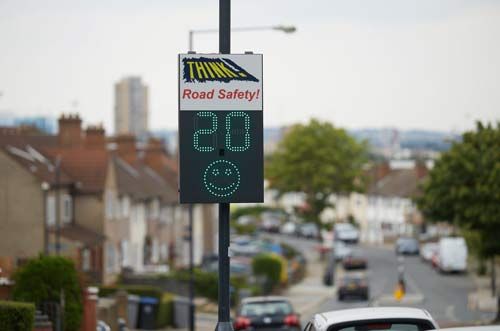 Speed Indicator Signs, sometimes known as SID's display the actual speed of an approaching vehicle. SID signs are interactive and digitally display if the speed of the vehicle is above or below the speed limit together with the option of displaying additional messages such as 'Thank You' to motorists within the limit or 'Slow Down' to those above the limit, or alternatively an appropriate 'smiley' or 'frown' face. Speed Indictor Signs are a desirable option for speed sensitive locations within neighbourhoods or where pedestrians are likely to be sharing the highway with vehicles, making drivers aware of their speeds in a dynamic way.
Using our low power patented lens system they can be powered by solar as well as mains.
Data logging is available with all signs providing statistics on activations, vehicle speeds and volumes. Remote monitoring and data logging is also available using SWARCO's sign management system, MyCity. Providing information on power consumption, communication and data management via an easy to use web-interface.
Read more about how the London Borough of Brent used Speed Indicator signs to reduce vehicle speeds and raise awareness.
Reducing speed-related incidents in the London Borough of Brent
To support an accident reduction programme co-ordinated by Brent Council, SWARCO Traffic Ltd has installed Vehicle Activated Speed signs (VAS) at key locations across the borough where significant numbers of accidents have occurred.

This particular project is aimed at reducing collisions, casualties, road danger and accidents that involve powered two wheelers (P2W – primarily motorcycles and mopeds) throughout the borough, in line with the Government's road safety strategy to reduce the number of road traffic accidents nationally.
According to the national THINK Road Safety Campaign, injuries to motorcyclists are out of proportion to all other RTCs: despite being just 1% of total road traffic they account for 19% of all road user deaths.
Individual accidents were studied to identify patterns and the main causes of accidents involving P2Ws. Through analysis, locations which may benefit from accident reduction measures were identified.
"One of the most common causes of accidents involving P2W is high speeds," explains Chhaganlal J Dabhi, Project Engineer for Brent Council's Highways and Infrastructure Service. "And high speeds can cause severe injuries and fatalities, particularly for a motorbike rider who is the most exposed and vulnerable. However, we also know that one of the most effective measures to reduce accidents can be to inform all road users of the hazards and prevailing dangers, and advise them accordingly."
To limit the impact on traffic management on the roads, all installation work on the vehicle actuated signs (VAS) was carried out at night.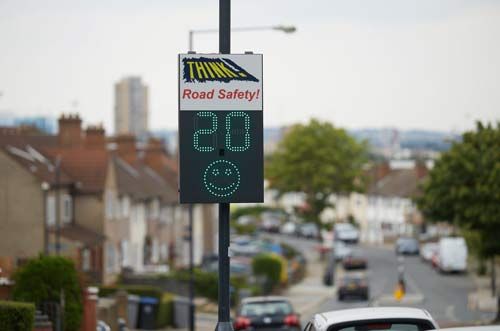 SWARCO has installed 34 VAS, most of which are fixed to existing light columns (and Bouygues-supplied and installed the mains power isolator switches), whilst some are solar powered. The signs are CE marked for quality and safety at the highest level and they are built with SWARCO's latest LED's. This LED technology gives the greatest optical output which provides dramatically increased reliability whilst also reducing power consumption.
Each VAS has a pre-set threshold speed, appropriate for the location, and when activated by an approaching vehicle over the threshold the speed is displayed along with either an instruction of 'slow down' or a 'sad face' in red. For vehicles driving within the speed limits, a 'happy face' or 'thank you' is shown in green.
Chhaganlal says Brent Council is committed to the continued reduction of personal injury accidents:
"Whilst we wait to see what the data reveals in terms of the signs' effectiveness, we are pleased that the project is bringing about more general awareness to all road users about the potential dangers to motorcyclists and reducing accidents overall. If these signs help to prevent a death or serious injury on the Borough's roads then it is money well spent."
Conforms to all relevant standards
High Energy-
Efficiency​​​​
Various
Options & Bespoke Designs
Benefits of SWARCO's Speed Indication Signs
Improves road safety and speed awareness
Ability to supply multiple designs for your needs as well as bespoke designs
Proven reliability with a 15 year design life
Remote monitoring available on all devices
All components built into a single enclosure reducing street furniture clutter and ensuring water resistance on all components
Designed and manufactured at our UK production facility